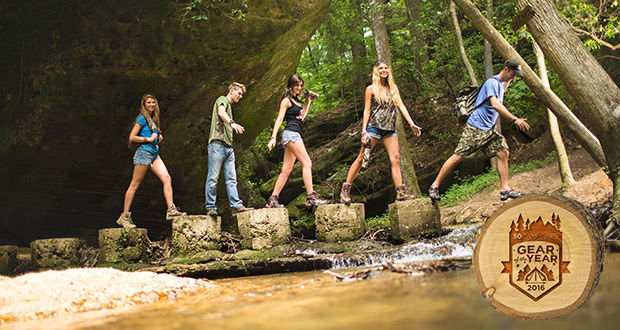 Gear of the Year Awards 2016: EcoVessel: Boulder
The Camping Authority Announces Annual Gear Award for the EcoVessel: Boulder.
If the camping world has one thing covered in terms of selection, it's systems for storing water. Walk down the camping aisle at your favorite outdoor retailer or browse online stores and you'll be flooded with these things. The Boulder is where it all began! A versatile bottle offered in popular sizes to fit most cup holders, take it anywhere to enjoy your favorite hot or cold drinks. Its secure top and sweat-proof build will keep your drinks inside where they belong - so toss in a backpack or tote bag and go! This bottle has been tested to keep liquids cold for 36 hours and hot up to 8 hours for convenient hydration throughout the day. Now available with interchangeable tops, it's a versatile vessel for anything, anytime. The best feature of the EcoVessel Boulder Insulated Water Bottle is the removable strainer. You can literally make tea with this thing, flavor your water with fruit, and filter your cold drinks through ice for the ultimate summer refreshment. We also love the multi-lid opening. Use the larger lid for filling and the smaller for drinking!
$27.01