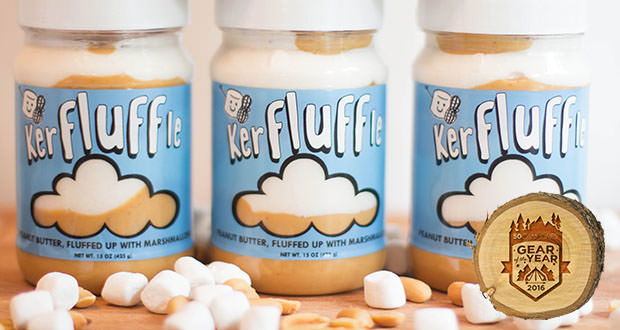 Gear of the Year Awards 2016: Kerfluffle
The Camping Authority Announces Annual Gear Award for Kerfluffle.
Some days (okay… really… every day) the 50 Campfires team throws caution to the wind and we revel in life's simple delights. That includes eating and drinking things that are just unbelievably delicious and indulgent. Atop those categories as of late is Kerfluffle. This is a nectar sent from the heavens, especially for those who accept the challenge to push the gourmet s'mores envelope.
Do you know Kerfluffle? It's… as their tagline describes… peanut butter fluffed up with marshmallow. Its origin is in Midwest childhood memories of "fluffernutters" – peanut butter and marshmallow sandwiches. GMO-free, no-stir peanut butter with a ribbon of artisan, spreadable, gluten-free, vegetarian (no gelatin) marshmallow.
It didn't take much for the 50 Campfires clan to conjure spreading this stuff on a couple of graham crackers, adding several squares of milk chocolate, making a sandwich and putting that masterpiece into a pie iron to warm over the embers of a campfire. As stated … delicious, indulgent … and inspirational! Shhhhhh…