Sure, sometimes it's nice to get off the grid and take a break from technology, but there are times when having a cellphone with you would be a good thing. For instance, a cellphone can come in handy if you get lost in the woods, an emergency happens and you need to call for help, or maybe you just need your phone to snap a few good pictures to remember a special moment in nature. Either way, it's a good idea to bring a portable charger with you on your outdoor adventures just in case your phone dies, and we all know cell phones can often die fast. The Goal Zero Flip 10 Portable Rechargre would be a great choice to throw along in your camping bag because of its dependability and conveniently small size.
Appearance: This portable recharger is incredibly small, making it a great option for a lightweight charger when you can just throw in your bag or pocket before your full day of adventures. This recharger is a very reliable source of portable energy that will quickly charge up any device with a USB port while you're on the move. The Flip 10 Recharger is available in four different colors including Brushfire Red, GZ Green, Charcoal Grey, or Photo Blue.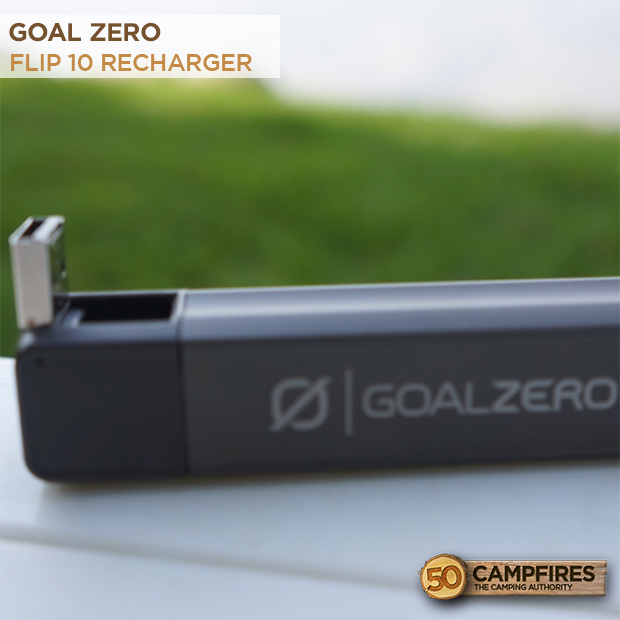 Ease of Use: We've grown quite fond of the Flip 10 Recharger. It's obviously very simple to use and is a handy device to keep in your pocket or backpack when you're exploring your newest location. The Flip 10 can easily be charged by the sun by connecting a compatible solar panel or it can be charged by being plugged into a USB power source.
Functionality: The Flip 10 Recharger is as portable as energy can get. Suitable for any portable application, this recharger is incredibly small and durable, designed to fit alongside any smartphone, headlamp, GPS, etc., so you know it won't become annoying to have it with you no matter what you're doing. The Flip 10 comes conveniently charged so that it can be immediately used when you need it. It holds a single charge for phones, fitness trackers and other small devices. It's USB rechargeable and Solar Ready for all of your craziest off-grid adventures.
Value: The Portable Battery is priced very reasonably at $29.99, especially considering Goal Zero produces some of the nicest and most reliable portable power sources currently available. They've packaged the Flip 10 with a generous 12 month warranty that covers it in any case of malfunction.