No Salmon meal is complete with out this amazing Herbtacular Rice Pilaf recipe! So easy to make while you are camping with most of the work done before you even leave your driveway. One thing we recommend for this recipe is to pre-cook your rice before your trip. It'll harden into a block in the fridge, and keep beautifully in your cooler for days. We also like to chop up our fresh herbs and keep them in ziploc bags so we don't have to spend time chopping while camping.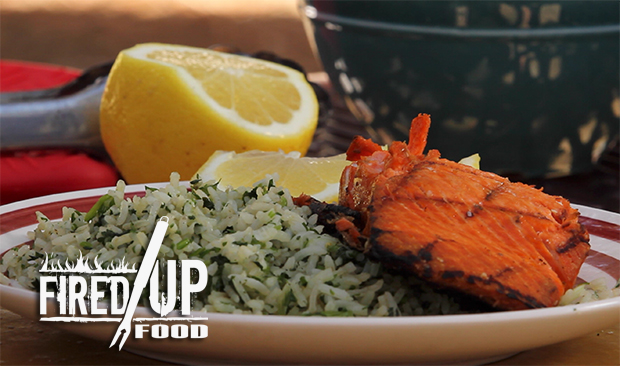 The herbtacular rice pilaf recipe is full of fresh herbs and spices that provide a very fresh side dish for your campsite meal. We love making this recipe for multiple reasons the first is that its easy to make with most of the prep work done at home, it can be made over the campfire, grill or camp stove and it seriously is spectacular.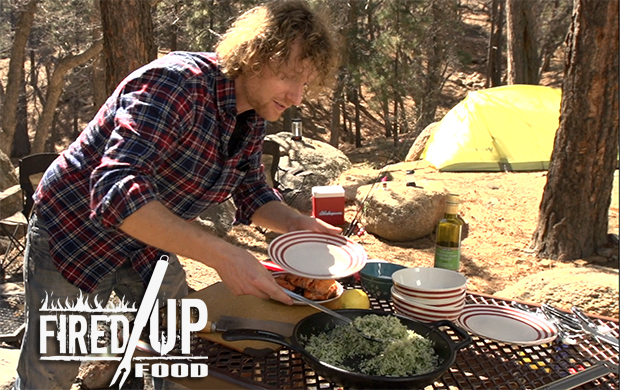 The herbtacular rice is amazing with salmon or other fish but really is a perfect bed for any campsite grillables!
Herbtacular Rice Pilaf Recipe For Camping
Ingredients
¼ cup fresh parsley, finely chopped
¼ cup fresh cilantro, finely chopped
5 green onions, finely chopped
1 jalapeno, seeded and finely chopped (optional)
2 tbsp butter
2 cups white rice, cooked
½ lemon
salt to taste
Instructions
Chop parsley, cilantro, and one bunch of green onions. Optional Jalapeños if you're feeling saucy. Chop it all up as fine as you can or care to. An almost-paste is great, but if you just end up with rough chopped herbs, it's not a deal breaker.
Take a pot or pan and place over medium heat on your camping stove or gentle coals. Melt 2 tablespoons of butter in the pan. Add rice. Break up with a spoon or spatula and stir to coat. Season with salt to taste. As it warms up, the rice will soften.
Add all the herbs and scallions in and stir to combine. Give it a taste and add some more salt if it's lacking. Add the juice of half a lemon.
Heat for 6 minutes or until rice is warm.