High Tech … Tent Stakes?
Consider the lowly tent stake. What could possibly be high technology about something that's essentially a stick you drive into the ground to which you secure a line or loop from your tent? Well, hold on to your rain fly! There's a whole world of innovation applied to tent stake these days … and it's all good!   Orange Screw™
The Orange Screw is an innovative and easy to use ground anchor made of 100 percent recycled materials and manufactured in the U.S.A. They're lightweight, rustproof, and nearly indestructible. Orange Screws come in two sizes. The large is 12 ¼ inches long with 10 inches of screw surface. The small is 9 ½ inches overall with nearly 8 inches of screw surface and weighs less than two ounces. Instead of pounding it in, you literally screw the Orange Screw into the ground. Each peg comes in its own storage sleeve that doubles as a handle for more turning torque into tough turf. Once in place, the Orange Screw is holding with many times the surface area of a standard smooth, drive-it-in tent peg. The crazy amount of grip Orange Screw provides makes it capable of even more demanding tasks like tethering pets or livestock, tying off small boats, and more. The large size will even provide grip in loose, sandy soils. The only problem with Orang Screws? You can't get them … yet! Launched via a Kick Starter campaign the company is currently only fulfilling to those who invested. However, we anticipate they'll be publically available soon. Just keep checking back at OrangeScrew.com.   Gossamer Gear Titanium Tent Stakes
When every micro-gram of weight matters, the most rugged metal of choice is titanium, so it's no surprise Gossamer Gear applies this technology to the lowly tent stake. They offer a variety of styles, sizes, and coatings and recommend a combination to handle whatever terrain and wind conditions you may encounter when backcountry tenting. Hi Viz models are nano ceramic coated bright yellow for visibility and durability. The V Stake Fatty and V Stake Regular models afford the most gripping surface and are perforated with elongated holes to both reduce weight and increase grip. Gossamer Gear recommends using one of the hook style stakes to help pry a V stake from stubborn soil. Rounded points on all models are easy on lightweight backpacks. Because they are titanium, they offer all the gripping surface of similar style stakes but often at half the weight. Drawback is in relative price. A standard "kit" should include at least eight or more stakes and these will run you from $2.50 to $4.75 each.   UCO Stakelight™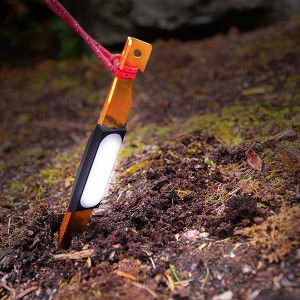 Stake your claim … and find it again … with UCO's StakeLights. Set up your tent in the dark, answer nature's call, and quickly locate it again—these illuminated tent stakes make it easy to identify and set up your tent in a flash. Enjoy a perimeter of light around your tent or set it to "strobe" for better visibility of your tent's location. In area mode these lighted tent stakes deliver 17 lumens of continuous light for up to 10 hours. In strobe mode they'll put out flashing light for up to 24 hours. Each Stakelight has an on/off switch integrated into the lens. The stake itself is constructed of durable 6000 series aluminum. The LED is highly water-resistant in a TPE housing. It can also be removed and used separately from the stake. Overall length is 9 inches and weight without battery is 1.3 ounces. Each LED is powered by 1 AAA battery (not included) that can be changed easily by prying off the lens cap, inserting new battery, and replacing lens cap. On the UCO website price ranges from $5.99 individually to $19.99 for a 4-pack.     Reliance Glow Pegs™
Glow Pegs are exactly what they sound like. They are tent stakes made from phosphorescent ABS resin plastic. Exposure to sunlight (or a bright artificial light source) charges them up. Two hours exposure to sunlight reportedly allows them to glow throughout the night. Glow pegs are rugged, but they aren't sharp enough to drive into the harder soils that you can penetrate with aluminum or titanium stakes. They afford more gripping surface than thin metal stakes, but Glow Pegs are only 6 inches long, which doesn't allow for driving them very deep. Angle them at about 45 degrees out from the tent wall to drive for maximum security. Reliance Glow Pegs aren't designed to really light up an area. The purpose is to provide a reliable glow in the dark so you can easily determine where each line from your tent is anchored and avoid tripping on them during nighttime trips outside the tent. Glow Pegs are available on the Reliance website for $10.49 for a pack of six.