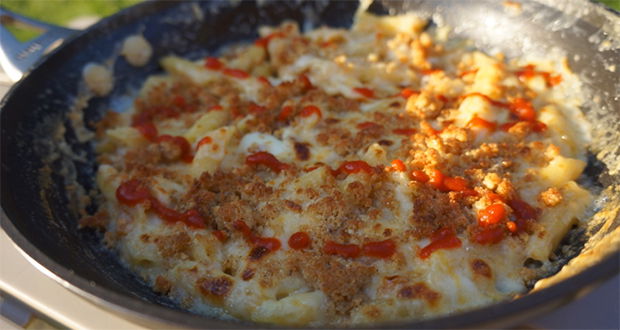 Homemade Mac and Cheese
It doesn't matter if you're a kid or an adult sized kid, mac and cheese is delicious. Straight out of the box is great, but a homemade mac and cheese is what really hits the spot. Creamy, cheesy and not so healthy for you, this homemade mac and cheese can be made all in one skillet. To bring the flavor it's topped with a breadcrumb mixture and drizzled with sriracha. This is a great dish to feed a hungry group with out hours worth of work in the kitchen or at the campsite!
It is a fairly easy meal to whip up at the campsite and only takes one skillet, which is helpful for clean up! It's easiest to cook it over a camp stove but over the grates of the campfire work too. Cast Iron is always the best to use over the fire as it can withstand the temperature and maintain an even heat.
If you want to make meal time really simple, you can do some prep at home such as putting the measured cheese, the breadcrumbs/Parmesan and the flour in separate baggies. From there it is easy to throw things together as you go along. The mac and cheese comes out creamy with gooey melted cheese strings hanging off as you dish up. The addition of the sriracha drizzle really kicks up the taste of this homemade mac and cheese – allowing the creamy and spice to literally melt together.
Homemade Mac and Cheese Skillet
Recipe type:
Lunch/Dinner
Ingredients
Topping
1 tbsp butter
1 cup fresh breadcrumbs
¼ cup grated Parmesan
Sriracha drizzle
Mac and Cheese
5 tbsp unsalted butter
½ small yellow onion, diced
½ cup all-purpose flour
6 cups 2% milk
1.5 cups elbow macaroni
3 cups sharp white cheddar, grated
1 cup Gruyere or Swiss, grated
1 tsp Dijon mustard
Salt and pepper
Instructions
In a large skillet, melt all of the butter. Remove just 1 tablespoon butter and combine it with breadcrumbs and Parmesan in a separate bowl.
Next, add onion to skillet and cook until softened. Whisk in flour and cook, stirring, 1 minute.
Very gradually whisk in milk and bring to a simmer. Add macaroni and cook, stirring constantly and scraping bottom of pan, until tender, about 6-8 minutes.
Remove from heat, stir in cheese and the mustard, and season with salt and pepper. Top with breadcrumb mixture and drizzle with Sriracha sauce.