Biking in the winter is something many cyclists struggle with, especially on the cold, rough terrain. In the summertime, it seems like everybody in the whole world rides a bike. Then, once the winter comes around, many cyclists get scared off. 
However, bikers have found better ways to ride on rough terrain and in the colder months of the winter. Fat tire biking is one of those rides that will sink into your memory. It is also important to know what you're in store for when you go out with a fat tire bike. 
For this article, we'll go through what fat tire biking exactly is and how it got started. We'll illustrate advantages of fat tire biking over other types of cycling. Also, educate on how going out in the winter can be the best time for you.
What Is Fat Tire Biking?
Fat tire biking is a style of cycling that brings together the frame and look of a mountain bike, with larger tires. These tires usually measure in at around 3.8 inches wide but can get much larger depending on the bike.
Besides the tires themselves, the frame of fat tire bikes are where they show the most differences. For example, fat tire bikes do not have any suspension forks. They also rely solely on the tires for suspension during your ride.
Also, you fill fat tire bikes with a bit less air pressure. That usually makes for a more relaxing and smooth ride. These large tires get great traction and some riders say it feels like they're flying over rough terrain.
Whether it is the snow or the mud, fat tire bikes can make for an easy ride without any slips. The larger tires make for better traction, too. Meaning, you won't need to push your bike out of any mud puddles or icy patches during the winter.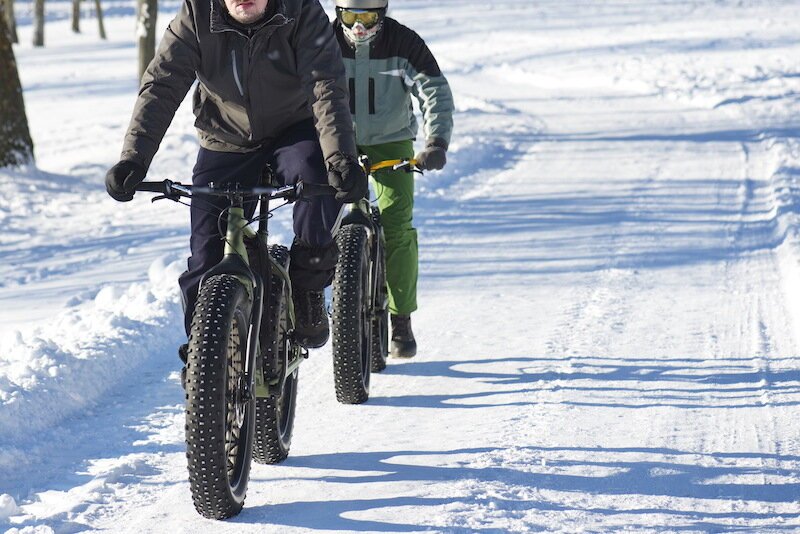 History of Fat Tire Biking
Fat tire biking first began becoming popular in the 1980s when people in snowy climates like Alaska discovered a better way to get around there without using cars. Ironically, around the same time, they gained popularity in New Mexico because of their great grip on sand in the desert climate.
Eventually, brands like Surly Bikes started to market these kinds of bikes to the everyday consumer. Thus, the boom of fat tire biking came into form. Those who enjoy off-road but more flat landscape biking trails have flocked to flat tire bikes, too.
This wasn't always the case for cyclists as mountain bikes are still widely used for off road trails even in the winter. So what really makes fat tire bikes the right choice for winter rides? 
The Benefits of Fat Tire Bikes
Of course, it has been well explained that fat tire bikes can ride well on just about any terrain but in particular, snowy or wet pavement is where they really shine. Most city cyclists will use road bikes with very thin wheels but these have proved dangerous in wintery conditions.
Now, those that need to commute to work in snowy cities like New York are starting to use fat tire bikes for a little extra safety. Plus, even if the roads are gravely, fat tire bikes will almost always make for a smooth ride.
Any bumps or potholes will feel like hardly anything with these kinds of bikes, which can be common in the frequently travelled streets of the city or the rough, off road trails less travelled.
Bumps and rocks in off road trails have been the cause of many biking injuries but, with fat tire bikes, those are hardly a worry. Challenging trails are much more available to beginners using these kinds of bikes and especially in the cold months of winter where you won't have to worry about taking up too much space for other cyclists on the trail.
All in all, it is the versatility of a fat tire bike that makes it great for just about any rider. They won't generate much speed but they can get over the worst terrains and are among the smoothest and safest rides you can ask for.
Terrain You Can Ride With A Fat Tire Bike
Wintery terrain is an easy task for fat tire bikes. Even if the terrain isn't snowy, fat tire bikes grip much better to ice than regular mountain bikes.
Also, hard ground can be difficult to grip on standard tires and the cold days of the winter tend to harden soil and make it much harder to grip. Fat tire bikes have the extra surface area to really dig into hard ground and, even if it digs up rocks, you shouldn't have to worry about crashing.