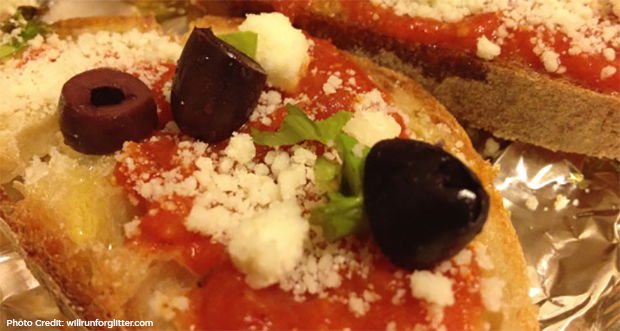 Italian Crazy Bread Loaf
Cooking for a group can be tough. Especially when camping. Preparing a large meal on a picnic table and cooking it over a campfire or on a grill can be anything but relaxing. So we've set out to make life a little easier and this Italian Crazy Bread loaf does just that. It allows you to make one large, delicious sandwich over the campfire that everyone can pick off and eat.
These all-in-one sandwiches are so easy for camping or any group get together for that matter. Lunch can be served warm and melty with a minimal amount of work. By using a large loaf of Italian Bread you can cut slits in the bread, don't cut all the way through leave about a 1/2 inch. From there it is really up to you what to throw in. For the Italian Crazy Bread we love the pepperocini slices, salamis, a variety of cheeses and Italian spices.
Perfect to wrap in tin foil and throw over the campfire, this has been a good to sandwich at our campsite for a while now. We originally found the recipe over at here, and have made our own adaptions to make it work for us.
Italian Crazy Bread Loaf
Ingredients
1 loaf Italian bread
1 C mayonnaise
½ teaspoon onion powder
1 teaspoon garlic powder
1 teaspoon dried parsley
1 teaspoon basil
1 teaspoon oregano
1 teaspoon thyme
1 T pepperoncini brine from the jar
¼ C red onion, sliced
¼ C pepperoncini pepper slices
Assorted salamis
Sliced provolone
Instructions
Slice the bread at 1-inch intervals, make sure to not slice all the way through.
Mix the mayo, onion powder, garlic powder, parsley, basil, oregano, thyme, and the pepperoncini brine together. Spread this mixture down in between the sliced parts of the bread.
Shove a slice of cheese into each cut. Then alternating the salami varieties, shove about five slices into every other cut. Shove the pepperoncini slices and red onion slices into the remaining cuts, meaning the cuts with no salami in it.
Wrap the whole thing tightly with foil and put in the coals of the campfire for about 25-30 minutes or until the outsides are a little crispy and the cheese is all melted.
More Great Sandwiches
10 Sandwich Recipes For Group Camping

Grilled Ham and Cheese Sandwich Loaf
Philly Cheese Steak Sandwich Loaf