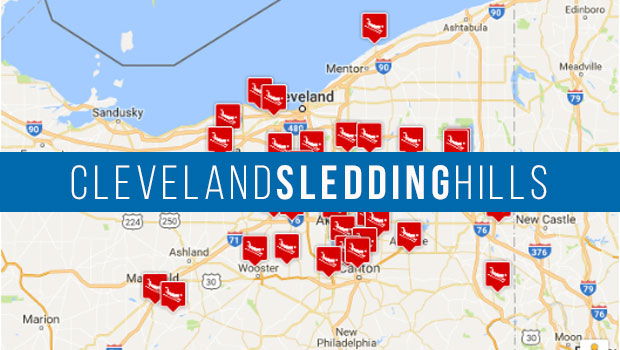 Map of the 41 Best Sledding Hills in Cleveland, Ohio
We found the 41 best sledding hills in Cleveland, Ohio!
One of the best ways to stay outdoors through the winter months in snowy Cleveland and the surrounding area is to go sledding! The kids will love it, and let's face it, it's darn good mid-winter exercise for everyone. Whether you're looking to plan a weekend activity for a family reunion or a family member's birthday party or you've just been hit with a major snowstorm that closed the schools and you NEED to find something for the kids to do, the 50 Campfires list of the best sledding hills in Cleveland will be a great starting point for your search.
Before you toss your toboggan or saucer sled in the trunk and hit the road to check out some hills, a bit of research is in order. Visiting the websites or calling the managers of prospective parks will clue you in on the hours, snow conditions, any related fees, and whether or not there's a warming house at the location. You can also check out other attractions nearby like restaurants — after all, no one said a day of sledding had to be like roughing it. The 50 Campfires map of the best sledding hills in Cleveland (and nearby) is the perfect way to begin mapping out your day.
If you decide to make a day trip of it, perhaps trying out  a number of these hills, you're probably going to want to pack a lunch. 50 Campfires has you covered there, too. Check out our long, long list of great recipes to make and enjoy outdoors any time of the year.
With this list and map of the best sledding hills in Cleveland as your guide, you might just find a new favorite sledding spot. And, more importantly,  if you know of  something we have missed — please drop us a note with the details, and we will add your favorites to our list and map!
Before you go – if your kids love sledding as much as ours do, check out this device that turns their legs into a sled of their own!
We hope you're enjoying our list of the best sledding hills in Cleveland. Want to know what makes sledding even better? Warm hands! Check out this awesome hand warmer to fight off frozen fingers.
Still looking for the best sledding hills in Cleveland? You might need a warm cocktail. Check out some of our favorite warm drinks for your Thermos.
Thinking about hitting up one of the best sledding hills in Cleveland? Be sure to take along a snack for the journey. Check out one of our favorite trail mix recipes with pumpkin seeds!
If you've made it this far, and haven't found one of the best sledding hills in Cleveland, you might be better off waiting until the summer. Check out our tips for packing the car for your next road trip.