Experiencing the great outdoors is a necessity of the human spirit; which makes camping in the wilderness a good idea for any season. For the wilderness connoisseur, winter is the perfect time to explore the allure, grandeur, and tranquility of the great outdoors with fewer crowds. With campsites being virtually secluded, and the pesky mosquitoes lying down for their long winter's nap, you can unzip your tent and marvel at the breathtaking views. No matter if you are a winter camping enthusiast or a rookie, always remember the key to surviving the winter months outdoors is it's all about staying warm!
While many outdoor lovers can be discouraged to "rough it" with the cooler temperatures on the horizon, you will be able to endure sub zero camping conditions if you are equipped with the appropriate clothing, accessories, and gear.
Before you envision roasting marshmallows by the campfire, snuggling up to your loved ones, and being awestruck by the brilliance of a winter's star-filled sky, you want to be sure you have the appropriate supplies to keep you safe, comfy, and cozy.
Whether you are a pro, or a first time cold-weather camper, the big chill will be here before we know it, so why not get ahead of the game, and select your winter essentials gear.
Below you will find the best winter camping gear, this essential's list is the ultimate guide in preparation for your winter adventure that awaits you.
Here Are Our 8 Picks…
#1 Columbia Omni-Heat Hiking Crew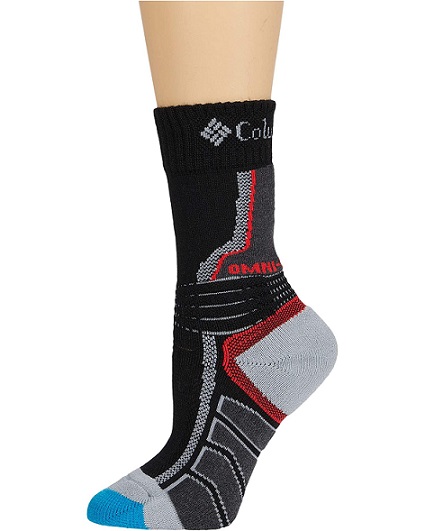 One of the most crucial elements in preparation for winter trips is making sure your extremities are covered, both literally and figuratively. To avoid your body temperature dropping too low, and to avoid numbness and tingling in your toes, it is imperative that you pack proper cold-weather socks to ensure your safety and comfort. Keeping your feet warm and staying warm with the perfect cold weather camping/hiking socks will allow you to enjoy winter camping excursions and/or any other outdoor cold weather activity in your future.
While it is obvious that winter boots are a must, they aren't always lined with the most adequate insulation, this is where the omni-heat hiking crew socks come into play. These are a midweight sock with built in omni-heat technology providing warmth and breathability, making this topshelf choice for camping in the coldest of the winter months.
Product Features
Midweight 2.4oz
Omni-heat technology retains heat
Ribbed
Self-adjusting welt cuff keeps your socks from falling
Pros
Warm
Soft and comfortable
Stay in place all day without falling
Cons
Pricey for one pair of socks
Tight fit if you have larger calves
#2 Zippo Typhoon Match Kit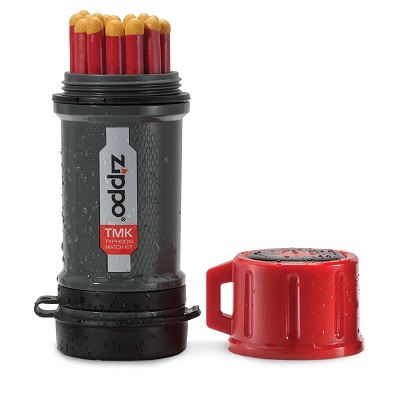 After a packed day of winter adventures outdoors, getting back to the campsite and having the ability to start your campfire to warm your body and cook your meals is vital. The ability to start a fire while camping during the cold winter months, in some cases, could be the difference between life and death.Ordinary matches are useless when they are wet, that's why it is crucial to supply yourself with a reliable, and infallible product like Zippo's Typhoon Match Kit. These matches are windproof and have a water-resistant coating to ensure they will light even in the harshest weather conditions. This kit comes with 15 Typhoon matches in an o-ring sealed case which protects them from moisture and keeps them dry. When you are ready to light that fire, just use the built-in pad on the bottom of the case to ignite a flame, once you have successfully struck the match, it will stay lit regardless of water or rain. Having this match kit on hand is always a good idea, and packing these for your next outdoor adventure will allow you to camp in the winter months with confidence.
Product Features
Windproof and water-resistant
Built-in strike pad
Lightweight
Comes with 15 typhoon matches and an extra strike pad
Lanyard hole for convenient carrying
Pros
Will not break easily when striking
Great durable case
Compact and easy to carry
Incredibly hard to extinguish once lit
Cons
Replacement matches are a bit pricey
Not recommended for indoor use
Not extinguished by blowing them out or by water. (This might be a safety concern when considering your surroundings, must use caution.)
#3 Zippo HeatBank 9s Plus Rechargeable Hand Warmer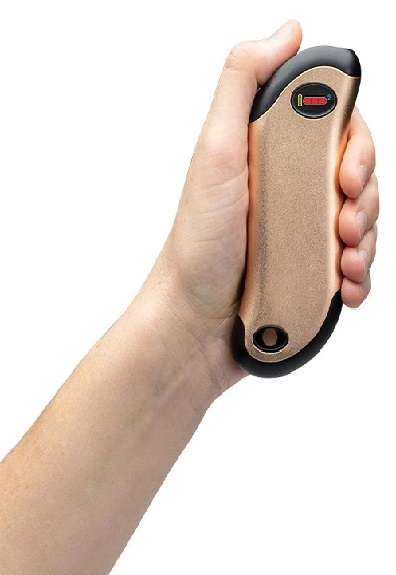 Are your fingers and toes always frozen in the winter months? I find no matter how many layers I put on, and how prepared I think I am, my hands and feet are always cold. If this sounds like you, hands down the very best item I would recommend is HeatBank 9s Plus Rechargeable Hand Warmer. This warmer allows for double-sided heating, low and high temperature settings and will warm you up with up to 9 hours of heat every day. Its integrated LED flashlight technology can be used in both heating and charging modes, but comes in handy on those winter nights.
Yes this product is listed as a hand warmer, but to me this product is multifunctional. It is lightweight and compact and can easily be used in your socks or even in your pocket(s). This rechargeable warmer will allow you to keep your core temperature up and provide a restful night's sleep. As these winter months approach, this warmer is an absolute staple when packing for your winter camping trips.
Product Features
Dual-sided heat
Up to 9 hours of heat
LED flashlight
Charges up to 2 devices via usb input
Lightweight
Pros
Includes a phone charger
Long battery life
Six heat seating
Multifunctional
Cons
Does not heat up while you are charging a phone
#4 The North Face ThermoBall Eco Traction Booties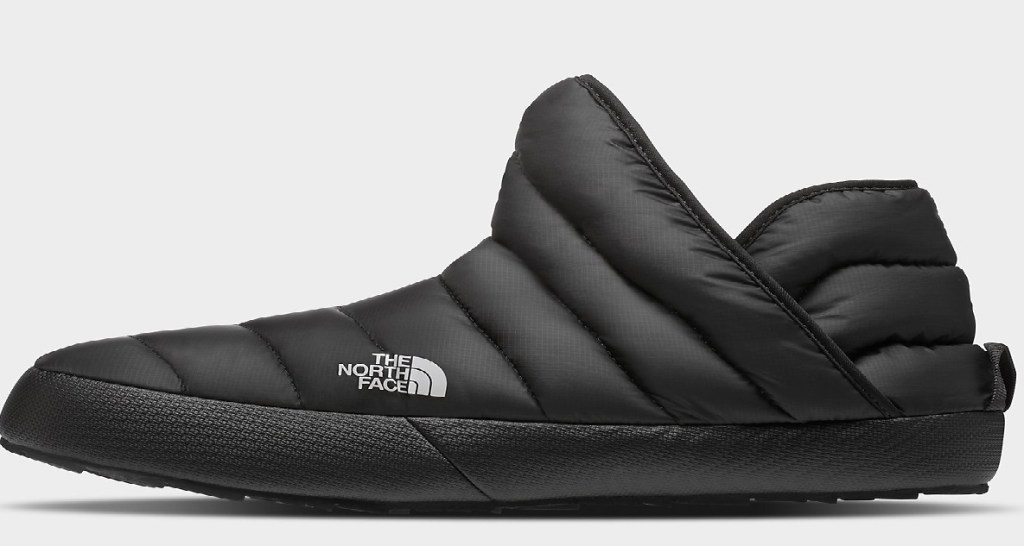 Camping booties have become a must-have item to pack when camping in the winter months. Keeping those toes warm and cozy in the coldest of days is essential. Gone are the days of traditional camping boots, where you had to decide function, or form. The North Face comes through again with an innovative design and technology with their new ThermoBall Traction Bootie, where form meets function. ThermoBall is insulation that offers warmth equivalent to 600-fill-power goose down and maintains warmth even when wet. In addition to providing warmth and comfort, these booties have superior traction; which allows you to never stop exploring even in snow covered terrain. No matter if you are shuffling through the snow, or exploring your campsite, these high-traction rubber outsoles slip-on booties will surely be your new winter's best friend.
Product Features
Durable, water-resistant 100% recycled PET ripstop upper
Easy on/off
Lightweight ThermoBall™ Eco insulation retains warmth even when wet
Supreme traction
Recycled content helps reduce landfill waste
Recycled Outsole made with up to 20% recycled rubber
Pros
Lightweight and breathable
Warm and comfy
Packable
Like walking on clouds
Cons
A bit pricey
Limited colors
#5 Capilene® Air Baselayers by Patagonia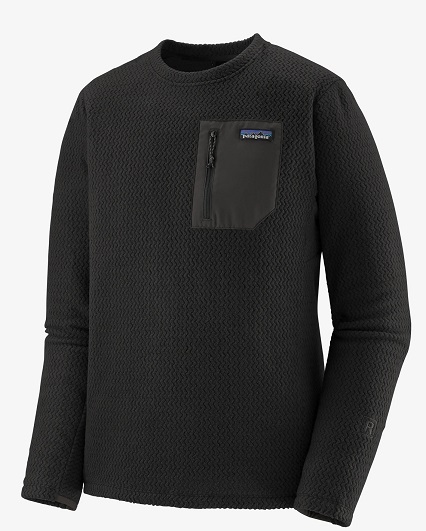 If you are gearing up to camp this winter, one thing is certain, never underestimate the importance of the almighty baselayer. This acts as a second skin and is the layer closest to your body. A baselayer is far more than just thermal underwear, it provides a layer of warmth while absorbing any moisture and keeps you feeling cozy and comfortable during your outdoor winter activities. The most important factor to consider when selecting this layer is the fabric, you want something light, and breathable that will keep you warm in arctic temps. Patagonia's Capilene® Air Baselayer has an incredible construction, made of merino wool blend; which provides maximum warmth and breathability. Merino wool is unlike any fabric, it is a reactive material that adapts to your body's temperature, you will never be too hot or cold no matter the weather conditions. This lightweight and naturally warm fiber is incredibly soft and flexible, you will feel as if you are wearing next to nothing.
Product Features
Made with Merino wool and a blend of recycled polyester
Soft, next to nothing feel
Anti-odor properties
Natural Stretch
Pros
Lightweight and Breathable
Extremely comfy
Versatile
Quick-drying
Cons
Too warm for most baselayer applications
Very expensive
#6 Kelty Cosmic Down 0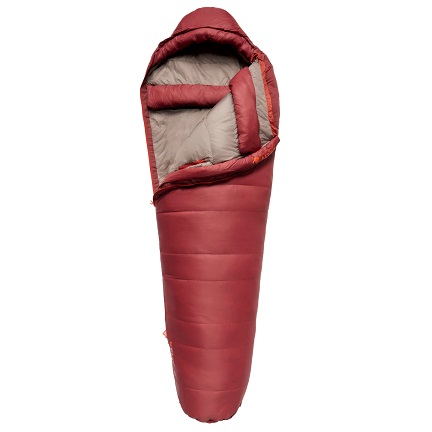 If you are thinking about overnighting outdoors this winter, you have got to invest in a good sleeping bag. When you have been out adventuring all day, you are sore and exhausted, and you just want to bundle up and conk out, there is nothing worse than being too cold to fall asleep!
One of the best rated bags that won't break the bank is the Cosmic Down 0 from Kelty. At $300 for regular size, $320 for long, the Cosmic Down 0 will keep even cool sleepers warm through the winter nights. Cosmic Down 0 is comfort-rated to 17ºF and extreme-rated to -34ºF. As the name implies, the Cosmic Down 0 is insulated with 550-fill duck down, and lined with polyester, all cased in a water-repellent nylon shell, complete with hood and draft protection—no cold ears!
Can we talk about zippers? It's got anti-snagging zippers, ventilation zippers for the hot sleepers, and a super-secret zippered inner pocket for your midnight snacks!
The Cosmic Down 0 is available in two sizes: Regular and Long. Regular fits up to 6' height and weighs 4 lb., 9oz. Long fits up to 6'6" and weighs 4 lbs., 13 oz. Both bags come with stuff sacks for storage and transport, both stuff down to 10" x 19".
One of the most important features this bag offers: ample foot space. So-called mummy bags are great for keeping you warm, but when you feel trapped, how can you sleep comfortably? That's almost as bad as being too cold! The Cosmic Down 0 solves that with its' trapezoidal shape which is both thermally efficient and (more importantly) provides you with a cozy footbox. No wonder there are so many five-star reviews! And to top it all off, Kelty offers a lifetime warranty. You might as well try.
Pros
Sturdy Zippers
Secret inner pocket
Hood
Lightweight <5lbs
Cons
A little heavy for hiking
May fit narrow at shoulder
#7 Big Agnes Insulated Q-Core Deluxe Sleeping Pad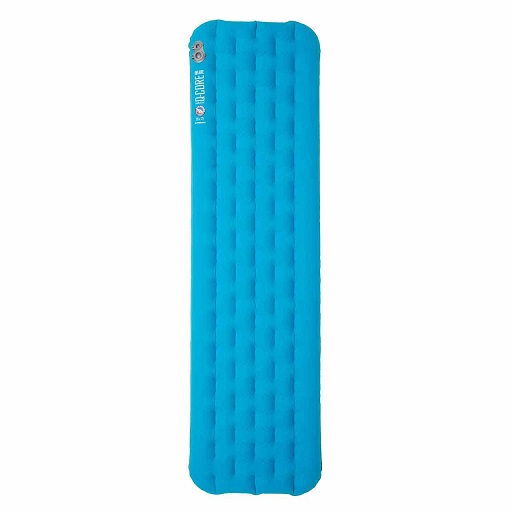 So you have your snug sleeping bag to keep the extremities safe from the night chill, awesome! But did you know that the ground—yes, even the floor of your tent—can be freezing? If you aren't prepared for that you may be in for a rude awakening. Literally. What you need now is an insulated sleeping pad. You will stay warm, and it provides cushioning to boot!
Big Agnes offers a noteworthy choice with their Insulated Q-Core Deluxe Sleeping Pad. This insulated sleeping pad works by trapping in your body heat and reflecting it back to you. The Q-Core Deluxe has an R-value of 4.3, is 3.5 inches thick with taller sides to cradle you, and is covered with soft yet durable nylon-spandex, all for a mid-range price of $127. (Standard. Also available in Wide and Long-Wide for $165).
The Q-Core Deluxe (Regular) measures 72 x 20 x 3.5" and weighs 1 lb., 9 oz. Sleeping pads also come with an inflation sack for pumping your pad and a drawstring sack for storage and transport. Pads pack down to 5 x 8.5," and listen to this: every Q-Core Deluxe sleeping pad is individually tested to ensure you aren't getting a defective product. Now that's a consideration!
With this sleeping pad, when the sun goes down and the ground temp drops you are going to be thanking Big Agnes.
Pros
Good price
Inflation device included
Very comfortable
Durable materials
Contains recycled materials
< 2 lbs
Individually tested
Cons
As with any inflatable, subject to pops/leaks
Negative comments on inflation sack
Not custom-sized, tall or broad people may be uncomfortable
#8 Foxelli MX20 Headlamp – 165 LUMEN 3AAA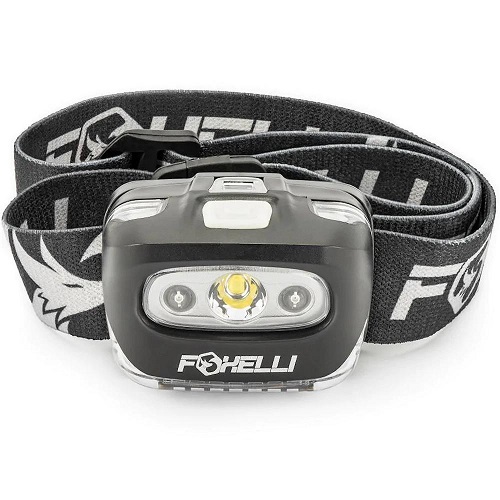 Perhaps not as much of a no-brainer as thermal clothing, a headlamp can be an excellent accessory to add to your cold-weather camping kit. After all, there is a lot less daylight once the seasons change. You never want to risk being caught in the dark and fumbling for a flashlight while you set up camp for the night.
The Foxelli MX20 headlamp is their least expensive option, but don't let a low price fool you! The MX20 cranks out up to 165 Lumens, up to 50 meters, on just 3 AAA batteries (included). Five light modes include: bright, medium, low, flashing/SOS, and red light; which can be especially good in winter for two reasons: 1) It preserves night-sight, and 2) If there is snow on the ground you won't be blinded by bright white glare. The light is affixed to an adjustable elastic strap and is very lightweight. Over top of a beanie, you won't even be able to tell the lamp there.
IPX5 weather-resistance combined with cold and impact resistance make this a very user-friendly device. For $16.97, and with all those specs, the Foxelli MX20 offers a lot of bang for your buck. When the sun sets at 5 p.m. an MX20 is practically essential. (I'm not just saying that because it's my favorite accessory)!
Pros
Small, lightweight
Adjustable strap
Adjustable tilt
Up to 45 hours run-time
IPX5 weather-resistant
Five light settings
Batteries included
8 color options
Cons
Not rechargeable/battery-operated only