When Woodrow Wilson signed the act that created the National Park Service on August 25, 1916 – it would've been impossible for him to predict the then 35 National Parks and Monuments would grow to more than 400 over the next 100 years. As we arrive at the centennial celebration of our National Parks, I'd like to highlight a handful of books to provide depth into these areas of national significance. I've broken down the titles based on age range, and how best to use them. Enjoy!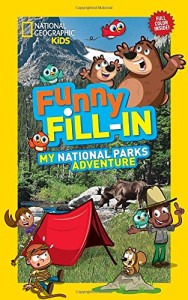 Funny Fill-In : My National Parks Adventure
National Geographic Kids
Ages: 8-12
$4.99
If you remember Mad-Libs books, or even better – if they're still a staple in your house — you're going to love the Funny Fill-In, My National Parks Adventure book.
With stories that start:
We're walking along a trail in the Great Smokeis when we hear a(n)_____________ (noise)
and
When a park ranger asks us if we want to stargaze at night in Death Valley, we say "_________" (silly word)
This is surely an activity book that'll keep your young learners greatly entertained while simultaneously keeping their minds working to identify adjectives, verbs, and more. Did I mention, the artwork is great? Cartoon animals, park rangers, and more join photos of some of our greatest National Parks.
http://gph.is/2hG8BWC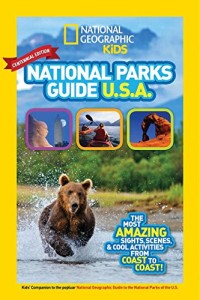 National Parks Guide U.S.A. : Centennial Edition
National Geographic Kids
Ages: 8-12
$14.99


If you've got a young learner (like I do) who can't get enough facts, tips, and tricks about the National Parks – this is a must have guide! The book is sorted into geographic areas of the United States, highlighting parks in the East, Midwest, Southwest, and West. Easy to make heads and tails of, this guidebook presents the info into digestible bites that include "Ranger Tips", "Best Views", and "Animal Sightings." Whether you venture into the park, or simple read about it from your living room – this book gives a glimpse into the fun and facts of our National Parks. In addition, it's a great companion guide to the adult-version: National Geographic Guide to National Parks of the United States.
http://gph.is/2i2tTRI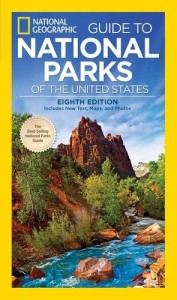 National Geographic Guide to National Parks of the United States
Agest: Teen-Adult
$28.00


Whether traveling through the National Parks is a fantasy – or reality — of yours, this is the book you'll want to keep in your backpack. Breaking the United States down into eight geographic zones, the eighth edition of the National Parks Guide includes in-depth information on everything from lodging and how to get there from nearby city centers to suggestions on actually how to visit. Combine the written info with a wealth of maps and images shot within each of the parks – and you've got enough to keep yourself busy for a lifetime. A must-have for any National Parks traveler … or wannabe.
http://gph.is/2h4VhOR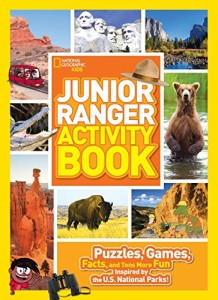 Junior Ranger Activity Book
National Geographic Kids
Ages: 8-12
$14.99
I love having activity books both at home and in the car that I can break out whenever "Dad, I'm bored" sets in. It's always a trick to find books that can combine engaging activities with content that doesn't cause brain rot. I'm happy to say that the Junior Activity Book accomplishes both objectives. From matching historical sites with their description on a map to correctly identifying amphibians – this book will keep the kids entertained and learning about the world around them, all backed by a National Parks theme.
http://gph.is/2hNACi3