Our Favorite Winter Dog Gear
Does your dog love playing in the snow and going on winter adventures with you? We've compiled a list of some of the best winter dog gear so that your pup can last longer and have more fun on those chilly outings.
Sure, some people scoff at the idea of dressing a dog, but other dog owners have seen their dogs shiver violently or even get a nasty case of frostbite after exposure to harsh winter temperatures. Perhaps you're worried about looking odd, but if your pup is as uncomfortable as you would be if you went outside without clothing, then who cares what people think?
Index
Winter Dog Gear: COATS
How warm your dog is able to physically keep him or herself likely depends on their breed, size, and even age. Smaller breeds can especially benefit from a little extra winter dog gear. A sweater or jacket can also be helpful if your dog is reluctant to go outside in the snow to relieve themselves. We don't blame them; we wouldn't want to run outside naked and pop a squat in freezing temps either!
We've compiled a list of some great winter coat options for your four-legged friend. Make sure to closely follow sizing charts provided by these brands on their websites prior to purchasing. We want your pup to be warm, protected and comfortable!
Hurtta Winter Jacket
This Hurtta Winter Jacket is perfect for strolls in windy and cold conditions. Your pup's major muscle groups and sensitive abdominal area will be well protected. Easy to put on and take off, this jacket contains a waterproof and breathable Houndtex® membrane and highly visible 3M reflectors. This item can be purchased on Amazon for $38.88.
  Buy it here.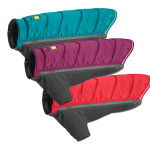 Ruffwear Powder Hound
The Ruffwear Powder Hound offers the warmth of synthetic insulation with the range of motion of technical stretch fabric. This weather resistant, insulated jacket is great for any cold weather activities you and the hound may encounter, so head over to Amazon and pick it up for $89.95.
Buy it here.
Doggie Design Alpine All-Weather Dog Coat
This Doggie Design Alpine All-Weather Dog Coat is great for tiny or large dogs looking for a little extra warmth this winter. Made with a tough, waterproof outer polyester layer, it's designed with extra fiber-fill to add even more warmth and protection. For $40.95 it's yours!
Buy it here.
Ultra Paws Comfort Coat
With a waterproof outer shell featuring a fiber-fill liner, covered with soft fleece, your pup is sure to stay warm and protected against the elements! If you and your furry friend enjoy night strolls, no worries! There's also reflective piping for nighttime visibility. The Ultra Paws Comfort Coat also features an adjustable turtleneck to fit both narrow and wide necks. Order for $41.95.
Buy it here.
Hurtta Ultimate Warmer
The Hurtta Ultimate Warmer is the answer to all your pup's winter problems, and it can be found on Amazon for $88. Providing efficient thermal insulation, it'll be much easier for dogs to stay active and be comfortable at the same time. Featuring a waterproof and breathable Houndtex® membrane, your dog will stay dry and warm in the worst conditions. An adjustable collar, neckline, waist and a protective rear hem are all added bonuses.
Buy it here.
RC Pet Products Skyline Puffy Vest
Puffy vests are in this season! Bundle your dog up in style with this warm, reversible, quilted RC Pet Products Skyline Puffy Vest. For $40 you'll get a dog vest featuring reflective label, leash access welt slit, 3M reflective piping, hook and loop closure, and a water-repellent ripstop quilted layer.
Buy it here.
Winter Dog Gear: RAINWEAR
Hurtta Raincoat
This Hurtta Raincoat is effective against rain, slush and dirt. This coat is waterproof, features a comfortable design, 3M reflectors, adjustable fit, and is machine washable. We found it on Amazon for $52.11. Better yet, this raincoat also has an adjustable waist and neckline for your pup!
Buy it here.
Ruffwear Sun Shower Rain Jacket
Ruffwear's Sun Shower Rain Jacket is built for the trail! Your dog will remain comfortable through wet weather thanks to Ruffwear's waterproof fabric. This design is non-insulated, allowing for warm climate use as well. No more muddy dog cleanup! Head over to Amazon to purchase this jacket for $49.95.
Buy it here.
Orvis All-Weather Dog Parka
Orvis' All-Weather Dog Parka can be a great addition to any dog's outdoor adventure. This waterproof rain jacket is recommended for any adventure your pup may encounter! 3M Scotchlite reflectors offer safety in low visibility. Insulated and waterproofed, your dog will be protected from the elements! This item can be purchased for $98.
Buy it here.
Winter Dog Gear: SNOW BOOTS
Again, we know there are critics who will make fun of you for having a dog in boots, but your dog is your first priority. So jump on the bootie train and take a look at a selection below that we think will kick winter right in the butt!
Ruffwear Polar Trex
Ruffwear Polar Trex cold weather dog boots are designed for warmth, paw protection and traction, featuring a Vibram® Icetrek® ice-specific sole compound. Three-layer laminated soft-shell upper is DWR coated and is weather-resistant, wind-resistant and breathable. An extended gaiter height also gives added leg protection. A set of four can be found on Amazon for $89.95.
Buy it here.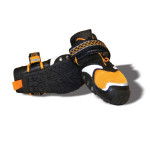 Kurgo Step 'N Strobe Dog Shoes
Kurgo Step 'N Strobe Dog Shoes helps protect paws from cold in winter and heat while also providing support and protection. We found them for $89.99. Made of breathable tight-weave mesh and synthetic leather uppers and outsoles to provide protection and durability. Features light-up soles and reflective welds for visibility in the dark, ankle cord lock for adjustability and long lasting sealed battery for water resistant activity.
Buy it here.
Grip Trex
Built for dogs who bike, run, and explore the great outdoors with their favorite humans, these high performance Ruffwear Grip Trex boots feature a rugged and resilient outsole lug pattern that is designed to provide more traction for varied terrain use. They're yours for $69.95.
Buy it here.
DuraPaws Soft Sole Dog Boots
DuraPaws knows that walking on hot asphalt, ice sidewalks and rocky hiking trails are not good for your pup's paws. DuraPaws Soft Sole Dog Boots can be purchased on Amazon for only $24.95. They also feature dual reflective straps for nighttime visibility and tough non-slip traction pads.
Buy it here.
Winter Dog Gear: SNOODS
Think of a snood for a dog like a scarf for us, it's just another piece of winter dog gear that helps keep your furry friend warm! These can be especially handy for dogs with thin coats and ears. Even the most careful dog owner can find frostbite on their pup's ears during the chilly winter months. If your dog can't stand it, slip a cozy snood on their heads for extra protection when they face the cold! Here are a few of our favorites.
Chilly Dogs Head Muff
The Chilly Dogs Head Muff is the best of both worlds, an ear and neck warmer combined into one for the perfect piece of gear to add to your pup's winter wardrobe. Prices for this product range from $17.95-$25.95.
Buy it here.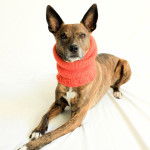 SnugABull Dog Snoods
Keep your four-legged friend's neck and ears nice and toasty with a SnugABull Dog Snood. Stylish and a great piece of armor against the harsh cold weather your pup might be facing! Prices for SnugABull Dog Snoods range from $25-$40.
Buy it here.
Sirius Republic Fleece Snoods
Here is another version of snoods to keep your pup warm! These Sirius Republic Fleece Snoods are handmade in the U.S.A, but better yet, you can pick from a variety of fleece patterns. Does you puppy love dinosaurs, plaid, camouflage? The options are nearly endless. You can purchase this item for $25.
Buy it here.
Winter Dog Gear: BEDDING
Just like you, your furry family member also needs a warm and comfortable place to rest their head. Even your dog needs a place to call his or her own—a place to relax, get a good night's sleep, and even retreat to when things get hectic around the house. A dog bed is also a great form of insulation from cold, hard floors, especially for older dogs who could use extra joint and bone support. Make sure you consider your dog's specific sleeping habits and size prior to making a purchase. Take a look at our complete list of dog bedding options below.
Lectro-Soft Outdoor Heated Bed & Cover

This K&H Pet Products Lectro-Soft Heated Outdoor Heated Bed is great for using in the home, garage, porch, kennel or pet house. Internal thermostats heat up to the standard body temperature of your dog. For extra comfort a soft removable cover is included. We found a medium sized bed for $45.40.
Buy it here.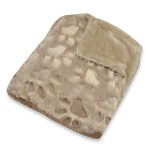 Pawslife™ Warming Pet Blanket
The Pawslife Warming Pet Blanket helps you to easily keep your dog warm, cozy, and comfortable when the temperatures start dropping. An added bonus is that you'll also be protecting your furniture or car upholstery from dirty paws and shedding hair. You can purchase this item for $19.99 from Bed Bath & Beyond.
Buy it here.
K&H Pet Bed Warmer
K&H Pet Products Bed Warmers are the perfect way to add a little bit of extra warmth to those chilly nights. They're designed for indoor use, can be used with any pet bed, and range from size small to X-large. Head over to Amazon to purchase; prices range from $13.99-$38.27.
Buy it here.
BarkerBag
The Barker Bag is basically a dog sleeping bag that zips to the side of a human sleeping bag, or even in between two sleeping bags that already zip together. Your dog will always be warm on those camping trips, and so will your feet! An additional bonus is the cinchable collar that keeps your dog secure all night long. No more late night shenanigans! Barker bags range from $89-$109.
Buy it here.
Alcott Explorer Sleeping Bag
Your pup can slip into the cozy Alcott Explorer Sleeping Bag after an adventurous day of camping or backpacking. Its top is completely removable and the bag rolls up for easy storage and travel. This sleeping bag also comes with a travel bag and is machine washable. The Explorer Sleeping Bag is $29.99.
Buy it here.
Winter Dog Gear: DOG PACKS
Consider what the intended use for the pack is before you decide on one. For longer multi-day adventures you'll want to look for a larger dog pack that also offers flexibility. Always keep your dog's comfort as first priority. Fit is very important. One key feature to look for is a breathable back panel that disperses the load while providing continuous ventilation. Reflective trim can also be a great additional bonus if you plan to be out at night. Here are a few great dog pack options we've researched for you.
Mountainsmith Dog Pack
The Mountainsmith Dog Pack has a fully adjustable 3 section padded harness system, ensuring your dog will experience a comfortable and stable fit while running around exploring. 3M reflective tape provides additional safety for those late night treks. Amazon has this dog pack currently available for $49.95.
Buy it here.
Outward Hound Backpack
Whether you're hiking the trails or strolling through town, your dog can now comfortably carry his or her own weight. The Outward Hound Backpack was designed with your furry friend's comfort in mind, featuring bright colors for better visibility, large pockets for food and water storage, and an elastic water bottle holder. We found it on Amazon for $23.99.
Buy it here.
Ruffwear Palisades Pack
The Ruffwear Palisades Pack is perfect for multi-day backcountry adventures. Features include removable saddlebags, two collapsible water bottles, and a load compression system. If you need to help your dog over an obstacle it's no problem thanks to the padded assistance handle. Buy your four-legged friend the Palisades Pack for $149.95.
Buy it here.
Winter Dog Gear: SKIJORING GEAR
If you have a high-energy dog that loves to be active, even throughout the winter, then perhaps you should give skijoring a try! Skijoring is a cross between cross country skiing and dog sledding. Yes it is as awesome as it sounds. The best part is you don't even need to be an expert skier to skijor, and your dog doesn't need to be a huge dog thanks to the momentum you'll be providing, but your dog should be at least 35 pounds for this activity. You'll just need a healthy, energy packed and motivated four-legged companion. Make sure everything fits your dog right prior to giving this a go, as this is meant to be fun for both of you!
Ruffwear Omnijore Joring System
This Ruffwear Omnijore Joring System is designed for any dog-powered activity such as skijoring, mountainboard-joring, skatejoring, bikejoring or canicross. Now you'll have the gear to go joring all year long and in any climate. The complete system includes dog harness, human hipbelt, and towline. The harness is available in three sizes and can be purchased for $174.95.
Buy it here.
Ultra Paws Skijor Package
This complete Ultra Paws Skijor Package includes a hip belt with patented soft safety release, a padded harness and an 8 foot tow line. With this package you'll be able to go skijoring, rollerjoring, or canicross with one dog. You can purchase this package for $126.85.
Buy it here.
Skijoring Starter Package 1
Black Ice Dog Sledding Equipment has a Skijoring Starter Package 1 for $54. This package includes towbar, one dog towline and a Yukon sledding harness for your furry friend. Harness colors include: red, black, royal blue, purple.
Buy it here.
Winter Nutrition Tips for Your Dog
Provide Supplements
Our list of winter dog gear includes much more than clothing. You can help protect your dog from chilly temperatures in a variety of other ways including by providing supplements and special treats to manage their diet. Sure, the dog food brand you use might claim they provide all the necessary nutrients for your pup at its life stage, but that's not always true. Many dogs will still benefit from a supplement to help with their digestion or joint support, especially older dogs with arthritis.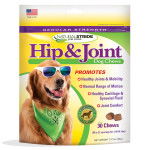 Natural Stride Joint Support Dog Chews
Natural Stride Joint Support Dog Chews are great tasting and easy to feed! They are specifically formulated for dogs with less severe joint pain, arthritis, and hip Dysplasia. These chews promote healthy joints and mobility, normal range of motion, healthy cartilage and synovial fluid, and joint comfort. Help your dog have the happy and healthy joints it deserves for $14.67.
Buy it here.
Tomlyn Joint & Hip Chews
Tomlyn Joint & Hip Chews are for dogs of all sizes as well as senior dogs. These chews are specifically formulated for all dogs and concentrated formulas allow for easy dosage of one chew a day, in most cases. Each supplement is packed with high-level ingredients to provide comprehensive joint health. These chews, for medium and large dogs, can be bought on Amazon for $13.27.
Buy it here.
Pet Naturals Hip + Joint Extra Strength
Looking for tasty supplements for your four-legged friend? Pet Naturals Hip + Joint Extra Strength is an advanced formula to support hip and joint health and connective tissue functions. Available in chicken liver flavored chewable tablets, Hip + Joint Extra Strength helps your dog maintain flexibility as well as everyday comfort. Buy a bag for medium and large dogs for $36.14.
Buy it here.
VetriScience Laboratories Glyco-Flex II Chewable Dog Tablets
VetriScience Laboratories Glyco-Flex II Chewable Dog Tablets are the second stage of the Glyco-Flex life program for dogs. The tablets come in a delicious roast chicken flavor and provide sporting breeds, as well as adult and maturing dogs, with complete joint support. Veterinarians recommend Glyco-Flex II for dogs needing advanced joint support, adult and maturing dogs, and working/sporting breeds. We found these tablets for $32.86.
Buy it here.
H3 Essentials Hip And Joint For Dogs
Delicious, chewy, chicken flavored treats for your pup! H3 Essentials Hip And Joint For Dogs' has powerful ingredients to provide your furry friend with the comfort they deserve. These chews strengthen cartilage and reduce inflammation in older dogs as well as serve as a preventative measure in younger dogs. These chewy treats are especially easy for dogs with dental issues to eat. They can be purchased for only $16.95.
Buy it here.
TerraMax Hip & Joint Supplement For Dogs
TerraMax Hip & Joint Supplement For Dogs is a liquid Glucosamine for dogs designed to reverse the effects of joint damage, along with helping to reduce joint pain and promote healthy joints and cartilage. TerraMax ingredients provide safe, natural arthritis relief to dogs of all ages and sizes. The liquid formula makes it easy to give to any dog without the risk of swallowing complications or the struggle of cutting a pill in half. Another bonus provided to your pet is healthy skin, hair, teeth and nails. Buy this product for $39.97.
                                         Buy it here.
Keep Hydrated
Always make sure your furry friend is adequately hydrated. It's easy to overlook sometimes, but dogs can dehydrate just as quickly in the winter as in the summer. Check your dog's water dish often and break ice that could form on top. You may want to consider adding a heated water bowl to your winter dog gear arsenal to prevent ice buildup.
K&H Thermal-Bowl
An easy and inexpensive way to prevent your dog's drinking water from freezing during chilly weather. This thermostatically controlled K&H Thermal-Bowl is perfect for outdoor dogs and will keep your pup's water from freezing even in extremely cold temperatures. You can order your Thermal Bowl for $22.65.
Buy it here.
Increase the Calories
If your dog spends a decent amount of time outside, increase the amount of food they eat. Consider feeding them 2-3 small servings throughout the day. Most of us tend to snack throughout the day, so do the same for your pups to satisfy their bodies and keep them energized.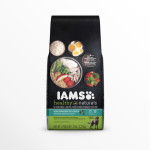 IAMS Healthy Naturals Dry Dog Food
We all want our dogs to be healthy and happy for as long as possible, which is why products like IAMS Healthy Naturals Dry Dog Food are good to feed our furry friends. Featuring farm-grown fruits and vegetables, this formula will help keep your dog healthy for a lifetime. You can buy a 5 pound bag for $10.99.
Buy it here.
Purina ONE SmartBlend Dry Dog Food
Purina ONE SmartBlend Dry Dog Food features real turkey as the first ingredient. Purina believes in helping dogs maintain healthy weights, but not depriving them of the flavors they love. This recipe is lower in calories but rich in protein. Buy an 8 pound bag for $11.88.
Buy it here.
Beneful Dry Dog Food HEALTHY WEIGHT
Did someone say real chicken? Beneful Dry Dog Food HEALTHY WEIGHT features real chicken accented with apples, carrots and green beans. Help your dog maintain a healthy weight but still love dinnertime. We found a 15½ pound bag of these tender and crunchy bites for $13.99.
Buy it here.
Reduce the Amount
Not all dogs are created equal. If your pooch tends to have weight problems during the winter, just reduce the amount of food you give them, curb their treats or consider switching to a healthier lower calorie treat.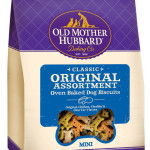 Old Mother Hubbard Classic Original Assortment
These Old Mother Hubbard Classic Original Assortment treats are bone-shaped biscuits in a variety of flavors: original, chicken, cheddar and charcoal. Old Mother Hubbard bakes a wide variety of other naturally delicious snacks for dogs as well, so load up the pantry with treats! Choose from large, small, or mini biscuits. You can buy a 20 ounce bag of small biscuits for $11.35.
Buy it here.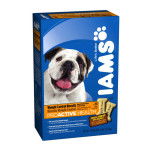 IAMS Proactive Health Adult Control Weight Biscuits
IAMS Proactive Health Adult Weight Control Biscuits are made with chicken protein and have 14% less fat than the IAMS Original Formula Biscuits. These biscuits are intended to be fed as a treat to complement IAMS ProActive Health dry or canned dog foods. Two to three biscuits per day are recommended. We found a 4 pound bag of these biscuits for $46.89.
Buy it here.
BLUE Buffalo Health Bars
Baked with fish and sweet potato, these BLUE Buffalo Health Bars are the perfect complement to your four-legged friend's wholesome diet. They feature delectable flavors and crunchy textures your dog will love crunching on. Did we forget to mention they help clean your pup's teeth too? Added bonus! For $6.99 you'll have one happy dog!
Buy it here.
CANIDAE Grain Free PURE Heaven Biscuits
The new CANIDAE Grain Free PURE Heaven Biscuits aren't just delicious treats, they're also nutritious for your dog! Their unique bison and butternut squash recipe features wholesome cumin seed, nutritious sesame oil and ginger. Your best friend's snack happiness only costs $6.39.
Buy it here.
Change Diets Gradually
Adjusting your dog's diet during winter can be a great thing for them nutrition wise, however you need to be careful. Too abrupt of a change can make your pup sick. Begin offering the new foods gradually and slowly increase the amounts of their new food while decreasing the old.
We hope our tips and winter dog gear recommendations help keep your dogs comfortable no matter what weather conditions they may face. Keep the adventures coming for all of 50 Campfires' four legged, furry friends!