If your father, boyfriend, son, cousin or significant other likes the outdoors, that provides huge potential for gift ideas. If you're ever stuck for gift inspiration for a man in your life, they will always need new outdoor gear.
As outdoor guys ourselves, we tried to think about what we would like for a birthday, Christmas or random gift. Something that we could live without but would rather live with. Something we wouldn't buy ourselves but would still find genuinely useful.
This list below includes 15 cool outdoor gift ideas for the men in your life, enjoy!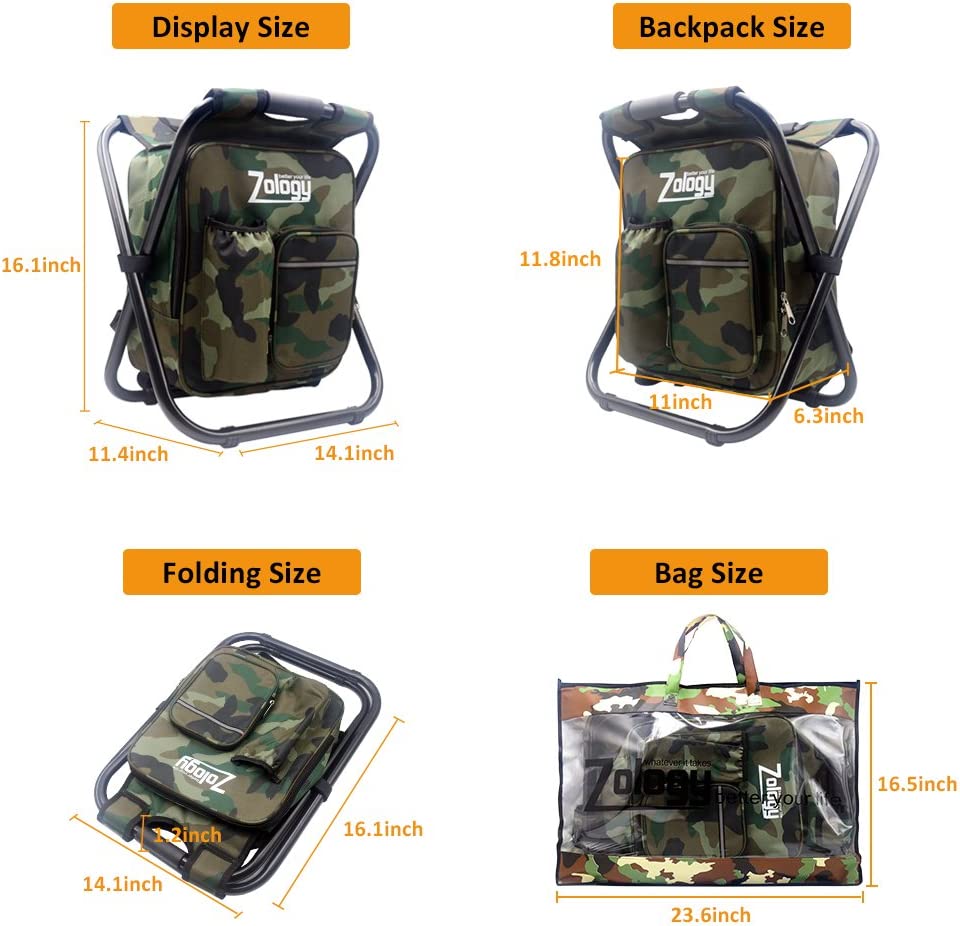 Some people don't mind sitting on the floor or rolling up a log into camp but most of us would secretly like a chair to sit in. If that chair is light, strong and offered even more utility, all the better.
The Zology Folding Camping Chair is a great example of that. It weighs just 3.3 lbs and folds flat enough to carry. It's large enough for everyone except the tallest adults and provides stable seating for hiking, fishing or camping.
It's also part carry pack so would be able to carry all your gear on shorter hikes.
It has pockets for small items and larger storage in the center. The frame helps keep everything safe without being uncomfortable.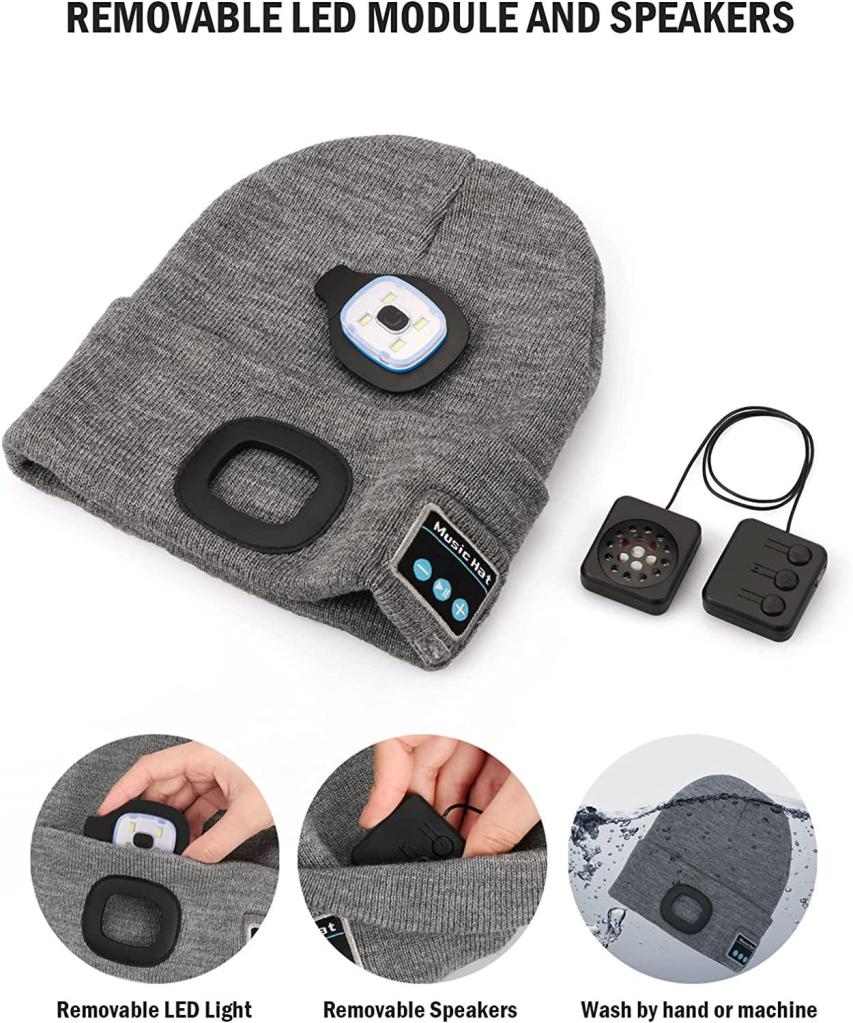 The Bluetooth Beanie Hat with Light is a simple but very effective gift for outdoors men. We like it mainly for the torch part, but it also has speakers and a mike so you can Bluetooth it to your phone.
The hat is knitted and warm and available in a range of colors. The speakers are over each ear and add a little bulk, but nothing unmanageable.
It's the torch we like best. It replaces the head-mounted light and frees up your hands for essential tasks. As long as you position the light so it's in line with your eyes, it provides clear, bright task lighting.
The light is removable too for if you need it for other things. It's also rechargeable via USB so you can keep it charged from anywhere.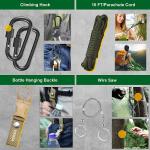 If the man in your life wants to get into camping but isn't sure, or occasionally camps, the Survival Kits 27 in 1 Camping Accessories pack could be for him. It's a great outdoor gift for men that's also genuinely usable.
The kit is more suited to those considering getting into outdoor living or those who want to dabble. More experienced outdoorsmen would prefer to build their own kit from tried and tested items, whereas this has everything.
All tools are of a decent quality, work as advertised and offer genuine utility. There are things you'll probably never use, but overall, it's a well-balanced kit made from quality materials.
If the man you're buying for wants to venture more into the wilderness, this is a great kit to get them started.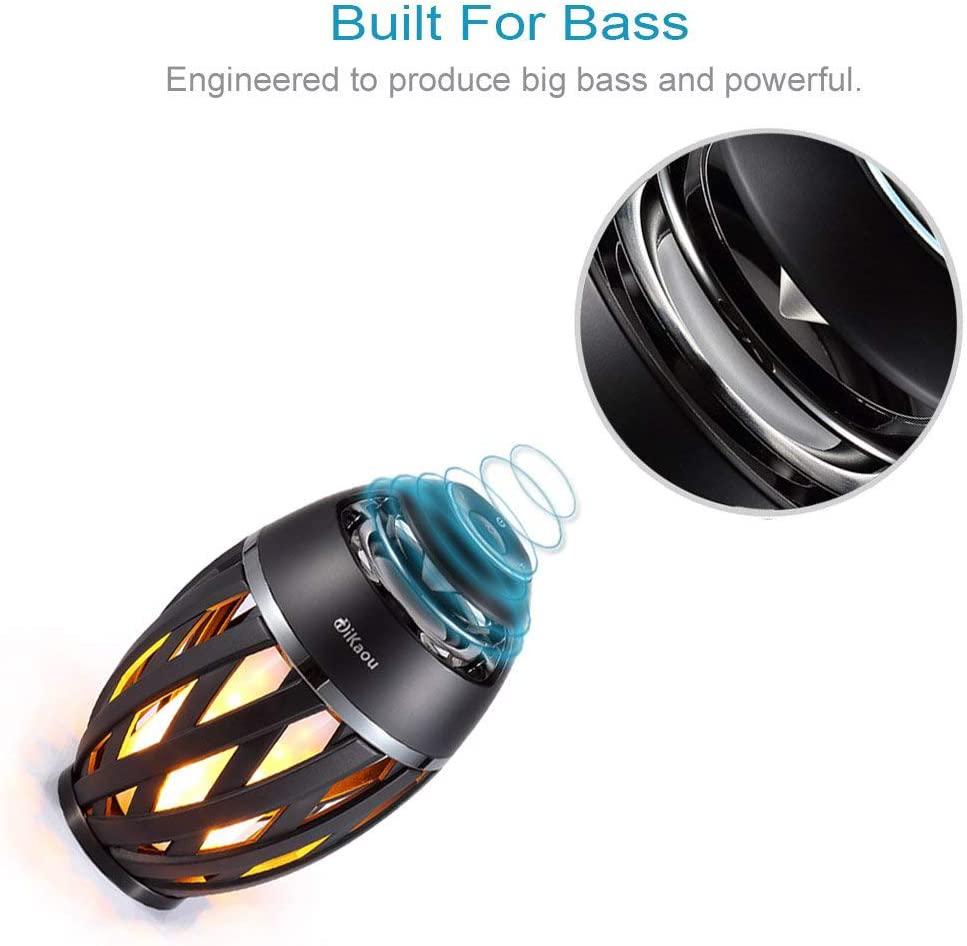 The DIKAOU LED Flame Speaker is a less serious gift. It's a Bluetooth speaker that connects to your phone to play audio as well as provide a warm light. The light can show a 'realistic' flickering light like a flame.
The speaker is small so isn't too loud and uses rechargeable batteries to power it and the light. Bluetooth connectivity seems reliable and you'll get around 7-8 hours playback per charge.
Whether you want to add music to a camping trip or hike or want something for the back porch, this little speaker looks and sounds the part. Sure, it isn't going to deliver booming bass or concert-worthy audio, but then nothing this size would.
Overall, it's a great speaker with decent light that's easy to use and to carry if you need to.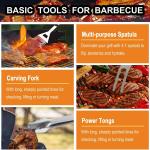 You don't have to be an outdoors guy to enjoy grilling. It's part of our national culture and something most of us enjoy during good weather. That makes this 31 piece grill set an excellent outdoor gift idea.
The kit is made from good quality stainless steel and is strong enough to last a long time. It includes a spatula, tongs, fork, cleaning brush, brush head, basting brush, thermometer, grill mats, skewers, scissors, corn holders, straws and a well-made bag to keep it all in.
Reviews are overwhelmingly positive, with many saying it includes everything you could need and everything is robust enough to cope with regular use. Ideal if you grill often.
Considering the price, you get a lot for your money and most tools you'll ever need for a BBQ. Plus, the company is called Grilljoy, so even wins points for its name!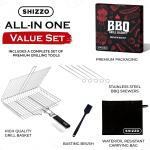 If you don't need a full grill tool set, the SHIZZO Grill Basket Value Set could be ideal. It's a grill basket complete with basting brush and grill gloves. It comes with a handy case to easy transport too.
The grill basket is a great way to cook over a fire or grill. Place all your food into the basket, suspend over the heat, turn and/or baste as required and wait until the food is cooked.
There's no waste, very little spillage and you have a readymade plate too. It's a versatile tool that won't take up much room in your backpack or could be used in the backyard just as easily.
The basket has been made thick enough for most steaks as well as chicken breasts, thighs and legs, lamb, vegetables and other food. The wire mesh is tight enough for all but the smallest ingredients, yet spaced far enough apart to let everything cook properly.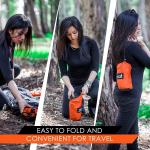 Want to chill out in the yard while reading a book or cuddling up? Want to camp but not in a tent or on the floor? Then you need the Lightweight Double Camping Hammock!
The Lightweight Double Camping Hammock is a two person nylon hammock that comes complete with the hammock, 9 foot straps, aluminum carabiners and a useful carry bag.
The construction is light but sturdy and can handle up to 450 lbs in weight at one time. It's deep and stable, so makes the perfect place to cuddle up in the sunshine or sleep at night.
The straps are strong but flexible and make short work of fastening to trees or other uprights. The carabiners are light and are definitely strong enough for the stated weight and offer an easy way to hang the hammock.
You will need a blanket, tent or cover if you're using it for camping, otherwise, this is all you need to rest and relax in total comfort.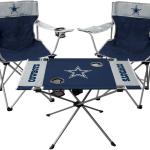 The NFL 3-Piece Tailgate Kit is an outdoor gift for the football fan in your life. Whether you plan to use it for tailgate parties or as a lightweight setup for camping, it's a great option for enjoying the outdoors in comfort.
The kit includes two chairs and a table in team colors. Most NFL teams are covered and you get the logo and team colors to show your allegiance. Both the chairs and the table fold flat and come in a neat carry bag for easy transport.
While designed for tailgating, you can use them anywhere you like. While the legs look flimsy, they are pretty sturdy and can handle up to 75 lbs each. The chairs have a cup holder in one arm and the table has two, making a very safe platform for holding drinks.
If you're looking for something a little different, this is definitely an option. Construction is sturdy but flexible and you get to show off your team at the same time!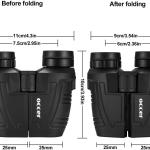 The 12×25 Compact Binoculars with Clear Low Light Vision are a great pair of portable binoculars that punch way above their weight. With 12x magnification and a 25mm objective lens, these offer amazing clarity over middle distances.
They are adjustable with a folding compact design. They are waterproof and made from ABS plastic so should last the test of time. There's a covering of rubber over areas of the binoculars to help protect them when being transported too.
Green film over the lens helps clarity and offers a quick way to focus when out in the wild. Whether you're bird watching, hunting or just exploring the world, these binoculars can help.
Reviews are overwhelmingly positive, with many reviewers comparing them favorably to more expensive brand name competitors. If that isn't reason to give them a try, we don't know what is!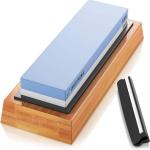 The Sharp Pebble Premium Whetstone is exactly that, a premium whetstone great for sharpening blades of all kinds. It comes as a double sided stone with #1000 on one side and #6000 on the other and is encased in a smart bamboo case.
The kit also comes with a rubber base to help keep it stable when placed on a flat surface. That's something many other whetstones forget and is definitely a plus point for this one.
We wouldn't recommend using it outside but it's definitely useful for preparing knives, axes, hatchets and other blades for camping or outdoor work.
The stone is very effective at creating a sharp edge and keeping it there. If you're new to the outdoors, the whetstone comes with a very useful angle guide that shows you exactly what angle to sharpen the blade for best effect. Even if you don't use that, the stone itself is great!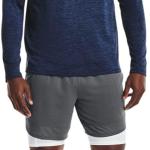 The Under Armour Men's Tech 2.0 Long Sleeve T-Shirt is a great outdoor gift. It can be used as a single layer in spring or fall or as a base layer in winter. It's a thin top with a quarter zip that makes it excellent as a base layer when out exploring.
The material is polyester and is loose and well-fitting. You may have to size up as these can come up a little small. Under Armour makes top quality gear so you won't be disappointed in the stitching and finishing.
While we recommend this top for outdoor use as a base layer, you could use it anywhere. In the gym, in the yard, while working around the home or anywhere you need.
Considering the low price, this would make a great stocking filler or extra gift for that special someone.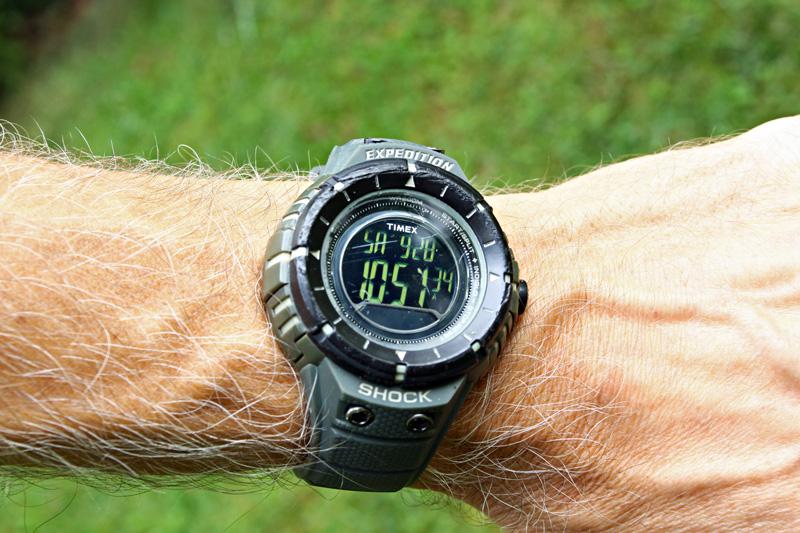 The Timex Men's T49612 Expedition Shock Watch looks the business and has a range of outdoor features. Timex is a well-known watch brand with a reputation for delivering awesome quality at sensible prices. This is no exception.
The watch is shock resistant and comes with a water-resistant case and resin strap. It has a digital compass, chronograph, backlight, scratch-resistant glass face and a battery life of up to 10 years.
If the man you're shopping for doesn't want fitness tracking or the features of a smart watch, but instead wants an incredibly reliable watch with a built-in compass, this is the watch to get.
The green colorway is cool and the resin strap is comfortable and heard wearing. Ideal for the active person.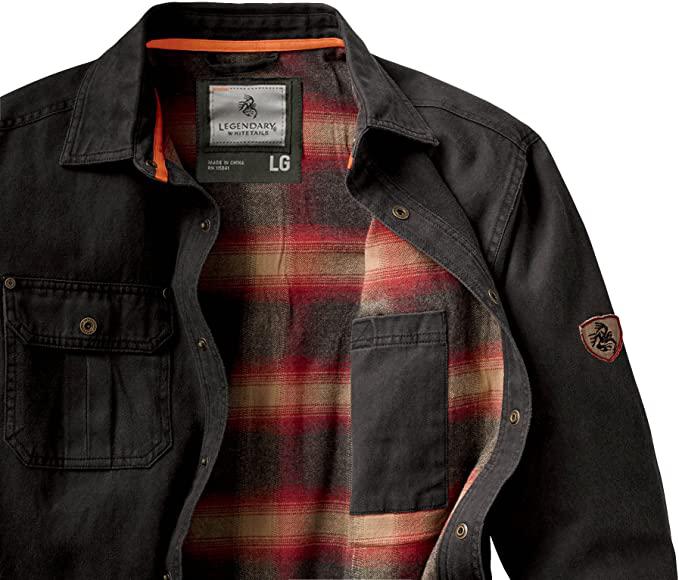 The Legendary Whitetails Men's Journeyman Shirt Jacket is ideal for layering when it gets cold outside. It's an attractive shirt and jacket combined made from a cotton and polyester mix and is very warm.
The shirt is available in a range of colors and sizes, with sizing being accurate for once. If you're usually a large, the large in this shirt will probably fit. That makes a nice change!
The shirt itself is lined with a checked shirt underneath and rugged cotton exterior. There are antique-style button fixings for a signature look and small details all over to add more character.
This shirt jacket is ideal for wearing around camp, the yard or for general use. We wouldn't recommend it for hiking or when it's really cold but for most other situations it's ideal.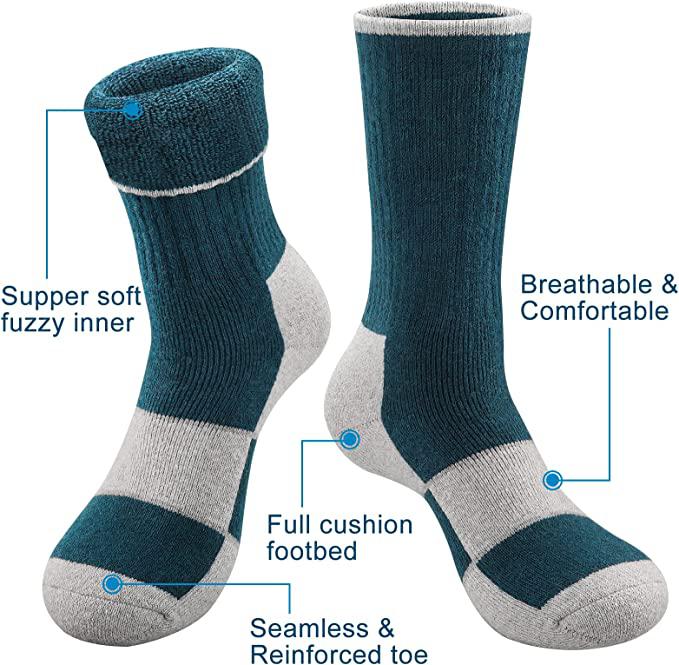 We know socks aren't the most imaginative outdoors gift. But ask anyone who hikes, camps or spends time in the wilderness and they will all say they hate cold, wet feet. These merino wool socks can fix that.
Merino wool is known for its wicking abilities. Taking moisture away from the skin and letting it evaporate. It helps keep skin dry and helps control temperature, ideal if you're spending all day in hiking boots.
This pack includes 4 pairs of socks. Each has a reinforced heel and toe and elasticated cuff to stop them drooping. They wash well and manage to keep their shape over the long term, which is always a consideration with wool items.
Overall, if the man you're buying for walks, camps, climbs or spends much time outside, these socks make an excellent gift.