Just so you know, you're in the right place. This is 50 Campfires' selection of beers that pair well with a campfire-cooked Thanksgiving feast. It's not meant primarily to be a column giving thanks for beer…but of course, in a way, it's that, too.
Given the chance, what would you include in a campfire Thanksgiving?
For us, it's all the usual items like turkey, dressing, sweet potatoes, gravy, mashed potatoes, green beans with those crunchy slivered almonds, and pie. We get in arguments amongst the team whether that's pumpkin pie or pecan pie, but then we quickly compromise on both.
Now imagine all those things prepared in camp. That brings all the delicious flavors of the ingredients themselves, with the irresistible addition of hardwood smoke and flame driven caramelization. Remember, you can cook anything in a Dutch Oven you can cook in your regular oven at home so even the delicate pies are within reach.
Now that your head's swirling and your taste buds are pining, introduce the thought of "beer." What beers would put this feast over the top as a Thanksgiving worth remembering?
Consider these: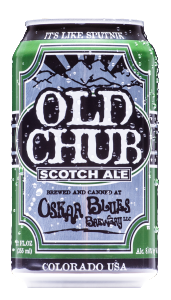 Old Chub
Brewery: Oskar Blues Brewery
Style: Scotch Ale
ABV: 8.00 %
Tasting Notes: With visions of cast iron induced caramelization and hardwood smoke dancing in your head, introduce this thought from the brewer's own description of Old Chub: "This jaw-dropping Scottish strong ale is brewed with bodacious amounts of malted barely and specialty grains, and a dash of beechwood-smoked malt. Old Chub features semi-sweet flavors of cocoa and coffee and a wee bit of smoke. A head-turning treat for malt heads and folks who don't think they don't dig dark beer."
That's exactly what Old Chub delivers. And it weaves so nicely into all of those flavors on the Thanksgiving plate. Works with the turkey? Check. Works with the dressing and green beans? Check! Works with the sweet potatoes and the pies? Big time check, check, check!!! If you for some reason put the Old Chub in a cooler with ice, get it out a good 20-30 minutes before you pull the top. It will do its best flavor weaving at a bit north of 50 degrees.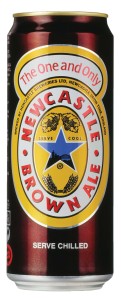 Newcastle Brown Ale
Brewery: Heineken Nederlander B.V.
Style: English Brown Ale
ABV: 4.7%
Tasting Notes: Despite what your local beer snobs might tell you, finding "just the right beer" to pair with a camp cooked Thanksgiving dinner – or any meal for that matter – doesn't need to be a scavenger hunt on the equivalent of a Geocaching 5/5. Sometimes, you can just go to your local beverage emporium, walk in, and expect them to have what you ask for! Despite it's motto "The One and Only" Newcastle Brown Ale is widely available everywhere in North America, and in cans, which is a big plus for us campers. Wide-availability is also nice when it's the night before Thanksgiving and you realized you forgot to get the beer!
The lower ABV is nice for family get-togethers. You can enjoy more with less worry of saying something untoward to your mother-in-law or Grampa taking his teeth out to recite off-color limericks. Yet Newcastle Brown Ale still offers malty, nutty gusto to stand up to and enhance both the smoky and the sweet dishes.
Reasonably Corrupt
Brewery: Great Raft Brewing
Style: Schwarzbier
ABV: 5.50%
Tasting Notes: If you want to break out something especially to go with the pies, and even the al a mode, consider Reasonably Corrupt Beer from Great Raft Brewing in Louisiana. It's a black lager with dark and roasty malt sweetness. It pours nearly-opaque black (which is what "schwarz" means) with a thin and fleeting head, but it's a sweeter, fuller-bodied version of the premium lagers you're used to drinking all the time.
The flavors are there to go well with either pumpkin or pecan pie as well as other desserts like cheesecake, chocolate chips cookies, or…no surprise…German chocolate cake with that delicious cream cheese and coconut frosting. So go for it! Thanksgiving around the campfire is an all-afternoon dining experience anyway, right? Reasonably Corrupt is a perfect sipping selection for that sort of thing!