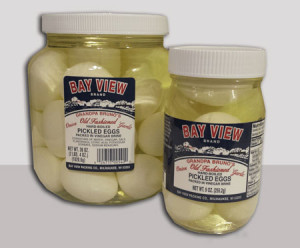 How many times have you heard a joke begin, "So … this guy walks into a bar …"? Probably thousands, right? Enough, anyway, so you have a concrete image in your mind of what that bar looks like. What's in "the bar" may depend on where you live and where you go to bars, but you probably aren't picturing a neo-modern nightclub where the beautiful people hang out. I know I'm not. My mental bar is in Great Lakes camping country. It's dark and pretty old. There's a juke box though, updated to DVDs rather than vinyl. Maybe there is a griddle and a deep fryer in the back to turn out burgers and fries. And there's a pizza oven to bake a frozen pepperoni and everything death discs.
Prominently on the bar is at least one over-sized jar partially full of pickled eggs. If there's two, the second houses giant dill pickles. And if it's a really swanky place, a third giant jar would hold pickled Polish Sausage, pork hocks, or maybe even turkey gizzards! Now that's a bar!
If you're not a connoisseur of pickled stuff, you might think the jars are there just for show, but as a devotee, I can assure you they are not. The reason they're not in the fridge behind the counter is because the barkeep doesn't want to haul it out 50 times a day, especially a hot day when the beer tap is flowing. Just sitting here writing this, and reflecting on the biting tanginess of a pickled pork hock, I'm all but slavering on the keyboard
Purchased or prepped ahead of time, pickled stuff makes wonderful campsite snacking fare. No, you're not going to tote gallon jars of eggs and vinegar on a high mountain backpacking escape, but anywhere you take a cooler to a campsite, there's no reason not to bring along something pickled. You'll be the hit of the campground if you proudly display it on the end of the picnic table right above a cooler of iced brews with a little sign that says, "Help yourself!"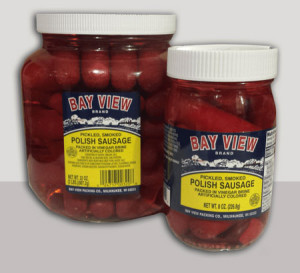 Get out of the way of the stampede.
If you go the store-bought route, see if you can find Bay View Brand. It's the pickled stuff that made Milwaukee famous! Seriously! If you find yourself headed up the Wisconsin lakeshore to camp in the Kettle Moraine State Forest or out on the beautiful Door County Peninsula, it's worth the side trip to buy your pickled stuff at the Bay View Packing Company factory store on St. Paul Avenue. The little retail storefront is like taking a step back in time, and you'll find Bay View's full line of products.
That includes: herring varieties; original, garlic and onion, and red hot eggs; smoked Polish Sausage; red hot Polish sausage; pork hocks; turkey gizzards; and bologna.
If you want to go camping anywhere, prepare with a Bay View selection ahead of time, it's an easy find online – like the special sampler pack from Wisconsinmade.com.
If you want to make your own, pickled eggs are the easiest, fastest place to start. Here's a recipe to start with, but don't be timid about adding the flavors you like best. Tabasco any one?
Quick Pickled Eggs for Camping
You can easily make this recipe at your campsite, but these pickled eggs benefit from aging a few days in the refrigerator for all the flavors to meld and absorb. However, as soon as your camping crew knows you got 'em, they won't last a day!
Ingredients
1 dozen hardboiled eggs, peeled
4 cups vinegar
1 tsp. salt
1 large white onion, finely chopped
3 cloves garlic, smashed
⅓ cup sugar
1 Tbsp. pickling spices
1 cup beet juice (optional, only if you want pink pickled eggs)
Original Tabasco Sauce (optional, to taste)
Equipment:
1 large glass jar with screw-on lid, sterilized with boiling water
1 large kettle
Instructions
Lightly pack cooled, peeled eggs in jar. Be gentle as not to tear the egg whites.
In the kettle, boil remaining ingredients together for 8 minutes.
Pour hot liquid over eggs in jar.
Cover jar; leave on counter overnight.
Store in refrigerator for many weeks; but put out with beers at campsite and a dozen won't last a day!