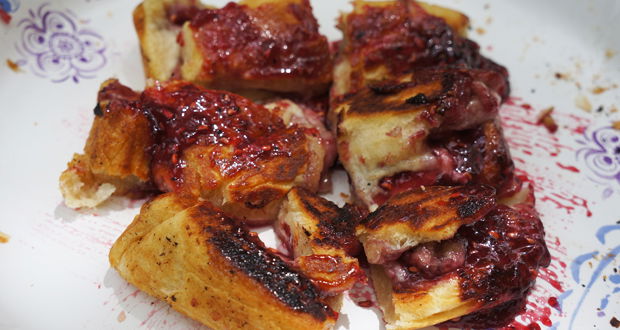 Pie Iron Homemade Pop Tarts
We are always looking for fun recipes to make over the campfire with the kids. Extra points are given if the recipe is good and this homemade pop tarts recipe is a keeper. We made Raspberry Pop Tarts but in reality you could make any jelly flavor you'd like.
We love pie irons because they are easy enough for kids to use and the clean up is easy even outdoors. Pie irons is our go to cooking device around the campfire.
We found this recipe on Making Memories With Our Kids and were instantly curious about trying it. It looked super simple and didn't require any prep work at home – which is very nice! The original recipe said to use pie crusts for the outer part of the pop tart. We ended up using crescent roll dough and have even used bread. Both have been good so I think it is really up to preference. It is key to make sure the bread or roll gets nice and crispy, but not burnt. That really gives it that pop tart taste. Make sure to put an ample amount of jelly on before closing – otherwise the pop tart can be a bit underwhelming. If you're feeling adventurous buy a vanilla glaze – something you'd put on cinnamon rolls and pour that over the top of your piping hot homemade pop tarts – so yummy!
Pie Iron Homemade Pop Tarts
Ingredients
Butter or cooking spray
Pie crust
Raspberry jelly
Instructions
Spray or spread butter on both sides of the pie iron.
Insert your pie crust to both sides of the pie iron, making a boat on one side.
Insert the raspberry jelly into the side you made into a boat.
Close the pie iron carefully and place into the fire.
Keep close attention on the color of the crust to avoid burning.