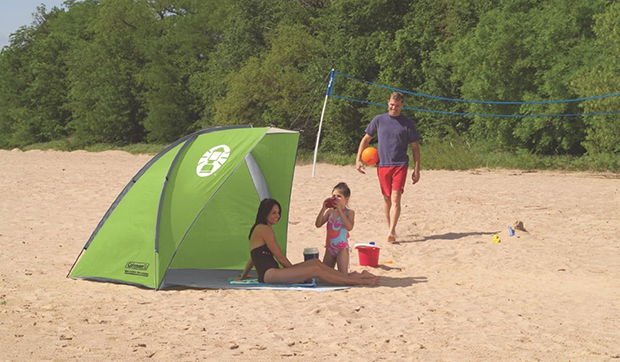 Pop Up Tents and Cabanas – Sun Protection
Feature photo courtesy of Coleman
Don't get us wrong, the 50 Campfires team loves spending time in the sun, it's one of the many perks to being outdoors! But we're smart enough to know the importance of monitoring how much exposure to UV light we get. Which is why we're here to remind you, yet again, that there are simple ways to battle the sun and stay healthy. Pop up tents and cabanas are one of these simple solutions.
The 50 Campfires team did some research on summer pop up tents and cabanas specifically designed to protect you, the kiddos, and even your fur babies from damaging UV rays. Purchase one of these products and you'll have peace of mind knowing your family will be much safer enjoying the outdoors this summer.
FAMILY SIZE POP UP TENTS AND CABANAS:
Looking for ways to protect the entire crew from the sun all at once? Pop up tents and cabanas for multiple people (and pets) are the ultimate solution. We've selected a variety of options hoping you'll find the perfect one for your family. Set these bad boys up at the beach, the backyard, or even the campsite, and feel confident everyone has a sun safe spot to retreat to!
Winterial 2-Person Instant POP UP Tent
Picnic Time Manta Sun Shelter
Demco Incorporated Shade Shack
Lightspeed Outdoors Quick Cabana
Coleman Road Trip Beach Shade
Solar Guard Jumbo Deluxe Beach Shelter
Wenzel Fairweather Cabana
Texsport Sport Quick Cabana
TailGator Sunshade
KID AND BABY POP UP TENTS AND CABANAS:
Kids love hanging out at the beach in the summer, but it's important to pay attention and limit the amount of sun exposure they're exposed to. Being conscious about taking care of your kids under the UV sunlight will definitely pay off in the future. If you let them run around outside without any monitoring, they'll likely lose track of time and then walk in the door 5 hours later with a nasty sunburn. And as for babies, we cannot stress enough how essential it is to protect them from the sun, as the effects can be extremely damaging. The simple solution is to have the best quality beach tent for babies and kids.
LT Fun in the Sun UV Tent
Pacific Play Tents
KidCo PeaPod Plus Travel Bed
ilovebaby Travel Baby Tent
Babymoov Anti-Uv Tent
Kilofly Original Instant Pop Up Portable Travel Baby Beach Tent
Earlyears Baby Beach Shade Pool
PET POP UP TENTS AND CABANAS:
Your pets need just as much protection from the sun as anyone else, especially pets with light or thin coats. When you think about how much time our pets usually spend outdoors, it only makes sense to question how much sun is harmful. Pet parents need to monitor the amount of sun their fur babies are exposed to just as anyone would do for their children. Here are four of our favorite tents to help pets battle the summer sun.
Altteuri Dog House Tent
Loghot Portable Folding Pet House
Frontpet Habitat for Pet
Vedem Pets Portable Sun Shelter Tent House