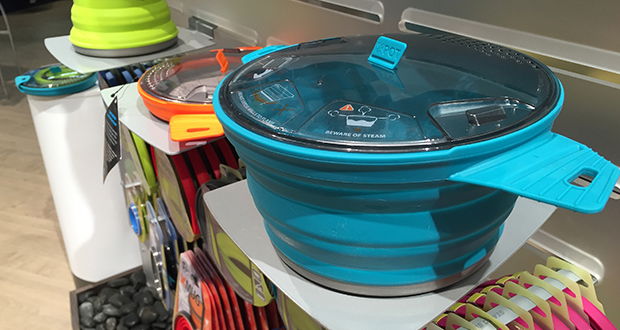 Sea To Summit X Pot Set Overview
Overview: The Sea To Summit X Pot Set is a fully-functional, collapsible cooking pot, comprised of a hard-anodized aluminium base which is melded to a high-grade silicone top. It's completely collapsible, saving so much space. In addition to selling these as separate components, they are also selling them in kits. These kits have a cook pot, two bowls and two cups. Sea To Summit has also introduced a little kettle as well. So if you're wanting that cup of tea, or that hot chocolate at the end of the day, they have a little kettle that you can do that with. The other little feature with these is they have a little steel ring embedded in this rim to enhance the rigidity around there. So you could use a pot grip if you needed to. But it does also have wide handles so you can lift this off the fire. It is designed to sit directly onto a cooker. It comes in four sizes as well, in addition to the X pot kettle.
They also carry a 4-liter kettle. This is your ultimate base camping, car camping one. They also have the 2.8 and a 1.4, plus the little kettle, which has a one liter safe boiling capacity. Most of these are available in stores from March, and you'll find them all on their website as well.