We love hot dogs, cheese stuffed potatoes and s'mores just like everyone else, but sometimes a good fresh salad on a warm summers day really hits the spot. The fresh ingredients help connect us to the outdoors in so many ways. The complaint we hear the most about salad is that it's boring. We promise it's only as boring as you allow it to be. We add bacon. Yes, bacon and that makes everything better. Trying new toppings and combinations makes it interesting. Sweet and salty go great together and we hit the jackpot with this Strawberry Spinach Salad. Oh and we made a bacon dressing to drizzle on top.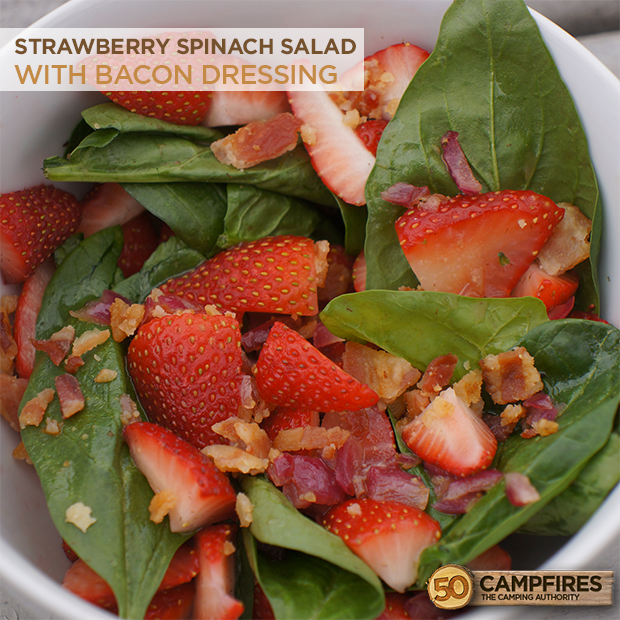 Salad, although not as common at the campsite is a very easy item to bring. It's fast, delicious and a much healthier option than most. Salads don't have a lot of prep work so it's mostly just a little chopping and throwing it together. For this recipe, we did need to get the bacon cooked, so we prepared the bacon and dressing ahead of time, threw it in a container and stored it safely in the cooler until we were ready to use. If you are truly going for that fresh vibe, just make it at the campsite. It won't take long.
At first we couldn't decide if bacon and strawberries would actually mesh well. But hey, you got to give it a try, right? So glad we did! This strawberry spinach salad is truly enhanced with the addition of bacon. But then again, what isn't? The sweet of the strawberries pairs well with the salt of the bacon and the dijon mustard really shines through in the dressing. Just trust us, you'll want to try this!
We originally found this recipe on Vivian and Me. If you have not checked out that site, there are some really fantastic recipes over there!
Strawberry Spinach Salad with Bacon Dressing
Ingredients
4 cups spinach
2 cups strawberries, chopped
¼ cup onion, diced
6 pieces of bacon
1 tbsp sugar
3 tbsp apple cider vinegar
½ tsp dijon mustard
Pinch of salt and pepper
Instructions
For the dressing:
In a large skillet, chop up the bacon and fry until crispy. Crumble the bacon and set aside.
Add the onion to the pan and sautee. When the onion is clear, add the sugar, apple cider vinegar, and dijon mustard.
Heat the mixture on low heat, whisk while heating. Add a pinch of salt and pepper. Add the crumbled bacon.
For the salad:
Chop up the strawberries and add them to the spinach in a medium sized bowl.
Pour the dressing on top, toss, and serve warm.