When we are camping in the fall, all we want is comfort food to keep us warm. Fall camping is on of my absolute favorite times of the year to be out. But it can get chilly so we tend to make a lot of stews, rice and soups during that time. This Stuffed Bell Pepper Soup is always a hit plus it is a very filling soup on a small grocery budget!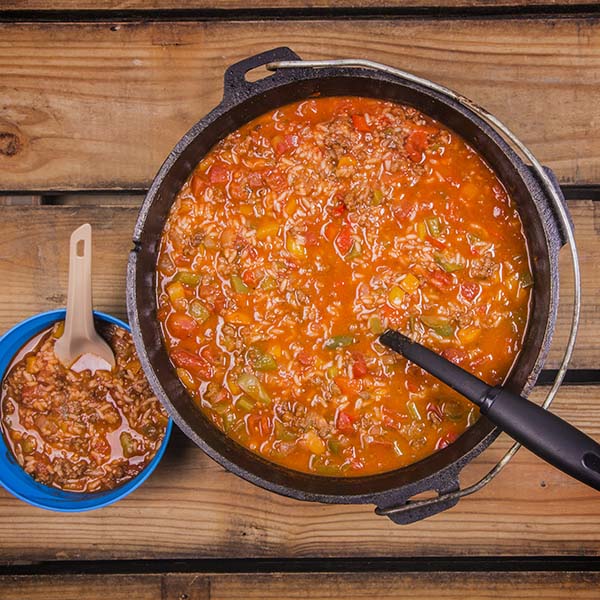 One of the best things about using the dutch oven is that it can mostly be hands off, just put all the soup ingredients in and let the dutch oven work its magic. This stuffed bell pepper soup recipe is also great for doing a lot of prep work at home and just throwing in all the chopped veggies in after you get the hamburger cooked.
We are always looking for easy camping meals and are glad we were able to adapt this one from Culinary Musings.
Stuffed Bell Pepper Soup In The Dutch Oven
Ingredients
1 lb ground beef
1 cup uncooked instant rice
2 cups beef broth
1 green pepper, diced
1 red pepper, diced
¾ onion, minced
1 tbsp minced garlic
12 oz can tomato sauce
28 oz can diced tomatoes with green chilies, undrained
Salt & Pepper to taste
Instructions
In your dutch oven, brown ground beef, onion, garlic and peppers Add salt and pepper to taste
You can then heat beef broth with the hamburger mixture. Add tomato sauce and diced tomatoes. Stir well and and make sure that it is heated through.
Once hot, add uncooked rice and simmer until rice is done – it will only take a few minutes. You do have to watch this a bit as it can be hard to tell. I always test it a few times to make sure the rice is how I like it.