Summer Infusions for Your Campsite
I often treat camping trips with friends as opportunities to introduce them to new things: music, food, drinks and gear. Spending a few nights in the woods together creates time to focus on details. I'll spend months putting together the perfect playlist for the first night around the campfire – or shop for special ingredients to make the ultimate breakfast. I enjoy doing the same with evening drinks. From stopping for a great regional micro-brew on the way into camp to infusing a specialty cocktail for evening festivities. Here are a few summer infusions that are topping my list for a good time.
Rock & Rye
Although whiskey is often thought of as a "winter" drink, this recipe for Rock & Rye will showcase why it's right at home at the summer campsite. Often referred to as one of the original pre-mixed cocktails, Rock & Rye borrows flavor profiles from a whiskey old-fashioned with deep flavors of citrus and fruit, making it the perfect summer infusion recipe.
Ingredients
750 ml. rye whiskey (straight Kentucky bourbon will also work)
6 oz. white rock sugar
1 large orange peel
½ large lemon peel
¼ lb. dried cherries
5 dried apricots
½ cinnamon stick
33 ¾ oz. glass mason jar
Instructions
Combine all of the ingredients in the glass jar and store sealed in a dark location for 3-4 days. All of the rock sugar will dissolve, and my favorite part – the dried cherries will "rehydrate" creating the ultimate cocktail cherry.
After 3 or 4 days, strain out all of the ingredients and store the liquid in the original rye bottle. For best results, refrigerate your infusion. Sip over ice or neat.
Strawberry Citrus
Summer isn't just a season, it's a feeling. Warm breezes, long days and fresh flavors all combine in a way that make you happy you're alive. If we could bottle this feeling up we would. This Strawberry Citrus Vodka infusion might just be the closest thing to keeping summer in a glass jar – and makes evenings around a campfire just a little brighter.
Ingredients
750 ml. vodka
½ lemon peel
½ lime peel
½ orange, sliced
12 large, ripe strawberries, sliced
33 ¾ oz. mason infusion jar
Instructions
Combine all ingredients into the infusion jar, and place in a dark location for 24-48 hours.
Strain.
Combine infused vodka with club soda over ice, using strawberries as garnish.
Clawhammer Supply : Apple Pie Moonshine 
It's been the stuff of rumors for years. Moonshined "Apple Pie". A drink so delicious that you can't taste the booze. Equal parts spice and sweet, this delicious concoction will be well received around the evening campfire. The instructions are printed right on the package, and couldn't be easier. Spice kit, vodka and frozen apple juice concentrate.
Clawhammer Supply : Fire Bomb
Cinnamon whiskey has seen a huge spike in popularity over the past few years. On a cool night, it provides just the right amount of warm "kick" to your festivities. Clawhammer Supply has figured out a way to recreate the popular store-bought variety, giving you some camp-cred with your friends. A tin of spices, a bottle of whiskey and frozen apple juice concentrate – and you're off to the races.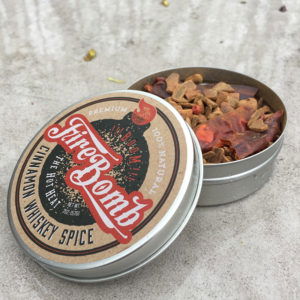 Clawhammer Supply : Whiskey Sticks
Let's face it, the price of aged whiskey isn't getting any cheaper. To find a bottle that's been sitting in a barrel for more than a few years will likely set you back $50. Clawhammer Supply has developed a simple, but effective solution – Whiskey Sticks. These lightly charred sticks of American White Oak will transform your bottle of bottom shelf into an oakey-aged delight.