SunJack: Changing the Game for Portable Solar Chargers
SunJack Portable Solar Chargers
Solar energy is an important part of almost every life development. Plants use the energy to produce the green chlorophyll they need to survive, while humans use the sun to produce vitamin D in their bodies. In order to harness the energy from the sun and turn it into electricity, it is necessary to have solar cells to collect and transform solar energy into useable electricity. These cells are typically in the form of very large panels that face the direction of the sun to capture the most rays possible and are not usually portable.
While other companies have made portable solar panels for camping, SunJack has taken that idea and made it better. First, most portable solar panels do not come with an external battery to hold the energy harnessed by the sun. Second, panels that do offer wall-charging speeds are too big and bulky to transport. With these two issues in mind, SunJack developed the worlds most portable and powerful solar charger.
SunJack
has made a product that can fully charge two 8000mAh lithium polymer batteries in just five hours with their 20 watt SunJack model. It's wicked fast. That is enough power to fully charge your iPhone eight times with just five hours in the sun. If you don't have the sun, the 8000mAh lithium portable battery that comes with the solar panel can be plugged into the wall. That's not even the best part of the SunJack. The panel folds up to the size of a notebook or tablet for easy transportation while camping, backpacking and enjoying outdoor festivals. The SunJack portable battery can power two USB devices simultaneously and run independent from the solar panels. You can charge two other USB devices directly on the solar panel in addition to the portable battery. Providing you the capacity to charge four devices at once with the 14 watt model and six devices with the 20 watt model. The SunJack Kit comes with a portable battery with a built in LED flashlight and also a 2.5w USB bulb that can provide light for up to 16 hours off one charge. This light would be perfect to hook up in the tent or around the picnic table at night.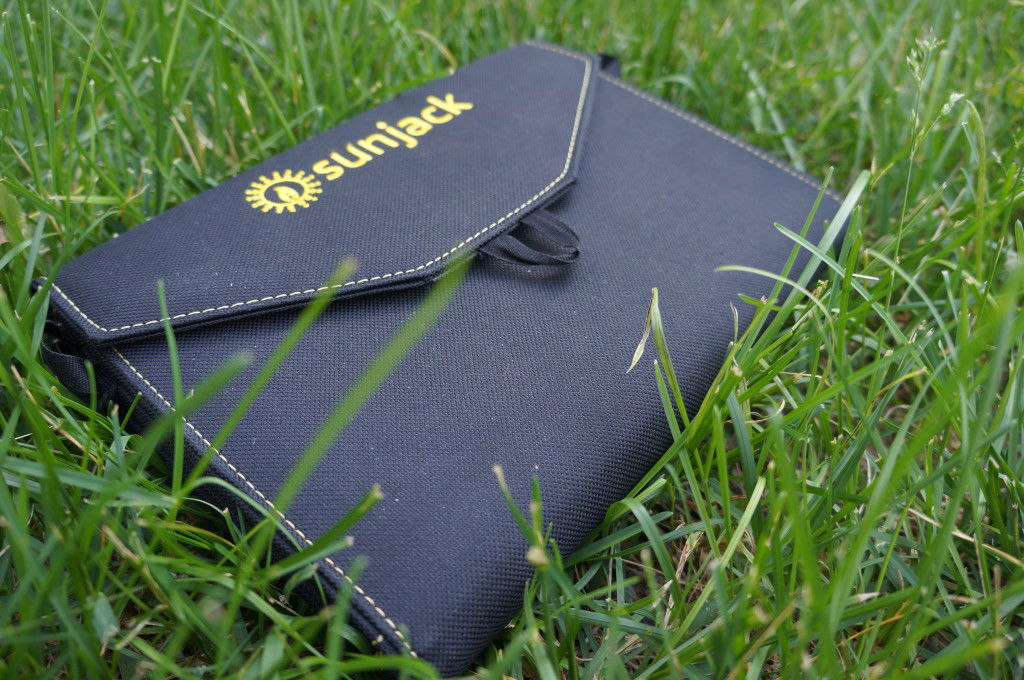 This all-in-one portable solar charger is very durable. SunJack can withstand large drops even on its corners and to prove its toughness, they show a
car running over it
on their kickstarter campaign. If the weather makes a turn for the worse, you can protect your SunJack from the rain with a plastic sleeve that is included with the device. This truly is the world's most portable and powerful solar charger. We love that SunJack cares about the longevity of its products. It has been proven that the monocrystalline solar cells can still produce 80% of their power even after 25 years of use. The lithium-polymer battery holds roughly 80% of it's capacity after 1,000 cycles. For example, if you charge the Sunjack everyday the battery should hold 100% of its capacity for over three years. If you want to trade in your battery at any time, you can send it in and they'll send you a new one for around $25. If you feel the need to buy a second battery, it'll be an additional $40. The SunJack will probably out last any device you plan to charge with it! SunJack doubled their goal on
kickstarter
because they not only have a very useful product for anyone that loves the outdoors, but they also use this product in a humanitarian effort by changing the lives in countries that do not have stable electricity.
**14 watt model available now on Amazon!
Read more about this product from our exclusive interview with creator Harold Tan.