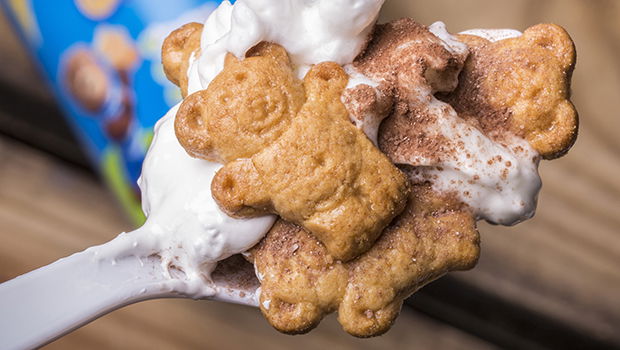 Teddy Grahams Walking S'MORE
Sometimes even an old classic needs a facelift, and that's exactly what we did to this traditional S'MOREs recipe. This is our Teddy Grahams Walking S'MORE. Not only is this walking dessert easier to eat, it requires little cleanup – with all the mess secured in the Teddy Grahams bag. This is a delicious s'more in a bag! Adjust the amount of hot chocolate powder to your liking – and enjoy!
Teddy Grahams Walking S'MORE
Ingredients
Teddy Grahams
Hot Chocolate Powder
Marshmallow Crème
Reddi-Whip
Instructions
Open a snack-sized bag of Teddy Grahams
Add a scoop of hot chocolate powder.
Add a spoonful of marshmallow creme.
Top the bag with Reddi-Whip.
Insert spoon.
Enjoy!