If you're headed out for a weekend of camping with friends, we're making the assumption there may be a few adult beverages consumed. A typical weekend camping for us consists of a few hikes, meals over the campfire, lawn games and some fantastic beverages. Break out of the ordinary beer or simple cocktail that you usually go with and try these Tequila Lime Jello Shots.
Oh, and did you know that you can easily avoid hangovers by these throughout the night? They make a HUGE difference the next day.
Want to really blow their minds? Serve them in Himalayan Sea Salt Shot Glasses! The salt is built into the shooter!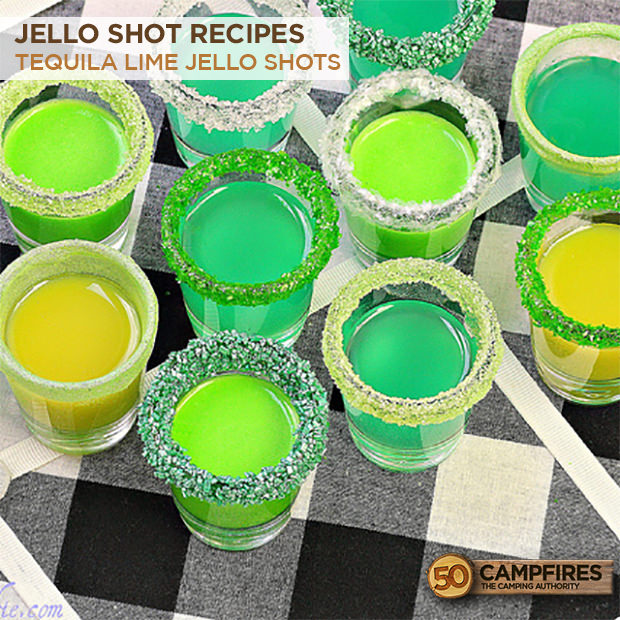 No one wants to spend a lot of time preparing before or during your camping trip. These jello shots are extremely easy to make and taste fantastic. One reason that we really love these shots is because of all the variations you can make. If you let your imagination run wild you can add a bit of triple sec to tequila and lime Jello for a margarita shot, or use a base of orange Jello and add grenadine for tequila sunrise shots.
We suggest using small dixie cups or condiment cups to make it easy to transport the shots. We have made these and variations of these jello shots many times for camping trips and they have always been received well.

Tequila Lime Jello Shots
Ingredients
1 pkg Lime Jello
½ cup Tequila
½ cup cold water
1 cup Hot water
Instructions
Add the contents of the Jello package to 1 cup of boiling water. Stir until the powder is dissolved.
Add a half cup of water and a half cup of tequila to your dissolved jello liquid.
Put the mixture into containers of your choice. You can let the Jello mixture set up in a cake pan, then cut it into rectangles, or you can pour it into individual paper cups.
Place the shots in the refrigerator. It can take a few hours for the Jello to set, so be sure to prepare the shots well ahead of your party.