Fall symbolizes the turning of leaves, a chill in the air, and need for hearty comfort food. Camping in the fall is my absolute favorite. There is just something about waking up to the cool morning air, sitting around a campfire to keep warm and hiking through forests of autumn colored leaves. Along with all of the cliches of Fall, people tend to crave hearty, warm meals to take the edge off the brisk air. These harvest fall camping recipes will keep your campsite festive and your stomachs full! There are so many items being harvested in the Fall and we tried to incorporate some of them in to these great recipes from main dishes to desserts!
Best Fall Camping Recipes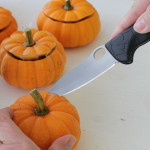 SAUSAGE AND WILD RICE HOT DISH IN A PUMPKIN
INGREDIENTS
1 lb ground sausage
4 cups Wild Rice, cooked
2 medium apples, diced
1 cup chicken broth
1 can cream of mushroom soup
salt and pepper to taste
6 small pumpkins 2″-3″ diameter
tin foil
DIRECTIONS
1. Cook the rice ahead of time, following instructions on the package. You can use half wild rice, and half brown rice to lighten it up a bit. (note you may need to add more water while cooking, wild rice can soak it up too quickly.)
2. Cook sausage in skillet and crumble as you cook.
3. Grab the pumpkin and cut a large opening at the top. Clean and rinse out your pumpkin.
4. Dice your apples, then combine all of the ingredients (minus the pumpkin) in the skillet or large mixing bowl. Add salt and pepper to taste.
5. Place your hot dish in to your cleaned pumpkins, spray cooking spray or rub a little bit of butter on tin foil. Put the pumpkin in the center of the tin foil and cover. Do this separately for each pumpkin. Bake for 30-40 minutes in the hot coals of a campfire, until bubbly. It is best to use tongs to take one out about 20 minutes in just to check the progress. The pumpkin should not be to mushy but still have a hardness to it, the inside of the pumpkin will be soft.
RED HOT CAMPFIRE APPLES
INGREDIENTS
4 apples, sliced
1/3 cup cinnamon red hot candies
1/2 cup brown sugar
1/2 teaspoon cinnamon
4 tablespoons butter
DIRECTIONS
1. Slice the apples in to small chunks
2. In a separate bowl combine red hot candies, brown sugar, and cinnamon, mix together
3. On a large piece of tin foil (it is best to double the tinfoil layers) butter the bottom then put the apple slices in the middle of the foil. Cover with candy and sugar mixture. Add butter across the top and wrap the tin foil, closing the apple mixture inside. Put in the coals of the fire for 10 minutes.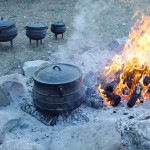 THANKSGIVING DINNER IN A DUTCH OVEN
INGREDIENTS
1.5 pound(s) sliced turkey, shredded
1 cans cut green beans, drained
1/2 can whole baby carrots
2 jars turkey gravy
2 boxes cornbread stuffing
1/4 c butter
DIRECTIONS
1. Before leaving for camping, cook a small turkey and shred.
2. Butter the bottom and sides of the dutch oven. Pour green beans in first. Add carrots on top. Layer the shredded turkey on top of carrots and green beans. Pour gravy over the two layers. Mix cornbread stuffing according to package directions and add on top of the ingredients and press down to cover the layers in dutch oven. Cut any remaining butter into pats and place on top of stuffing mix.
3. Place over hot coals and shovel some coals on top of the dutch oven. Allow to cook for 20 – 30 minutes until hot and bubbly and the stuffing has browned on top.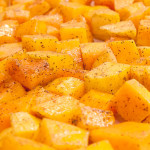 CARAMELIZED BUTTERNUT SQUASH WITH BROWN SUGAR
INGREDIENTS
2 medium butternut squash (4 to 5 pounds total), chopped
6 tablespoons unsalted butter, melted
1/4 cup light brown sugar, packed
1 1/2 teaspoons kosher salt
1/2 teaspoon freshly ground black pepper
DIRECTIONS
1. Cut off and discard the ends of each butternut squash. Peel the squash, cut them in half lengthwise, and remove the seeds. Cut the squash into 1 1/4 to 1 1/2-inch cubes and place them on a large greased piece of tin foil. Add the melted butter, brown sugar, salt, and pepper.
2. Bring in all sides of the tin foil and close, making sure there are no openings. Cook in the coals of the campfire for 45 to 55 minutes, until the squash is tender and the glaze begins to caramelize. You can also cook this on a grill, just check periodically to see if the squash is tender.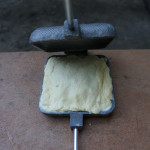 PUMPKIN PIE IN A PIE IRON
INGREDIENTS
2 packages crescent rolls
3/4 cup granulated sugar
1 teaspoon ground cinnamon
1/2 teaspoon salt
1/2 teaspoon ground ginger
1/4 teaspoon ground cloves
2 large eggs
1 can (15 oz.) Pumpkin (not the mix)
1 can (12 fl. oz.) Evaporated Milk
1 package mini marshmallows
DIRECTIONS
1. Mix sugar, cinnamon, salt, ginger and cloves in small bowl. Beat eggs in large bowl. Stir in pumpkin and sugar-spice mixture. Gradually stir in evaporated milk.
2. Grease one side of the pie iron and put in 2 of the crescent roll dough, covering the whole half. Put about a 1/2 cup of the pumpkin mixture on the dough. Add 5-6 small marshmallows.
3. Cover the mixture with 2 more crescent roll dough, making sure to pinch all sides shut.
4. Grease the other half of the pie iron and connect it to the bottom portion. Put the pie iron in the hot coals for 4-6 minutes, flipping once. It is always good to check the progress before you flip the pie iron. You can top with whipped cream as well.
Have other great fall camping recipes? Share them with us in the comments below!