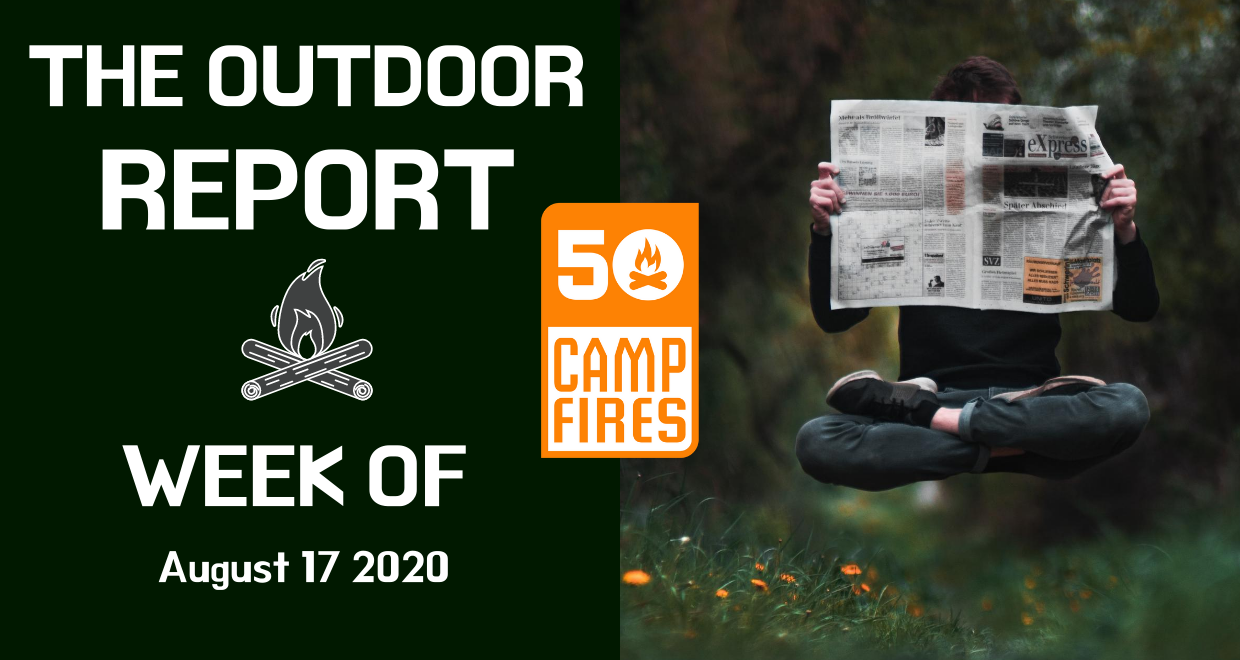 The Outdoor Report | Week of August 17
Greetings campers! At 50 Campfires we're often chatting about the latest headlines in the outdoors because that's where we spend most of our time. From national park news to new gear to the latest survival story; they're stories that have always interested us. Moving forward, we'll be sharing the stories that interested us each week. If you come across a story you'd like us to include, please drop us a line!
Wolverines are running around in Mount Rainer National Park again
No, not The Wolverine, wolverines. They've been absent from the park for 100 years, and just like that, they're back. Two animals we've always wanted to see in the wild are wolverines and badgers. Might have to take a road trip…
"It's really, really exciting," said Mount Rainier National Park Superintendent Chip Jenkins. "It tells us something about the condition of the park— that when we have such large-ranging carnivores present on the landscape that we're doing a good job of managing our wilderness." 

Read the full article here: https://www.fox10phoenix.com/news/wolverines-return-to-mt-rainier-national-park-after-100-year-absence
There are wineries you can camp at?
We've toured through wine country, and it doesn't take long before you probably shouldn't be driving a motor vehicle. Turns out that some wineries let you pitch a tent and stay the night!
It's a win-win for campers and small businesses. Campers get a private (and legal) place to sleep, plus the opportunity to explore local businesses they may have otherwise overlooked. Hosts get an income boost from nightly camping fees and purchases that campers make while visiting, as well as the added long-term benefit of word-of-mouth referrals.

Because it is such a different experience than say, a state park, this may also draw a new set of campers. Taking a walk in a vineyard while enjoying a bottle of wine, getting close to some adorable farm animals, and watching the sunset without another soul in sight are perks most campers don't get.

See the full article here: https://www.cntraveler.com/story/wineries-and-farms-with-camping
Do you know what the best place to camp is in your state?
We already know the best campsite here in Minnesota, but mum's the word on that one. Condé Nast Traveler put together a list of the best campground in every state and the one they picked in Minnesota is a pretty solid choice. Have you camped at the one in your state?
But this summer, when it seems like we're all heading camping—and we mean everyone—many of us are limited to staying closer to home, and in need of a little more domestic travel inspiration. To help guide your travels and narrow down the options, we've chosen the best place to camp in every state, plus Puerto Rico, so you can find a spot nearest you. (As for the other states, consider that your bucket list for years to come).

See the full article here: https://www.cntraveler.com/gallery/the-best-place-to-camp-in-every-state?verso=true
Covered wagon camping sounds pretty fun
We love finding unique camping experiences, and spending a night in a covered wagon under the stars sounds great. This AirBnB near Saratoga, Wyoming offers exactly that, and you even get a hot shower.
You won't have it quite as tough as our ancestors, to be fair. They walked many miles every day in the hot sun, blowing wind, rain, and everything else nature could throw at them. They did not have showers, or coolers filled with easy to cook food, or toilets.

Read the full article here: https://kgab.com/wyoming-airbnb-offers-covered-wagon-camping/