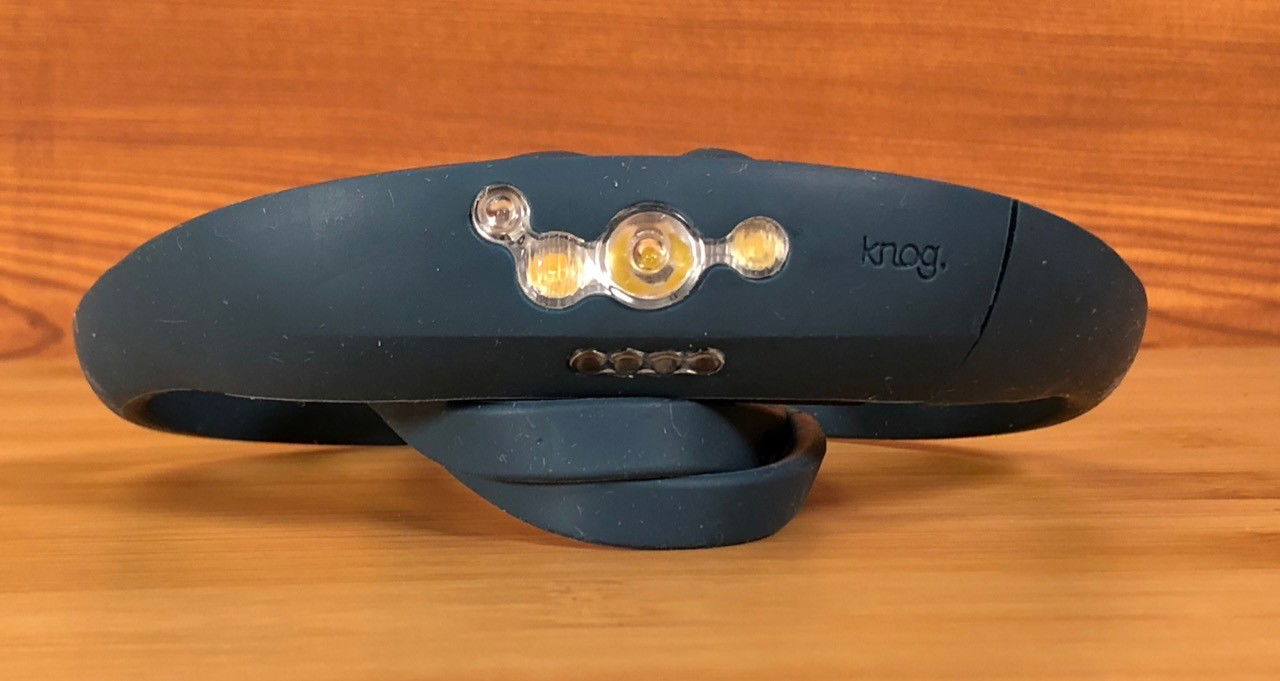 The Tremendous Two Ounce Bandicoot Headlamp
Knog is a neat little company based in Melbourne that makes a lot of biking gear that you should check out. Last year, they also started making a great headlamp called the Bandicoot. It's a new style of headlamp that works well. Here's why.
The adjustable rubber strap
The Bandicoot has a rubber strap that stays put with very little tension on your head. The back of the strap spreads open into two straps that disperse the tension even more. Fabric straps have to be reasonably tight before they don't move at all. I also suspect that the rubber will last longer than fabric in the long run.
It's only two ounces
Ok, it's 2.1 oz, but wow is that nice if you're wearing it for a few hours. I could barely feel it. The lightweight combined with the rubber strap means that you could do backflips, and it's not going anywhere. The front portion of the Bandicoot has a low profile, so it doesn't bounce around at all when running.
Lots of lighting options
When I first saw how small it was, I wasn't expecting a lot of functionality. I was wrong. The modes are as follows:
Combo: All three white lights are on, for a max of 100 lumens.
Spot: Great if you only need to see what's directly in front of you. Max of 85 lumens.
Ambient: A broad, low light perfect for walking around in camp, or night hikes where less light is needed. 35 lumens.
Red LED: I was surprised at this one. For only 8 lumens, it covers a lot of ground.
Reading: This is the four LEDs on the bottom, and they shine down for reading or working with your hands.
So, not only does it have five modes, but every mode has four levels of brightness. This makes for a capable headlamp in a wide variety of situations.
When I first saw the Bandicoot Headlamp, I didn't like the fact that the angle of the light cannot be adjusted. When I tested it, I was pleased to discover that the reading lights are bright enough to work with your hands directly below your head. If I'm in camp at night, the majority of what I'm doing is right in front of me. The reading lights can handle food prep and cooking, no problem.
I like that there isn't a charging cord. You pull the Bandicoot headlamp apart and plug it into any USB charger. As I've said many times in the past, I love rechargeable headlamps because it means that I'm always starting with 100% of my precious lumens. Alkaline batteries slowly discharge, and by the time you realize it, you're probably down to 70%. I hate that.
The Bandicoot Headlamp is a solid choice for most campers. If you're hiking in areas where you need a spotlight that extends hundreds of feet, you'll want something brighter, but most of us aren't in that situation. If you want a small, comfortable headlamp that still gets everything done, this is the one to get. At $35, the price is right too.