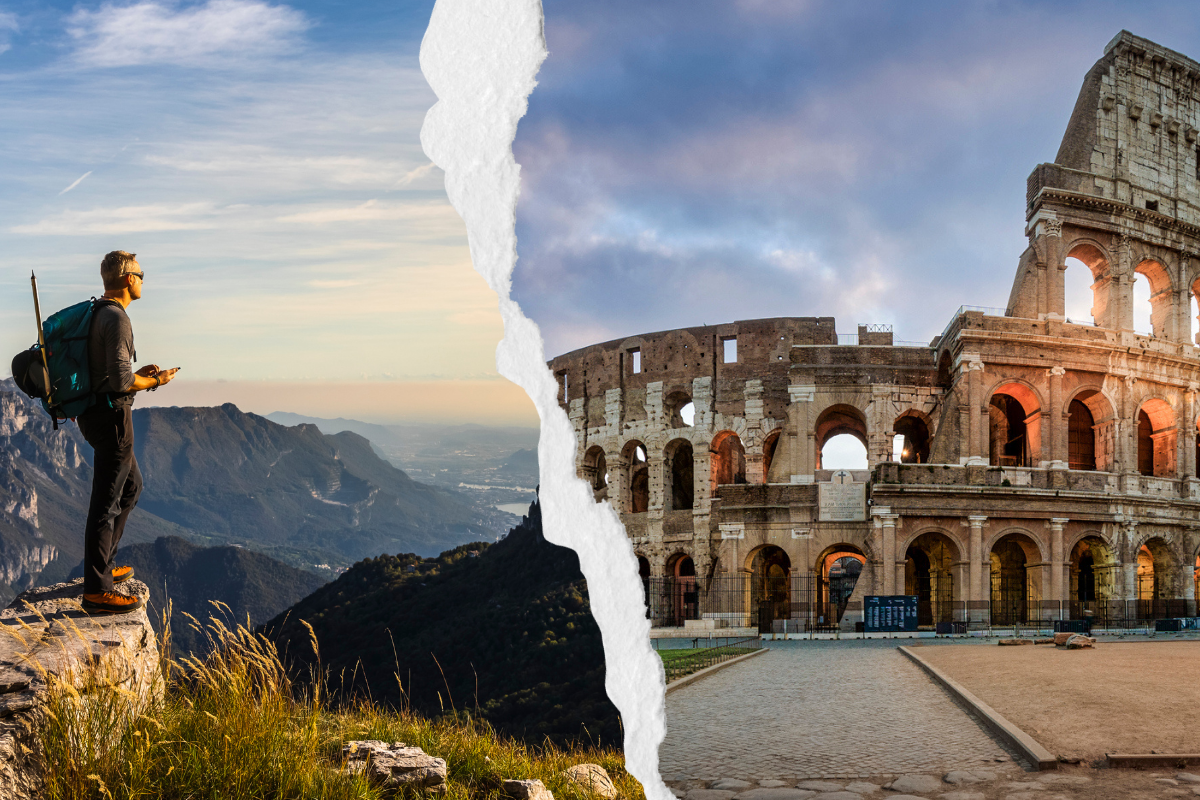 Thinking About the Roman Empire? Here Are Some of the Best Hikes That Capture the History of Ancient Rome
Have you heard about the latest history-based social media meme? It urges people to ask men about the Roman Empire. Apparently, men spend a lot of time thinking about the ancient empire and how its army dominated parts of the world.
While the interest in Rome baffles some, others are more confused that people don't think about it regularly.
Whether you're a fan, history scholar or not sure what this latest internet trend is all about, one thing is for sure: the Roman Empire is a critical part of human history. Those who love the outdoors can explore this history by tackling some great hikes.
Via Degli Dei
Translating into "Path of the Gods," this trail connects the cities of Bologna and Florence, Italy. The 80-mile trek passes through the Apennine Mountains. Most people hike the trail in stages, with a few town stops. If you don't have time to walk all these miles, using a mountain bike to tear through the mountains is also popular. Don't expect to be camping, as most suggested stays are in towns on the way.
Cerveteri's Necropolis and Waterfalls
Cerveteri is a town northwest of Rome home to the Etruscan people, a civilization older than Rome that influenced the Romans. Eventually, the Romans would take over their city. Today, the town is home to a famous necropolis, a World Heritage Site. The location is an ancient cemetery with tombs and mounds built in honor of the dead. A trail leads through the historic site and brings visitors past several waterfalls. The whole trek is just over eight miles.
Hadrian's Wall Path
Not all of Roman history took place in Italy. The empire reached far across Europe, even into the modern-day United Kingdom. Hadrian's Wall Path is an 80-mile wall built by ancient Rome to protect the northern border of their empire. It runs from Wallsend to Bowness-on-Solway. Both cities are in northern England, just south of the Scottish border. Similar to the Via Degli Dei, you'll have to stay in the towns along the way to complete the hike.
Hermannshöhen Trail
No matter what the Romans did, they kept running into Germanic Tribes, which would eventually lead to part of the downfall of the Empire. If you want to experience the view from the Germanic side, this is the path for you. The Hermannshöhen Trail combines two different trails, totaling around 143 miles. The hike passes through Germany's Teutoburg Forest, which is well known as a battleground for the two sides. The route also passes by the Hermann Monument, commemorating the Cherusci chieftain who won a battle against the Romans in 9 AD.