I love spicy food. I have to control myself so I am not making every meal with ingredients to give it that extra kick. When I was searching for great lunch recipes to bring on our next camping trip, I stumbled across this toasty chipotle turkey sandwich and knew instantly I needed to make it. Melty cheese, chipotle sauce, and turkey, hold the phone. I'm in.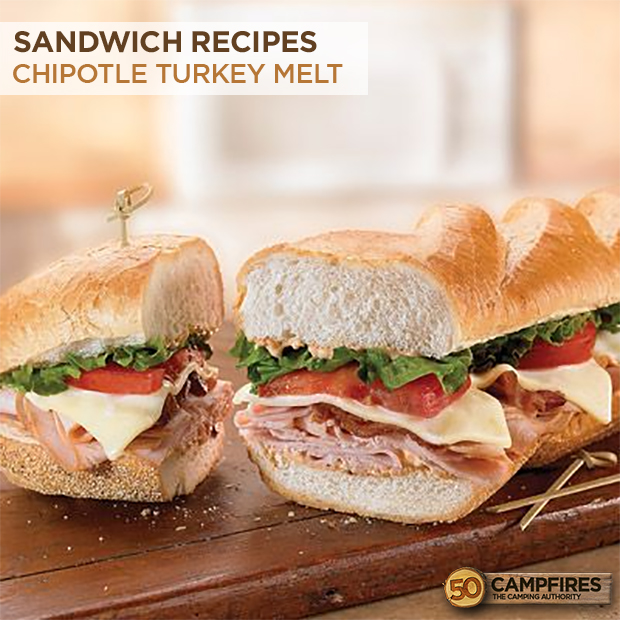 We usually go camping with a group of people and cooking for a larger sized group can get overwhelming not to mention time consuming. The point of heading out for a weekend is to relax and hang out – not spend hours preparing a meal at the picnic table where there is never enough room. This is an easy lunch solution that allows you to make one large sandwich that can be sliced for everyone to enjoy. With only a few ingredients you can make this right at the campsite or if you're like me make it all beforehand, wrap it in tin foil and keep it chilled in the cooler.
There is nothing better than cooking right over or on the campfire. This turkey sandwich comes out melty, smoky and oh so delicious. We originally found this recipe on the Land O' Lakes blog, but they didn't call for toasting it and in my opinion that is what makes this sandwich so great. Well that and the chipotle flavor.
Toasty Chipotle Turkey Sandwich
Ingredients
1 (16-ounce) loaf French bread, sliced lengthwise
¾ cup mayonnaise
1 tablespoon chopped chipotle chile peppers in adobo sauce
16 ounces sliced deli turkey breast
8 slices bacon, cooked
8 slices American Cheese
6 slices tomato
Lettuce
Instructions
Cut bread in half lengthwise. Combine mayonnaise and chipotle chiles in adobo sauce in small bowl until well mixed. Spread chipotle mayonnaise onto bread.
To assemble sandwiches, layer bottom half of bread with turkey, bacon and cheese.
Top with tomatoes, lettuce and top half of bread. Wrap in tin foil and put on the coals of the fire for 20 minutes or until bread is crusty on the outside and cheese is melted.
Cut into 8 sandwiches.
More Great Sandwiches
10 Sandwich Recipes For Group Camping

Grilled Ham and Cheese Sandwich Loaf
Philly Cheese Steak Sandwich Loaf
Buffalo Chicken Meatballs Sub
Italian Crazy Bread Loaf