The Vargo Titanium Wharn-Clip Knife is a perfect, ultra-lightweight knife for your next camping trip. Weighing in at just one ounce, this knife is simple to carry with or keep in your camping tub. Most of us just take our unwanted kitchen items and throw them in to our camping supplies. This is great, until you realize that old knife you put in, isn't even sharp enough to cut through bread. Its "Wharncliffe" shape and single bevel grind make for an incredibly strong, sharp, and easy to hone blade. The Wharn-Clip Knife allows you to never worry about having a sharp knife to make your next camping meal.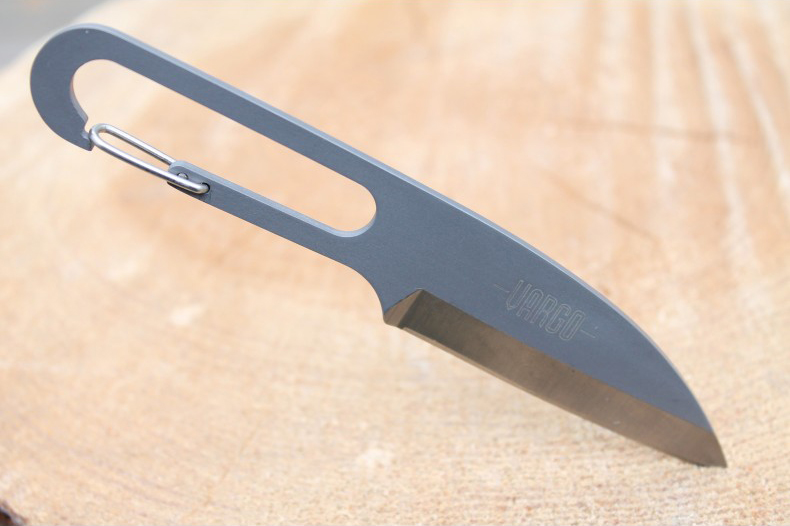 It is also a great knife to take along on hikes or gathering firewood. It has a very handy clip to attach right to your pants, so you can always have it close. It works great when creating that perfect stick for roasting marshmallows. The integrated clip and efficiently designed Kydex sheath offer convenient and safe carrying.
Features
Wharncliffe design for excellent point control and full blade cutting power
Single bevel grind for exceptional strength, sharpness, and ease of honing
Integrated clip for convenient carrying
Kydex sheath for lightweight protection
Specifications
Blade Length: 2.7 inches (69 mm)
Overall Length: 5.4 inches (138 mm)
Thickness: 0.1 inch (3 mm)
Knife weight: 0.7 ounce (20 grams)
Point: Wharncliffe
Material: titanium alloy
Sheath: Kydex
Hardness: Rockwell C 50
For more information on the Titanium Wharn-Clip Knife visit Vargo's website.
Price: $59.95