Grilled food is delicious but smoked food blows it out of the water. The flavor that smoked food provides is untouchable and tough to fake. The flavor changes based on the chips or pellets used but the mouth-watering goodness remains constant. An easy way to feed a group is with a large hunk of meat, like a full chicken. Take your chicken game up a notch with this wine, butter and garlic infused smoked chicken. It's hard to explain just how mind blowing this delectable bird tastes. You'll have to make it.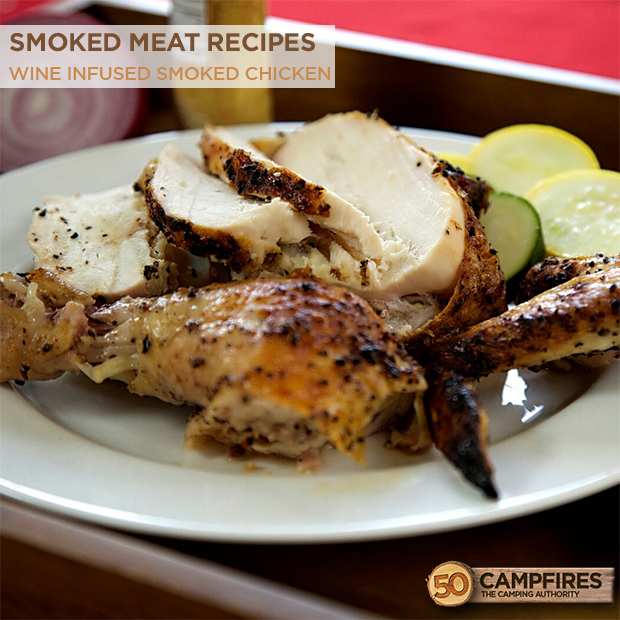 You may think that you'd need a huge smoker to accomplish this smoked chicken feat. Good news, you don't! You can actually just use your grill and an A-MAZE-N Smoker Tube. They come in 6″, 12″ and 18″ tubes and all you need to do is stuff it with your favorite pellets and light it on fire. It will burn from anywhere to 2 hours to 6 hours.
Anyways, back to this insane smoked chicken. It's not just any old smoked chicken with some seasonings this is a chicken injected with a mixture of butter, garlic and wine to give you a taste you may have never experienced. A taste so good it may leave you speechless. The chicken is melt in your mouth good and packed with a complex flavor. It's easy to make and all you need is a meat injector and a small amount of time to prepare. The chicken will take a while to cook at 275 so just be patient. It's worth the wait for you and your guests.
Wine Infused Smoked Chicken
Ingredients
5-6 lb chicken
½ stick butter
4 oz white wine
1 tbsp garlic
Instructions
Mix butter, wine, and garlic in a bowl. Fill the meat injector and inject the breasts and legs of the chicken.
Get the grill to 275 degrees and smoke the chicken until the internal temp reaches 165 degrees.
Some of the best pellets to use are hickory and cherry and then add a little mesquite at the end.
Let the chicken rest for 20 minutes before carving. Enjoy!