No one ever expects to get a flat or skid off the road. Be prepared in case you ever have to spend hours in sub-freezing temps in your car.
There are half a dozen ways for a normal winter drive to be derailed, like skidding off the road thanks to black ice or unpredictable road closures due to weather. That's, of course, in addition to the anytime-of-year risks of getting a flat or running out of gas.
But being stranded in your car in the winter comes with a different level of risk as night falls faster and temperatures drop to dangerously cold levels.
Get a cloth-sided container and put all your materials inside so you have everything in one place – then throw it in your trunk and never take it out of the car! Here's what the experts, from AAA to the National Weather Service, say should be in your kit: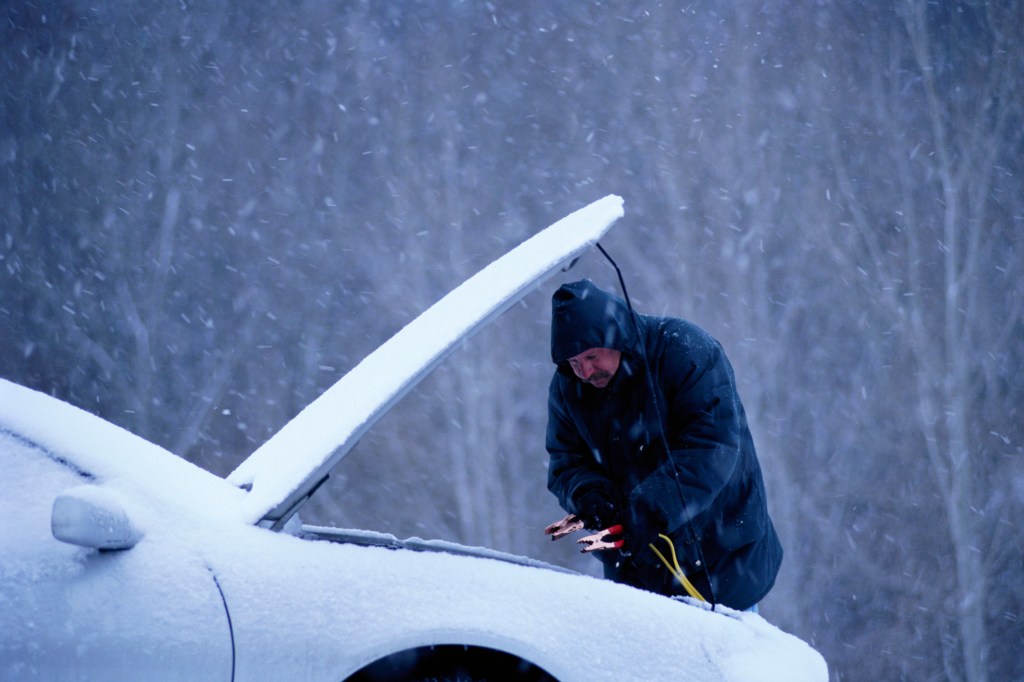 Must Haves
At a bare minimum, every winter car emergency kit should include:
Cell phone car charger: If your phone is dead, you can't call for help. Stash a dedicated phone charging cable in your car. Don't take it out!
Flashlight or headlamp, with extra batteries: If an accident happens at night, a light is necessary for everything from assessing damage to checking under your hood to simply finding your emergency supplies in the car without running your car's battery down with the interior light. Make sure you have extra batteries, too, as the cold can drain the power from them.
Basic first-aid kit: Having the bare necessities on hand, like bandaids, disinfectant, gauze, and medication, can be very helpful for small accidents or small emergencies when you're stranded.
Drinking water: Stashing a gallon jug of water can help you avoid dehydration (and therefore poor judgment) if you're stuck in your car for hours. A gallon is better than a bottle or two in case you get stranded with multiple people in your car.
Snacks and food for travelers and pets: Most of us will start to get grumpy being stuck without a snack after just a few hours, so if you skid off the road or are waiting for a tow-truck for hours, you'll be glad you packed snacks. Aim for something non-perishable that can withstand temperature fluctuations, like granola bars or dry cereal.
Ice scraper and snow brush: An ice scraper probably isn't going to save your life in an emergency, but it is important to have to make sure you can see and drive safely.
Portable Shovel: A collapsible shovel is helpful if you need to dig out a car buried or stuck in snow, or to clear space around your tailpipe if you're going to be idling while waiting for help, so fumes don't come into the car.
Wool blankets, emergency space blanket, or a sleeping bag: In the event you have to spend even just a few hours in a car with a dead battery (or in a situation where you don't want to run the battery for the heat), having a warm blanket can save your life. If you have kids or pets, store one for each person/pet in your family.
Spare tire and car jack: Both of these items should be in your car emergency kit year-round, but being able to change a spare tire yourself in the winter will save you time, stress and cold.
Jumper cables: This should also be in your car emergency kit year-round. Having battery booster cables are essential in case you wind up with a dead battery or need to help someone else with one.
Safety Reflectors or Flares: Roadside reflectors are a small item that can be so helpful—they can serve to warn other cars if you break down by a blind curve, or, if your car skids off the road at night, placing reflectors on the road can call attention to your location for the tow truck or emergency vehicles.
Roadside assistance numbers: Write down the phone numbers for your state's roadside assistance company or AAA on a piece of paper and stash it in your glove box. Sometimes you have enough service to make a call but not to Google information.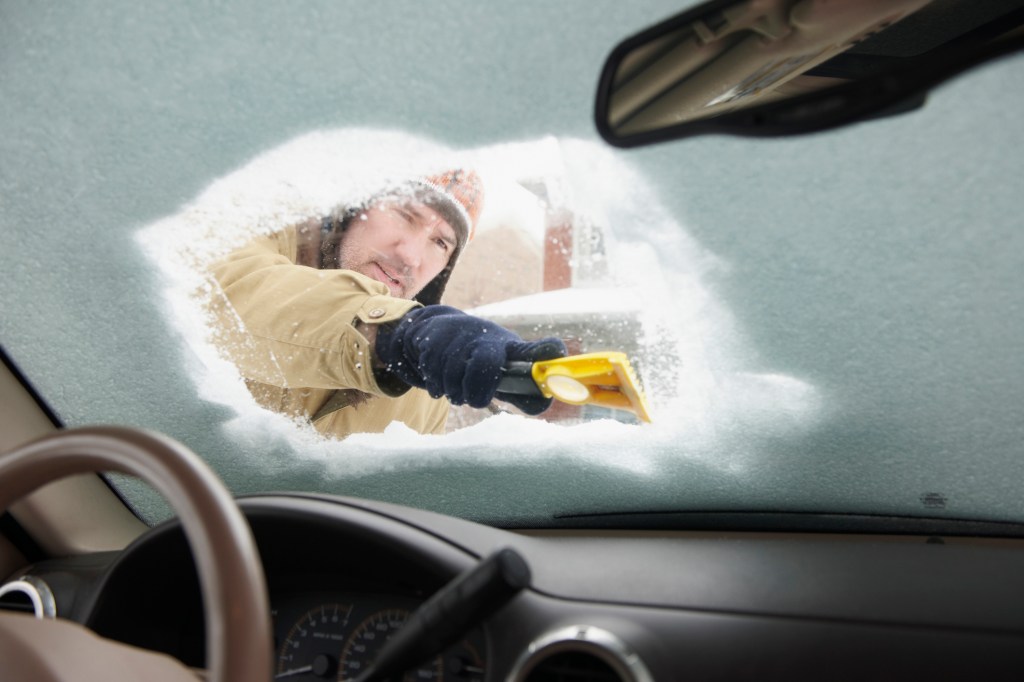 Nice to Haves
To be prepared for anything, consider also including:
Warm gloves, clothes and hats for all passengers in your car: Any situation where you're stuck in your car for hours where you don't want to run the heat, warm clothing can make a huge difference. Clothing is ideal in addition to blankets, too, in case you need to get out in sub-freezing temps to assess damage, waive down a passerby, or walk to a gas station. Store warm clothing for every passenger you travel with.
Kitty litter or sand for traction: If you get stuck in the snow, especially in heavy winter where you can't find sticks or other natural supplies to place under your tires, having a non-clumping material like sand or kitty litter can help your tires gain traction to get out.
Tow strap: This simple tool—an uber-durable and strong strap—can help if you ever need to be pulled out of a ditch or ever come across someone on a quiet road who needs the help. Just make sure you keep the instructions and your car's owner manual for where to best attach the tow strap in the moment.