You've probably heard of planked salmon. Chances are you've even enjoyed this taste treat yourself. The wood for the plank on which the salmon is cooked is traditionally western red cedar, and the results are very, very good.
But adding a second or even a third flavor of smoke takes salmon to the next level even in the short cooking time to keep it moist and tender. By adding  a Smoke Sack or BBQ Drop, Soak & Smoke … or two … to the grill on which you're plank cooking the salmon gives you that option conveniently and easily.
With the salmon on a cedar plank, we suggest supplemental smoke of alder, apple, or peach.
Wood Plank Salmon Recipe
Ingredients
6-8 oz. salmon fillet
2 Tbsp. sea salt
2 Tbsp. brown sugar
1 Tbsp. garlic powder
1 Tbsp. dried dill
1 Tbsp. chili powder
1 tsp. paprika
1 Tbsp. ground ginger
1 Tbsp. lemon zest
1 Tbsp. dried rosemary
olive oil
1 Kelly Craig BBQ Cedar Plank
Kelly Craig Smoke Sack or BBQ Drop, Soak & Smoke – wood of your choice
Instructions
Submerge plank in hot water for one hour.
Dry one side of plank with paper towel.
Drizzle dried side with olive oil and rub it in.
Preheat grill to 450F.
Select a Smoke Sack or BBQ Drop, Soak & Smoke puck (try maple or cherry if you're looking for suggestions)
Soak Smoke Sack or BBQ Drop, Soak & Smoke and prepare per instructions on package. Place next to heat source on grill.
Mix salt, sugar, garlic, basil, paprika, tarragon, lemon zest in bowl.
Place salmon on plank skin side down and rub in mixture to meat.
Place rosemary sprig on top.
Turn down to medium heat, and place plank over direct heat until it begins to smolder.
Move to indirect heat and close lid keeping at 450F.
Cook for 6-8 minutes until salmon is 145 degrees in thickest center.
Remove and enjoy.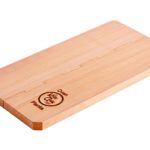 PRO TIP:
The perfect tools for making this delicious salmon recipe are the
Kelly Craig Grill Planks
. For even more flavor combinations, soak the plank in your favorite, nonflammable liquid – wine and beer work great and you can cut them with as much water as you want. Used on the grill or the grate above the campfire, you can get several uses from each plank if you rinse and freeze it between uses.  
BUY NOW!