Our first thought when we saw the Zippo Outdoor Utensil Tree was, "why can't I just put my ketchup and mustard on the picnic table?" Well, you can – the Utensil Tree is mostly for the grill master, not the folks who are eating (at least that was my interpretation of it). When you're at a campground you usually have one of those no-frills iron grills on a single post. You know the kind that I'm talking about. There is no place to put anything. They're great grills but not all that functional. If you're cooking corn, burgers, steaks, foil packets and toasting buns there are a lot of different things you need within arm's reach. This is what's great about the Zippo Outdoor Utensil Tree. Everything is right there. Here are a few of uses we really liked:
Hanging greasy spatula and tongs
Having my spices, cheese slices and marinade handy
Having a towel rack next to me (awesome)
They were also smart enough to pop a few holes in the tray so it doesn't fill up with water and create a raised lip on each side so paper towels don't roll off of it. Pretty clever.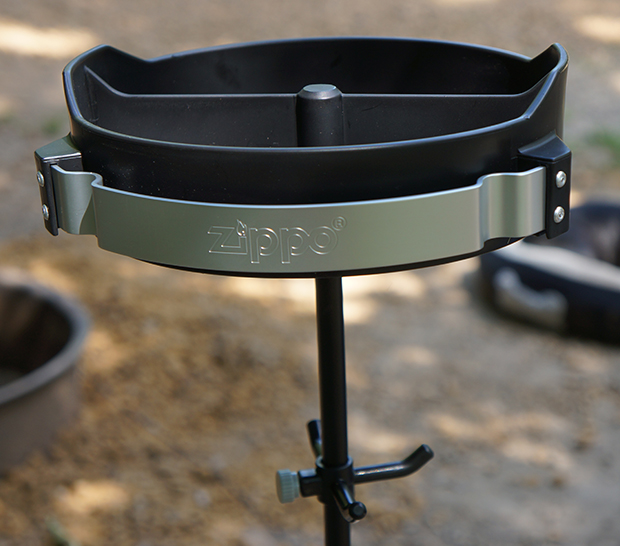 As with a lot of the items were review here on 50 Campfires – are you going to bring this out when camping for one night? Probably not. However, if you're at a campsite for a 3-4 day weekend you'll be really glad that you have the Zippo Outdoor Utensil Tree next to the grill after you're cooking up your 10th meal for everyone.
See The Zippo Outdoor Utensil Tree In Action