The new Zippo 2-hour and 6-hour Rechargeable Hand Warmers definitely fall into the category of town-to-trail gear we love. How do we know? We'll we've tested them in both places.
The trail testing is easy for us. Someone on the 50 Campfires team is "out there" most every day. In fact, we took the Zippo Rechargeable Hand Warmers with us on Field Trip: Death Valley.
Perhaps the Mojave Desert isn't the first locale that springs to mind as a testing ground for a hand warming device. Turns out, in November the sunset in Death Valley is about 4:30, and once the sun is gone it gets cold fast. Multiple levels of hand warming heat at the push of a button is pretty darn nice. A Zippo Rechargeable Hand Warmer in each pocket made keeping bare fingers warm so easy and convenient. And at bedtime, keeping the unit inside a zipped up sleeping bag allowed quick expulsion of cold spots here or there.
How to test them in town was a bit more challenging. That is until we thought of passing one along to an elementary school teacher friend who handles outdoor recess duty, every day of classes! Soon as the Minnesota temps dropped below freezing, she fell in love with these hand warmers. It's so easy for her to leave them plugged into the USB port on her computer to charge. When she puts on her coat to shepherd the kiddies outside, she grabs the hand warmer and cranks it up to high. By the time she's delivered her second reminder to take turns on the slide and a pair of dried eyes, the Zippo Rechargeable Hand Warmer is kicking out heat to keep her fingers comfy warm. She's using it every school day and plans on it until the weather starts to warm or school ends … whichever comes first in Minnesota.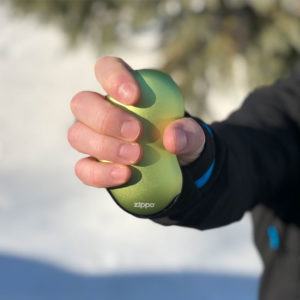 The other great "town" use is as a backup charge for a cell phone. The 6-hour model will easily deliver a reserve charge to any handheld device.
What We Like About the Zippo Rechargeable Hand Warmer
Zippo has always made great hand warmers, but the standout feature of these rechargeables is the convenience. No filling. No lighting. No waiting for a long time for it to come up to temperature. The adjustable heat settings are great, too. The "bean-shape" of the 6-hour model is hand filling, and it is comfortable to carry in any pocket — or as we said, keep at the ready inside your sleeping bag — no sharp edges or pointy corners.