Advanced Elements Ultralight Kayak : Review [VIDEO]
The Advanced Elements Ultralight Kayak is great for all ages and skill levels.
I've been curious about inflatable kayaks for a long time. I love to paddle, and for much of my life, I simply didn't have anywhere to store a kayak. It seemed like the perfect solution to my problem. Why didn't I ever buy one? I'll admit that I was too skeptical to pull the trigger. I put it in the same category as the cheap inflatable boats I played in as a kid, and I couldn't have been more wrong. I finally had the opportunity to take one out on the water, and I was blown away. I spent half a day in the Advanced Elements Ultralight Kayak and here's what I loved about it.
The Setup
The first thing that surprised me was how easy this particular model was to set up. The duffel bag is wearable as a backpack so it's easy to transport. I was only walking from the car to the water, but could easily have walked a mile or two for access to a remote lake. The backpack straps work well. So far so good.
There are only two air chambers to inflate, which happens quickly. If you pause halfway through inflating it's easy to slide the floor and a few supports in before continuing to inflate fully. The whole process only takes about five minutes. Five minutes of work to spend an afternoon on the water? Count me in.
Paddling
There are a few key differences that I noticed between the Advanced Elements Ultralight Kayak and a standard hardshell kayak. The first involves entering the kayak and will appeal to beginners. Entering a hardshell kayak is a bit of a balancing act, and many a first-time paddler have entered the water unwillingly. This kayak has a soft bottom, so when you stand up in a few inches of water you're actually standing on the ground. This makes it impossible to tip, and easy to start paddling safely.
Does this kayak feel like a hardshell kayak when you're out on the water? No, but it was an enjoyable paddling experience in a different way. I was surprised at how comfortable it was. The inflatable foot brace made it easy for someone short like myself, to paddle comfortably. Someone taller could simply not use it. The seat was fantastic. The experience of paddling was very "snug," which I liked. The seat was very comfortable, and I also liked the neoprene paddle guards on the sides. I actually wish my hardshell had them because they keep the sides comfortable and they seem to wick the excess water away somehow. I also have to mention how impressed I was with the stability. The fact that the two air chambers are on the sides means that it would almost impossible to flip this thing over. Your center of gravity is too low in relation to the floats. It's a very sturdy and safe kayak. All in all the paddling experience was a very positive one.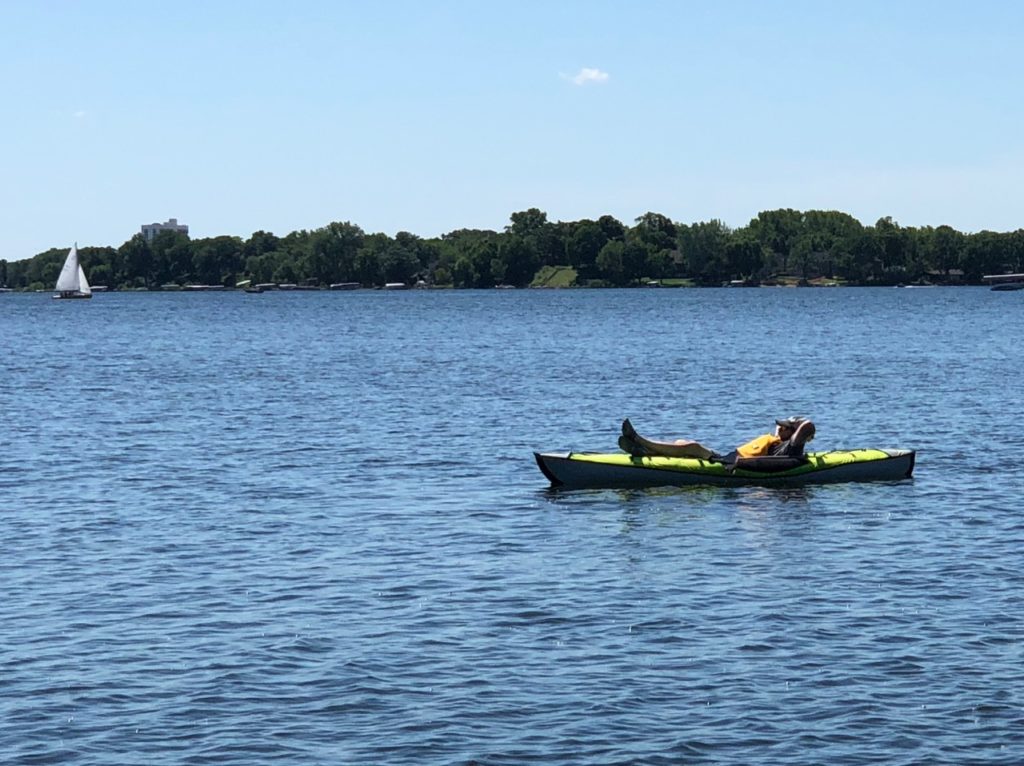 The Teardown
As I mentioned earlier, carrying the Advanced Elements Ultralight Kayak around couldn't be easier because it only weighs 17 pounds. I hauled it up to a grassy spot, switched the pump to "deflate" and started deflating it. I took the floor and a few supports out about halfway through and that was about it. I'll mention that before I deflated it, I used a shammy to dry the bottom. This was easy to do, and even though the kayak was nearly dry when I packed it up I still took it out of the bag back at the office so it could dry completely. This brings me to the packing part, which is a big win for Advanced Elements. Nothing makes me happier than when a tent, sleeping bag, or in this case – kayak, easily fits in the bag! The kayak, floor, paddle, and inflatable foot brace actually fit in the carrying case easily. This is one of the main things that made me want to take it out again the following day. It was super easy to setup and teardown. I was expecting a bunch of steps and a boat that would be difficult to squeeze back into the bag. Not the case at all.
Conclusion
I can't think of any reason I wouldn't recommend the Advanced Elements Ultralight Kayak to someone looking to get out on the water. Why would you go with an inflatable? The obvious reason would be that you don't have anywhere to store a full-size kayak, but after using it I feel that there other scenarios that make this an ideal choice:
You're not interested in putting kayak racks on your vehicle. Sometimes this means that you can't park in your garage anymore. They're also going to run you $300-$400.
You don't want to (or are unable to) lift a 40-pound kayak onto the roof of your vehicle.
You don't like driving 70mph with boats on your roof (now I'm just talking about something that I don't like).
You often have to carry your kayak several hundred yards (or more) to the water.
You actually don't kayak that often (but like it) and don't want to give up the space needed for hardshell kayaks.
The list goes on, but after using it those are just a few of the reasons that justify the purchase in my opinion. Spending a day on the water in the Advanced Elements Ultralight Kayak definitely changed my mind about inflatables, and I've already recommended it to more than one person simply because it's the best option for their situation. If you think that an inflatable kayak might be the right choice for you I'll just tell you, it probably is.
Price: $599