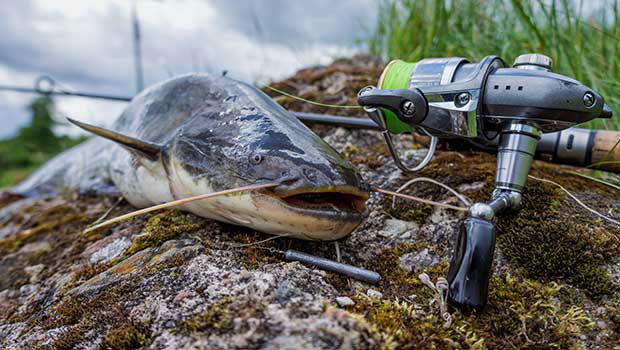 Basic Rig For Catching Catfish
There are so many tackle rigs to catch catfish, deciding which to use can be confusing for a beginning angler. Here's one of the simplest to cover a wide range of fishing situations.
Thread the line from your rod through the eye of a 1-2 ounce bell sinker. The less current, the lighter the sinker. Where there's a lot of current you may need even more weight.
Next, slide a small plastic bead onto the line. Then tie a barrel swivel to the end of the line.
Tie another piece of monofilament line about 18-24 inches long to the other end of the barrel swivel. Then tie your hook to the opposite end of the line.
Bait up, and your ready to catch catfish.
More Tackle Tips
You'll hear that catfish are "bottom feeders." That's sort of true. They will sometimes eat off the bottom, but prefer bait anywhere from a few inches to a couple feet off the bottom. To get your bait to float up a little bit, you can use floating jig heads like walleye anglers use … or use a foam packing peanut or two. Just cut a slit in the peanut and put it on the line between the bait and the barrel swivel. The closer the peanut(s) are to the bait the farther from the bottom it will float.
Catfish love to feed at night so a lot of catfishing is done then. Sometimes it's so dark it's hard to see the rod tip jiggle or the line move when a fish bites. A Styrofoam peanut also makes a great strike indicator.
For bank fishing, cast out and let the sinker settle to the bottom. Then reel in the line until you feel it get taut with the sinker. Wrap a rubber band tightly around the rod handle. Set the rod in a forked stick and open the bail or turn off the lock while holding the line so it doesn't escape. Pull gently back on the line and loop a little bit between the rubber band and the rod.
Cut a slit in a white Styrofoam peanut and put it on your line a couple inches beyond the rod tip. When a fish tugs at the line, it will pull the line from underneath the rubber band and the peanut will move toward the water. Because it's so white, you'll easily see it moving or fall off the line. Pick up your rod and set the hook!
Everything You Need For the Basic Catfish Rig