Camping Whitewater Township Park in North Michigan
Camp Michigan: We are talking with Cheryl today about Whitewater Township Park. How are you doing this afternoon?
Cheryl: Great.
Camp Michigan: Perfect.
Cheryl: Glad to be talking with you.
Camp Michigan: Awesome. And so, just kind of wanted to get started. When was Whitewater Township Park started?
Cheryl:
Well, it's been going for quite a few years. I'm trying to remember when exactly they acquired the property. It's about 117 acres. It's not all developed. Some of the property they actually acquired from the State in 1941 and some in 1945. I have to tell you I'm not exactly sure what year the campground was opened.
Camp Michigan: No, that's certainly fine, but it's been around a long time.
Cheryl: Yeah, it has been around a number of years. And it's very well liked. We get lots of great comments about it.
Camp Michigan: Perfect. And so, kind of along that line, what are the most popular activities for people that are staying there?
Cheryl: Well, the campground is a 55-site campground. There are some sites that are on the shore, or right along the shoreline of Elk Lake, which, if anybody wants to look that up online, it's just a beautiful, beautiful lake. It's about ten miles long and, oh gosh, it's about a couple miles wide I believe in some places. And we have a boat launch at our campground, and we have people that come in and they are campers and boaters, and then we also have daily boaters who come in just for the day. The buy a pass just for the day and they are able to travel the Chain of Lakes, if you've ever heard of that.
Camp Michigan: Yeah.
Cheryl: In Michigan. It's where you can put in along any part of the Chain of Lakes and you can travel a long ways. For instance, from Elk Lake you can – I don't know the exact route, but you go into Skegemog Lake and through Torch River and through Torch Lake. And then I'm not exactly sure which river you take after that, but you can actually wind up, up in Sheboygan, Michigan, which is near the top of the mit, but on the east side of the State, where we're more on the west side of the State.
Camp Michigan: Wow. So that's quite the tour if you wanted to go.
Cheryl: Yeah, it's quite the tour. And I'm not sure exactly how many campgrounds there are right on the Chain of Lakes, but there aren't a lot of them. We do know that. Just a handful, if that many, that are actually on the Chain of Lakes. There's lots of places you can get on the Chain of Lakes, but not so many that have a campground right there.
Camp Michigan: So definitely a unique thing to have one then.
Cheryl: Very unique.
Camp Michigan: Cool. And so, where is Whitewater Township Park located?
Cheryl:
Well, Whitewater Township Park is located about 15 miles northeast of Traverse City, Michigan. A lot of people know where Traverse City is. It's up in the northwestern part of the Lower Peninsula. And like I say, we're about 15 miles northeast of Traverse City, and it's very popular for people who are staying in the Park to spend time in Elk Rapids, which is about – oh, I don't know – four or five miles north of the Park. And there, on East Bay, they have a harbor on East Bay, or I should say the East arm of Grand Traverse Bay, which is a 40-mile-long bay that empties out into Northern Lake Michigan. And then also a lot of people will spend time in Traverse City. Of course we have the National Cherry Festival in the summer, in July, usually somewhere around the July 4th weekend, and that brings a couple hundred thousand people to town.
And so, some people like to camp and stay in the Park, and then go into Traverse City, but we have lots of other festivals that go on in the area. We're kind of centrally located actually to some other festivals and things that are around this area.
Camp Michigan: Yeah, great. It sounds like you have a good location. Some of those attractions that you were mentioning – what one is your favorite?
Cheryl: Well, I don't spend as much time at the National Cherry Festival as I used to when my kids were younger, but oh gosh, what else is there to do? There's Leelanau County, which is kind of around Traverse. You have to go through Traverse City and then head north into Leelanau County, and there are a lot of wineries out there. Also, Old Mission Peninsula is a very popular spot. Right in Traverse City you can follow the road. I can't remember the name of the road right now, but Old Mission Peninsula goes out 20 miles into Grand Traverse Bay. So, it divides the lower 20 miles of the bay into two arms – West Bay and Easy Bay.
And oh gosh, there are other festivals that go on. Harbor Days is a very popular event. That's held in Elk Rapids the first weekend in August every year. That brings in lots of people. They have all kinds of things going on, which should be hard for me to list them right now. But they have water-related contests and they have a midway and just lots of thing. The Lion Club puts on a big chicken barbecue. There's music down on the – as I mentioned, Elk Rapids is on the water, and they have a beautiful shoreline park with a beach that is excellent for swimming. A very sandy location and then the boat harbor right there too. And they have music down there and different activities going on. Sand-related contests and things like that. If somebody was interested in more information on that, they might want to Google Elk Rapids Harbor Days.
Camp Michigan: Perfect.
Cheryl: And they would get a lot of information about that.
Camp Michigan: No, that's great. It certainly seems like there's a ton of stuff to do. I have just one more question for you, kind of bringing it back to the Park. If you could spend just one night in Whitewater Township Park, which campsite would you choose and why?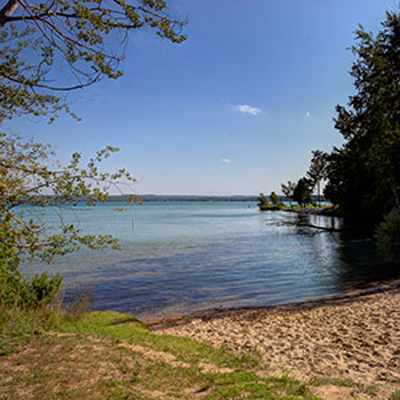 Cheryl:
Well, I'm actually not a camper myself, only because I don't have a tent or an RV right now. I've done that many years in the past, but I don't happen to own one right now. Oh gosh, the campsites that overlook the water. We call them the Bluff Campsites. Numbers I believe are 14 through 18. Yeah, 14 through 18 are some of the best sites. They've got beautiful sunrises up there. However, I should also tell you that we do rent out 15 of our sites per year as seasonal sites.
Camp Michigan: Okay.
Cheryl: And we have a 67-night seasonal rate, where it only starts the Thursday before July 4th weekend and ends with the Sunday night of Labor Day weekend. And we do make those reservations early. In February we get those and find out if those sites are going to be taken for seasonal sites or not. And usually those are booked for that time period. In the past, campers were allowed to bring their units early, and as early as the opening of the Park, and stay till the end on those seasonal sites, but we've changed that policy this year to have them just be on there for the 67 nights because we do want to open up some of those really favorite campsites to other people.
Camp Michigan: Yeah, absolutely. No, that's some really good insights and we thank you so much for taking the time today.
Cheryl: Well, I so appreciate you contacting us because we would just love to have anybody visit our website or give the Township Hall a call. We normally open about the second weekend in May with a free cleanup weekend. We ask people to rake up and pick up the debris on their site. Just get it out to the road. We'll take care of it from there. In exchange for free camping, and that's usually a very popular weekend. And then we close along about the middle of October.
Camp Michigan: Awesome. Well, that's great. Some perfect information and kind of exactly what we were looking for.
Cheryl: Well, thank you so much, Chelsea. I appreciate your call.
Camp Michigan: No problem.