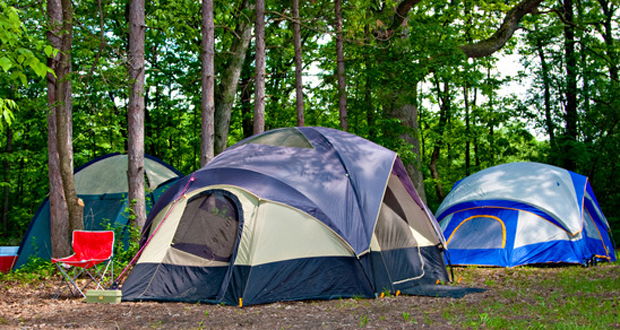 Hayes Lake Campground in Minnesota
Hayes Lake Campground in Minnesota
Camp Minnesota: I'm talking with April today. She's the Assistant Park Manager at Hayes Lake State Park in Minnesota. How's it going today, April?
April: Not too bad.
Camp Minnesota: So, let's start with how long Hayes Lake State Park has been there and how it got started.
April: Well, Hayes Lake actually began – this is going to be hard to explain for me, but it was the Roosevelt River and they needed a recreational area – a water recreational area. And so, local landowners and the Roosevelt County came together and decided that they would propose an idea to build a dam, take out the river, and make a lake. And that is how the lake began, and there is a dam here that we manage, and it has become a State Park. And in 1967 is when the dam was completed and in 1973, the dam was completed, and then that's when it was also dedicated as a State Park.
Camp Minnesota: Okay. Now, what types of camping do you offer there?
April: We have a group camp that offers rustic camping. It's a big space. The Boy Scouts love it. The Girl Scouts love it. Just you know, groups of people. We also have walk-in sites. The walk-in sites are about, I would say, maybe a city block in, and they're right along the lake, so you have really nice lake views. And then we also have our main campground that has electric and non-electric sites. And we have two camper cabins. One with electricity, and one without. And so, yeah, that's our camping.
Camp Minnesota: Okay. And what are the most popular activities for visitors there?
April: Visitors here like to swim, fish, and hike. We do get campers; we're right adjoined with the State Forest, right next to the State Forest. Island State Forest. And it's big into ATVing out in the forest. You cannot ATV in the park, but there are a lot of trails in that forest for ATVing. So, that's a popular thing too.
Camp Minnesota: That sounds really fun. And does that particular State Forest offer camping at large?
April: There are spots for camping. That's rustic. There are no showers. There are water pumps with fresh water, but yeah, there is camping there. I want to say at least three or four in the forest.
Camp Minnesota: Okay.
April: And they also accommodate horses.
Camp Minnesota: All right, cool. Two more questions for you, April.
April: Sure.
Camp Minnesota: If you could spend just one hour in Hayes Lake State Park, how would you spend your time?
April: Probably take a canoe out on the lake.
Camp Minnesota: Nice.
April: Yes.
Camp Minnesota: And if you could spend just one night in Hayes Lake State Park, which specific campsite would you pick and why?
April: I would probably pick the camping cabins. That is off by itself. It overlooks the lake and that's the one without electricity, so you're right on the lake as well and you have beautiful views.
Camp Minnesota: Okay, perfect. Well, thank you so much for taking some time out of your day to chat with us, April, about Hayes Lake State Park in Minnesota.
April: Thank you.