10 Haunted Places Within Driving Distance of Camp
As Halloween creeps closer, we embrace the supernatural and strange occurrences in our magical world. Creaking floors, dark corners, and howling winds, all contribute to the eerie set of All Hallows' Eve that we look forward to each year. These haunted places and zombie costumes are a dramatic departure from everyday life, but they allow us to experience something different and intriguing for a night.
Scary stories and urban legends are another way to bring life to the distant beautiful world of the paranormal. We are all fascinated by inexplicable sounds and ghost-like figures because there are no answers for such unbelievable phenomenon. Haunted places? What was that? Did you hear that? The search for an explanation can drive us crazy, and sometimes the only thing left to do is to just, believe.
Scaring each other stupid brings great pleasure to us at 50 Campfires, which is why we've included this terrifying list of haunted places across the U.S. Check it out before you head to the next camping destination – we double-dog dare you (cue ominous-sounding music)…
Waverly Hills Sanatorium (Louisville, KY)

Should you find yourself hiking around Jefferson Memorial Forest, in Louisville, KY, you may want to check out the nearby Waverly Hills Sanatorium. The former tuberculosis hospital has been abandoned for years, so how do you explain the sudden cold snaps, phantom patients, and disembodied voices roaming the halls? Tours are still given today if you dare to visit one of the most haunted places in America.
The Stanley Hotel (Estes Park, CO)
Movie buffs will enjoy exploring the haunted grounds of the Stanley Hotel in Estes Park, Colorado. Notorious for inspiring Stephen King's, "The Shining", visitors should proceed with caution. Paranormal figures lurk in the darkness and the empty ballroom resounds with sharp bursts of laughter each night.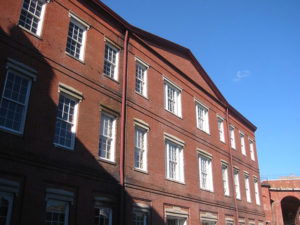 Fort Delaware (Pea Patch Island, DE)
Fort Delaware on Pea Patch Island is another one of these terrifying haunted places, nestled on the Delaware River near Fort DuPont State Park. Should you venture into Fort Delaware, take special care of your party. Confederate soldier apparitions, of prisoners held during the Civil War, have been seen and documented by many. There are even paranormal investigations and ghost tours at this location, so you can find out for yourself if the fort is really haunted.
Old Idaho State Penitentiary (Boise, ID)
When (not "if") you visit the unimaginably beautiful Sawtooth National Forest in Boise, set aside a few hours for a quick tour of the haunted Idaho State Penitentiary. This old prison has been in operation for over 100 years, and rumor has it that faint screaming, haunting laughter, and deformed ghosts are still heard and seen to this day.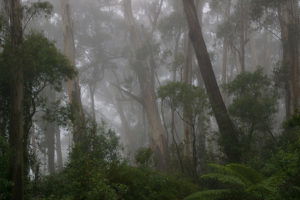 Brown Mountain (Burke and Caldwell Counties, NC)
According to 13th century Cherokee folklore, the Brown Mountains in North Carolina are believed to have eerie luminous orbs, drifting across the valley. There appears to be no source or cause for the glowing light; according to the Cherokee, the orbs are the spirits of their deceased Native American ancestors.
Wood Island Lighthouse (Wood Island, ME)
If you're seeking a secluded east coast adventure, you should definitely hit up the Wood Island Lighthouse in Biddeford, Maine. In the late 1800's, a drifter committed suicide in the lighthouse, after murdering the town sheriff. Visitors have reported hearing supernatural moans and footsteps ever since.
Henderson Castle (Kalamazoo, MI)
Henderson Castle is one of the creepier haunted places on this list, so keep your wits about you if you dare to enter. The original owners and an unknown little girl supposedly haunt the grounds, and many cases of unplugged radios blaring and inexplicable phone tapping have been documented. Today, the castle functions as a normal bed and breakfast. But don't venture too far down its dark, winding hallways – paranormal sightings of the little girl and her dog are not uncommon.
Virginia City, Nevada (NE)
Fellow thrill-chasers will appreciate the creepy ambiance and ominous character of Virginia City, Nevada. This timeworn mining town has several reported cases of poltergeist activity, involving shoving and menacing inaudible voices.
Devil's Den (Gettysburg, PA)
Home of the bloodiest Civil War battle to date, Devil's Den in Gettysburg National Military Park is a frightening historical site. You'll want to bring a buddy, but that still might not protect you from a paranormal experience. Shadowy figures of deceased war veterans are known to lurk around the Den.
Transept Trail (Grand Canyon, AZ)
Most people end up at the Grand Canyon for its majestic beauty – but here's another reason why you should make the trip: it's one of the haunted places you need to visit. A woman, who committed suicide in the 1920's upon hearing her son and husband were killed in a hiking accident, haunts the North Rim. Her muffled crying and moaning can often be heard along the trail, especially on a dark and stormy night.