El Cariso Campground: Lake Elsinore, CA
El Cariso Campground is a U.S. Forest Service campground within the Cleveland National Forest. There are 24 campsites available for camping year round. Reservations are not available, camping at this location is on first come, first serve basis. Maximum vehicle size is 22 feet. There is potable water available and a vault toilet. There are no services or hookups for RVs. A number of day hikes can be based from this location, and picnicking is always available.
Dogwood Campground: Rim Forest, CA
Named for its abundance of beautiful dogwood trees, whose spring blossoms and fall foliage which both present spectacular displays, Dogwood Campground is situated in a densely wooded area with tall conifers and lush undergrowth. This is a spectacular setting not far from Lake Arrowhead. Each campsite is strategically located to offer each camper maximum seclusion. There are 93 campsites available include many for trailers and motor homes. Maximum RV size is 22 feet. Reservations are accepted. Amenities include: modern restrooms, an amphitheater, dump station, electrical hookups, fire rings, potable water, showers, and picnic tables.
Yucaipa Regional Park: Yucaipa, CA
Yucaipa Regional Park, with panoramic views of the San Bernardino Mountains and Mount San Gorgonio is located near Oak Glen, Redlands and mountain communities. It offers a wide range of outdoor recreation including: fishing in three lakes, a swim complex with dual flume water slides, and sandy beach area. During the summer rent aqua cycles and pedal boats to go about the lake. Camp surrounded by scenic vistas – with built-in grills and running water. Open picnic tables and grills are plentiful throughout the park. And you can toss horse shoes year-round as well as play disc golf, too! There are 42 full hookup sites and nine tent sites.
Rancho Jurupa Park: Riverside, CA
Visitors to Rancho Jurupa Park enjoy a gorgeous 200-acre recreational area with many amenities. Activities include a thrilling splash pad for water play, a rock climbing playground, miniature golf surrounded by spectacular waterfalls, and a disc golf course. Rancho Jurupa's lakes, regularly stocked with trout during the colder seasons and catfish in the warmer months, provide excellent fishing opportunities, including a popular annual trout fishing derby held in January. Magnificent trails lead to countless hiking and biking adventures, including access to the Santa Ana River Trail and a 1-mile trek to the Louis Robidoux Nature Center. There are two great campgrounds in the park for tent and RV campers alike.
Banning Stagecoach KOA
Don't have an RV? Experience the RV lifestyle by staying in one of the park's fully-furnished park models or RV Rentals. They provide everything you will need. Just bring your clothing, groceries, and a desire to have a great time. The Banning Stagecoach KOA is located at the gateway to mile-high Idyllwild. Here you find wide, grassy spaces and great mountain views. Sites 1 through 94 are RV sites with full hookups and cable TV. Sites 95 through 99 are tent sites with water only. Activities include horseshoe pits, tetherball, volleyball, children's playground, and indoor rec room featuring a pool table, table tennis, and TV.
Lake Perris State Recreation Area: Perris, CA
Lake Perris is a wildlife haven. Many species of birds, reptiles and mammals (large and small) inhabit the area. Camping sites are plentiful and work well for RVs up to 31 feet in length. Swimming and fishing are great activities at this location. There are many events, camps and activities available at the Lake Perris State Recreation area throughout the year you can check out on their website.
Happy Campground: Canyon Lake, CA
The Canyon Lake Property Owners Association (the Association), incorporated in 1968, as a California nonprofit corporation, is responsible for the operation and maintenance of the common areas within Canyon Lake. The purpose of the Association is to promote the recreation and benefit and enjoyment of the homeowners within the community. The Association's mission is to support the Canyon Lake community with exceptional services and solutions, which make this a premier place in which to live and work. Membership or the permission of an association member is required to camp here.
Pete's Camp El Paraiso: Temecula, CA
Pete's Camp invites you to visit El Paraiso–Paradise–the front door to the Sea of Cortez. Located in San Felipe on the northern shores of the Sea of Cortez in Baja California. Pete's offers sun, sand and sea, extraordinary beaches, excellent environment, connected by the magic of the semi-desert landscape and the blue green sea. Only an hour and forty-five minute drive from Mexicali! They have 79 spaces right on the beach for camping. There are also restrooms and showers available. Not to mention Norma's famous Pete's Camp Restaurant & Cantina, which offers an assortment of refreshing beverages.
Sundance Meadows
Sundance Meadows offers a safe & positive environment for families to enjoy the great outdoors. Halfway between San Diego & Los Angeles, a weekend escape from the city is only an hour away. In addition to plenty of space for tent camping and RV hookups, a bunkhouse with individual rooms, a full kitchen, restroom, showers, and more provides a place for those who prefer to enjoy the outdoors without giving up the comforts of home.
Lake Skinner Park: Winchester, CA
Nestled in the rolling hills of Winchester, CA, beautiful Lake Skinner Recreational Area offers visitors expansive natural vistas and invigorating recreational opportunities, including camping, picnicking, hiking, horseback riding, sailing, and fishing. This popular regional park is located just a few short miles east of the Temecula Wineries, close to the bustling communities of Murrieta and Menifee, and within easy access of Interstates 15 and 215. With 241 campsites, Lake Skinner's campgrounds provide plenty of space for overnight or extended stays. Sites offers picnic benches and fire rings. Most away-from-home needs can be met with a visit to the well-stocked camp store.
La Laguna Resort & Boat Launch: Lake Elsinore, CA
Come enjoy rustic camping on the shores of Lake Elsinore! La Laguna Resort and Boat Launch opened in 1962 and has retained much of its charm over the years. With over 150 campsites ranging from dry (no services) to full hook ups (water, electrical and sewer), and a dry "Group Camping Areas," La Laguna offers something for every camper. So whether you have a tent or a 40-foot Class A, come visit us at the "La"! Campground rules strictly enforced.
North Shore Campground: San Bernadino, CA
North Shore Family campground is within a mixed oak and conifer forest. It is located 23 miles northeast of San Bernardino in the San Bernardino National Forest, 3 miles from Lake Arrowhead Village. There are 28 camping sites. There are 6 first come/first serve sites and 22 reservable sites. Amenties include 1 campfire ring, picnic table, flush toilets, firewood is available for sale. Campground host is on site. Lake Gregory is 20 minutes away and offers fishing, boat rentals and a water slide park.
Serrano Campground: Fawnskin, CA
This family campground is located in the San Bernardino Mountains. Serrano is located on the north side of Big Bear Lake, 2 miles east of Fawnskin. There are 93 single sites and 16 double sites. Popular activities include hiking, mountain biking, boating and fishing. Amenities and services include camp host, comfort station, dump station, RV hookups, fire rings, firewood sales, interpretive programs, interpretive trails, picnic tables, showers and restrooms. Reservations can be placed as late as 24 hours in advance based upon availability.
Barton Flats: Angelus Oaks, CA
The Barton Flats Campground provides a taste of just about everything the San Bernardino National Forest has to offer. In addition to nearby lake and river access, a variety hiking, biking and horseback riding trails can be accessed from the campground. Visitors can relax, take in the fresh, mountain air, and enjoy beautiful scenery. Located 36 miles northeast of San Bernardino, just off the Rim of the World Scenic Byway. The level campsites are tucked among a variety of pine and oak trees, at an elevation of 6,360 feet. The campground offers dozens of single and double campsites, available for tent and RV camping. Some accessible sites are available as well. There are no hookups at the campground, however, the parking aprons are paved and a dump station is available. Each site is equipped with tables and campfire rings with grills. Accessible flush toilets, showers and drinking water are provided. Firewood is sold at the campground.
Boulder Basin Campground: Pine Wood, CA
The campground has a "Q" configuration with campsites on top of the letter having a delightful vista while sites on either side have tower boulders for a backdrop. Magnificent Ponderosa and Sugar pines and other conifers are found throughout the campground. This is a campground for hikers, mountain bikers, bouldering enthusiasts, and anyone looking for quiet and solitude – well worth the challenge of the road to the campground. The Black Mountain Lookout Tower is accessed via hiking a dirt road from campground and offers breathtaking views of the area. The ground cover throughout the campground is pine needles and various size pine cones. There are 34 sites that must be reserved at least three days in advance of visit. Bring your own water.
Crab Flats Family Campground: Running Springs, CA
This family campground is located in an area of tall pines, oaks, and cedar trees. Crab Flats totals 28 campsites. Of them, 23 sites are reservable. The other five are available on a firs-come-first-served basis. Off-highway vehicle trails are located nearby. There is no overflow parking. Trailers, fifth wheels and motorhomes over 28 feet are not recommended. The campground offers drinking water, but includes vault-style restrooms.
South Fork Family Campground
This family campground is located at 6,400 feet elevation in a pine/fir forest near the Santa Ana River along Hwy 38 between Angelus Oaks and Big Bear Lake. There are 24 campsites. Each site accommodates a maximum of 8 persons. First come/first serve; no reservations accepted. Open during the summer and fall months only. There is drinking water available at the campground, but toilets are vault style.
Coyote Cove Lakeside Camping: Lake Elsinore, CA
Coyote Cove Lakeside Camping offers a different kind of camping experience. You can choose to camp and recreate anywhere on the 11-acre site. Some areas have picnic tables and fire rings for your convenience. Other areas have nothing so you can elect to build your own fire pit like the cowboys used to do. If you decide to sleep with your feet in the lake, you can do that, too. There are two modern bathroom locations on the grounds with coin operated showers and a laundry room.
Anza-Borrego Desert State Park: Borrego Springs, CA
Anza-Borrego Desert State Park is the largest state park in California. Within its boundaries lie 500 miles of dirt roads, 12 wilderness areas, and many miles of hiking trials to provide visitors unparalleled opportunity to experience the wonders of the California Desert. The park is located on the eastern side of San Diego County. There are a number of camping facilities within the park, but all can be reserved via ReserveAmerica. Many sites are available on a walk-up only basis. Maximum size for campers/motorhomes is 35 feet.
Lake Hemet Campground: Mountain Center, CA
Lake Hemet Campground is a glamping facility. You and your party can rent a variety of cabins or a tent camp – all set up and ready to go – so all that's left is for you to enjoy your precious time in the great outdoors. Lake Hemet is surrounded by the majestic beauty of the San Jacinto Mountains. The scenery is breathtaking no matter which direction you look. Tall pines, Manzanita trees, sage, and giant oaks abound. The facility offers fishing and a waterpark as well.
Idyllwild County Park: Idyllwild, CA
Popular Idyllwild Park, located on the perimeter of the eclectic mountain village of Idyllwild, boasts 202 acres of beautiful open space, mature forest, breathtaking hiking trails, and a fascinating Nature Center. Recognized as one of America's cleanest forests, Idyllwild is a perfect venue for reconnecting with family, friends, nature, and the slower pace of small town mountain life. There's a shaded meadow for picnicking and group outings, serving as a pleasant base for hikers, climbers, and explorers. Guests may hike any of the five trails that offer breathtaking scenery and panoramic views. For more adventurous outdoor enthusiasts, enormous granite boulders offer some of the best rock climbing challenges around. Nearby Lake Fulmor or Lake Hemet offer fishing opportunities for both casual and dedicated anglers. In winter, snow sledding is a popular activity when weather permits. The park's rustic but well-tended campground has 88 lovely forested campsites, each with fire ring and picnic table as well as close proximity to restrooms and showers.
Palomar Observatory Campground
Science buffs and families are drawn to Observatory Campground for its proximity to the Palomar Observatory, a world-class center of astronomy research operated by the California Institute of Technology. Just two miles from the observatory, the campground provides visitors with a unique learning experience in the great outdoors. The facility offers a variety of amenities for both tent and RV camping. Hiking, biking and picnicking can be found nearby. The campground is organized around one large loop with parking spurs for each campsite. Several sites are equipped with level cement pads to allow campers to set up their telescopes. The sites can accommodate vehicles up to 32 feet in length. Drinking water, coin-operated showers (peak season only), grills, trash cans, campfire rings, picnic tables, a flush toilet (peak season only) and two vault toilets are provided.
Dripping Springs Campground: Aguanga, CA
Dripping Springs Campground is a wonderful site adjacent to the Agua Tibia Wilderness area. The location is adjacent to sensitive riparian habitat which is home to the endangered Arroyo Toad. The hills surrounding the campground are covered by southern California chaparral which hosts a diverse population of mammals, birds, and other fauna. The mountaintops above the campground are lined with coniferous forest. Recreation in the area includes hiking, trail running and backpacking. The campground facilities include restrooms and potable water. No showers or other amenities are available at this location.
La Jolla Indians Campground: Pauma Valley, CA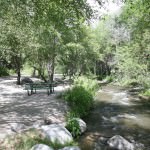 Full service campground facility is located on the lands of the La Jolla Indians along the beautiful San Luis Rey River. Facilities include options for RV camping, group sites, tent camping and walk ins. Tubing on the river is a featured activity, you can also family camp, leisure camp, or solo camp on the grounds. In any case, you'll be surrounded by beautiful landscapes in any direction you care to gaze.
Oak Knoll Campground
Gorgeous oak trees, sunny skies, and a family-friendly atmosphere are just a part of what makes Oak Knoll Campground very special. Join these friendly folks for Southern California camping activities like hiking, biking, gaming, star gazing, bird watching, swimming, boating, and more. With Oak Knoll's proximity to San Diego, it's easy to enjoy day trips to see amazing attractions like the San Diego Zoo and Wild Animal Park or SeaWorld San Diego.