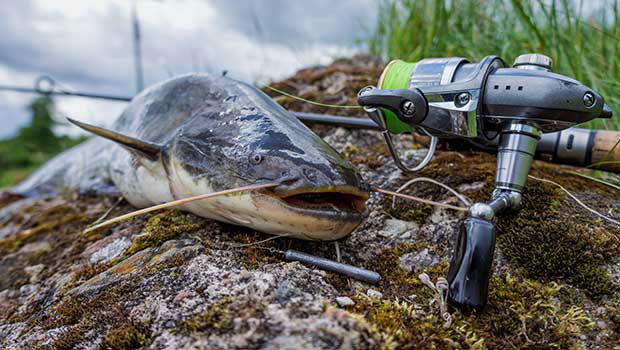 Basics of Catching Catfish
The iconic image of fishing for catfish is Huckleberry Finn in repose beneath a willow tree along the mighty Mississippi. His straw hat is pulled down over his eyes. One buckle on his bib overalls is undone in case the mood for a swim strikes at any time. Though his eyes are closed, the line is looped around one toe so he'll be instantly alerted to a bite.
You know what? If you put a 21st century spin on that picture with modern fishing gear and performance outdoor clothing, fishing for catfish can still be like that today. In fact, since so many catfish anglers ply their craft at night, it's a safe bet that more camping is done in conjunction with fishing for catfish than any other kind of fishing.
Catfish can be caught in an amazing variety of waters from shallow farm pods to enormous reservoirs to flowing rivers. During the day, catfish tend toward muddy water areas like tributaries to large lakes and reservoirs. In clearer water, the fish will hold on deep structure like snags on river bends and deep holes. Often the best catfishing is at night. Flats, river bars, shorelines, and weeds are good bets.
While the size of catfish species varies, and some can top 100 pounds, most catfish you'll encounter will weigh from a half pound to five pounds or so. You can fish for them with regular family fishing gear. If you're going to gear up for catfish, you'll want a 6- to 7-foot medium heavy spinning rod and reel with 14-20 pound monofilament line. Circle hooks are a great choice because they prevent from hooking the fish too deeply. You'll also need some sinkers and bait. (50 Campfires shares its favorite catfish bait, and it's a great campsite project in which you can involved the kids, too.)
So that's catfishing …
1) find a likely spot
2) bait up with a proven bait
3) use enough weight to keep it near the bottom
4) settle in, and wait for the fish to bite
5) RELAX, ENJOY the adventure.