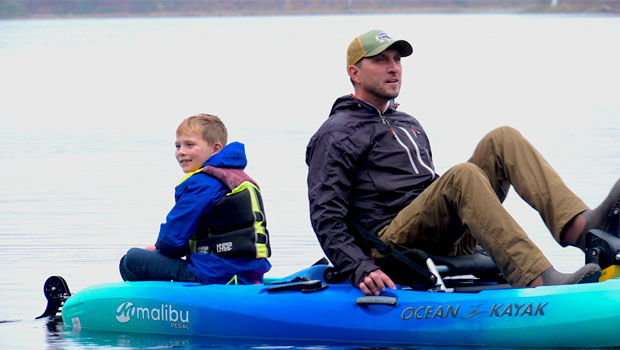 The Last Of The Open Water
It's been nearly a month since the season's first crystals of frost blanketed the woods of northwestern Wisconsin.
Having spent the majority of the summer outside – camping, hiking, fishing and paddling – that first frosty morning is always a harsh wake-up call. Although the days begin shortening even before Fourth of July, the reality just now starts to set in. Winter is coming.
I've spent much of the year traveling, exploring great outdoor places that make our country unique. I've camped in the bayous of Louisiana, watched the sunrise in Acadia National Park, and fished the backwaters of the Upper and Lower Mississippi River. It seems wherever I go, the reaction to where I come from is always the same:
"Minnesota…it's really cold there, right?"
Sure, we average more than a solid month below zero every year, and summer rarely extends very far past Labor Day – but there's a reason I continue to call the Midwest home. Each season plays a role in shaping and defining my appreciation for the world around me.
Just like I've come to know melting snow in the spring will lead to summer's open water adventures, the falling leaves and crisp air of autumn take me to one conclusion. It's the last of the open water. Before I know it, the lakes, creeks and rivers will be sealed shut – under an almost impenetrable layer of ice. And with that knowledge, I know it's time to get out for one last day of open water paddling.
I've had this weekend circled on my calendar for months. It's a short week at school for the kids, and I opted to join them – taking a vacation day from the office. The preparations have all been made, with weather being the only item I'm forced to leave to chance. We pack up the car, and load up the kayaks. A three hour car ride leads us directly into the cell phone dead zone. I'm unreachable…at least via technology. We pull into the landing and launch the boats. I'm determined. Not even the looming storm clouds are going to take this away from me.
You come to appreciate open water when you live in a frigid climate. Don't get me wrong – water is a dose of magic nearly everywhere, but when you see how quickly it disappears, it's tough to take it for granted. Much like hiking a trail before the first snowstorm, paddling a kayak across a lake ready to freeze enhances your awareness of your surroundings. It's something I'm trying to teach my kids. Never take an outdoor experience for granted – it might not be there tomorrow.
Our day on the lake provided all of us a chance to connect and reconnect. Our experience in the new Malibu Pedal kayak was out of this world, and impressed not only my wife and kids – but a hardened gear nut like myself. Be sure to check out my full review of the Ocean Kayak : Malibu Pedal – and see for yourself.
Editors Note
Make sure that you wear
proper personal floatation devices
(PFD's) whenever you're out on the water. Accidents can happen without warning – and a near-frozen lake is the last place you want to end up!