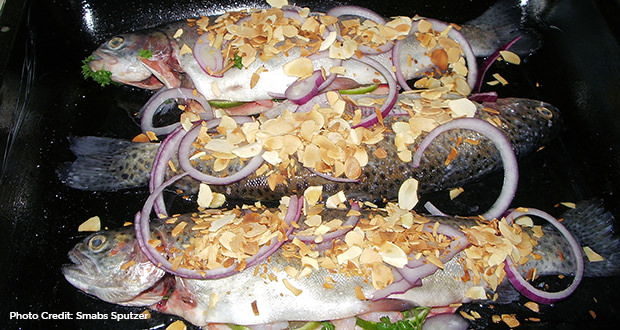 Burned Butter Trout Recipes
If you're like us, you usually throw a few fishing poles in when you head out camping for the weekend. It's always a good idea because fresh caught fish over the campfire is to die for. Especially trout. There is just something about fresh fish and a smoky campfire that make for a downright delicious meal. We have tried a lot of different trout recipes but we're totally digging this Burned Butter Trout Recipe that we saw Chef Steven Raichlen create.
Trout is a great fish to use when cooking because of it's complex flavors. This big-flavored fish recipe riffs on the way they cook trout in Grenoble—pumped up with lemon, capers, and nuts. The preparation harnesses your pyromaniacal tendencies, requiring the controlled burning of the butter—enough to darken it to the color of hazelnuts (which also gives it a nutty flavor), but not so much that it downright burns. Although it took us a few tries to perfect it, once you get the technique down, it is oh so good!
With so many great trout recipes out there, it's a hard decision on what style and flavor you want to go with, but you really can't go wrong with this nutty flavored infused recipe.
Burned Butter Trout Recipes
Ingredients
1 lemon
4 tablespoons (1/2 stick) salted butter
1 tablespoon extra virgin olive oil
4 whole dressed trout (12 to 16 ounces each)
Coarse salt (kosher or sea) and freshly ground black pepper
About 1 cup unbleached all-purpose white flour, spread out on a plate
3 tablespoons slivered almonds or pine nuts
3 tablespoons drained capers
3 tablespoons finely chopped chives or scallion greens
Instructions
Cut the rind and white pit completely off the lemon. Thinly slice the flesh crosswise into thin rounds. Remove any seeds with a fork. Reserve any juices by scraping them into a bowl with a knife.
Melt 1 tablespoon of the butter in the olive oil in a large skillet over the campfire.
Generously season each trout inside and out with salt and pepper. Holding each trout by the tail, dip it in the flour, thoroughly coating both sides and shaking off the excess.
Gently lower the trout into the skillet. Pan fry the fish until golden brown on the outside and cooked through, 5 to 8 minutes per side. Start working over a medium-high heat and reduce the heat if the outside of the trout starts to burn before the fish is cooked through. To test for doneness, make a little cut in the back of the fish. The flesh next to the backbone should be white and should pull away from the bone easily. Transfer the trout to a platter or plates.
Increase the heat to high and add the remaining 3 tablespoons of butter and the almonds to the skillet. Cook the butter and nuts until they turn brown, about 2 minutes. Immediately add the capers, chives, and lemon slices and juices. Let the lemon mixture come to a boil, then pour it over the trout and serve.
More great fish recipes
Eisenhower's Crusted Trout Recipe With Cornmeal and Fried Bacon Fat
Easy Foil Packet Fish Recipe: Tilapia & Vegetables
About Steven Raichlen
Man Made Meals With Steven Raichlen
Steven Raichlen is a multi-award winning author, journalist, television host, and now novelist. His books include the international blockbusters The Barbecue Bible and How to Grill and the New York Times bestselling Planet Barbecue. His new novel, Island Apart, tells a story of love, loss, redemption and really good food set on Martha's Vineyard. Translated into 15 languages, Raichlen's books have won 5 James Beard Awards and 3 IACP-Julia Child Awards and have sold more than 4 million copies. Raichlen also hosts the popular TV shows, Primal Grill and Barbecue University on PBS, and a French language show called Le Maitre du Grill. He lives and writes in Coconut Grove, Florida, and on Martha's Vineyard, Massachusetts. To get this recipe and many, many more Man Made Recipes, click here to buy his book.