If you're looking for a majestic camping getaway in Chinook Bend, look no further than the Chinook Bend Resort and Marina. We had the opportunity to speak with the Manager of the resort. He filled us in on what to do, where to go, and where to launch a boat. Listen to our full interview here:
Camping Chinook Bend Resort and Marina OR
Camp Oregon: I'm talking with Shawn today. He's the Manager at Chinook Bend Resort and Marina in Oregon. Shawn, why don't we get started by having you just give us a little bit of history of that area and the resort?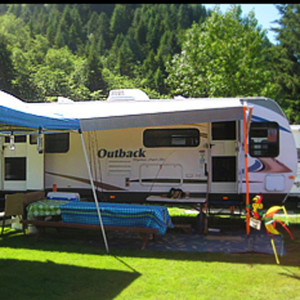 Shawn:
The resort started as a dairy farm in the '30s, and in the '70s it became a fish camp, and it's blown up since then. It's grown into a maybe 95-acre campground resort and marina. John bought it in 2006. And he's just done improvements. Vast improvements. We've grown substantially to, like I said, a 95-acre campground. Almost 100 RV sites that are full hook-ups. Four boat docks. Boat ramp. Two stores. A 6,000 square foot clubhouse, complete with dance floor. Take a book, leave a book library. A free pool table. TV lounge.
CO: You guys are functioning almost as a little town there.
Shawn: Pretty much. Pretty much. Like I said, we've got a bait shop. The clubhouse is about a half mile from the actual campground. We've got a road that travels down and down there we've got a bait shot and we've got brand new, remodeled bathrooms and showers.
CO: Cool. So, you guys have tent camping all the way up to RV camping.
Shawn: I do. I have tent camping. I have about a half-mile of river frontage that we can put tents on. So, basically, you can unzip your tent and throw your line in if you want.
CO: Nice. Now, what are the most popular activities for your guests there?
Shawn: I'm going to have to say fishing obviously. The salmon run has been phenomenal, especially this year. But we have live music on the holidays. Memorial Day, Labor Day, and the Fourth of July. We do karaoke. Sometimes we do movie in the Park. Barbecues. For our members we have Sunday morning breakfast. We do potlucks. There's a lot of hiking. We have a golf course.
CO: It's just about anything I'd want to do. You guys can hook it up.
Shawn: Yeah. Yeah. Rental boats. We've got two pontoon boats that we rent out. We've got two fishing boats that we rent out. Four kayaks. And then we're three miles up the road to the Pacific Ocean.
CO: Okay. Yeah, that leads me into my next question, which is: if I was staying there for maybe an extended period of time and I wanted to venture outside of the park, what are some favorite attractions in that area that you might recommend?
Shawn: Well, we're seven miles from Lincoln City, which has got a lot of neat little shops. They're right out of front of a tourist town. It holds the casino. Then we've got Newport, which is a bigger city, which has a lot of historic area. And you've got beach.
CO: Sure.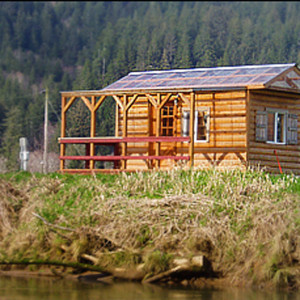 Shawn:
The beach you can walk on. There's a lot of surf fishing. We hold a kayak festival that a bunch of kayakers come. The Northwest Kayak Association. They may actually go out into the ocean and do bottom fishing, and they have a huge festival here.
CO: Okay, great. So, a lot to do and the campground there is a pretty good size too. So, lots of trails and lots of hiking around.
Shawn: Oh yeah.
CO: Just two more questions for you.
Shawn: Okay.
CO: If you were going to spend just one hour at Chinook Bend Resort and Marina, how would you spend your time there, Shawn?
Shawn: I would spend it fishing. Like I said, even if you don't have a boat, we've got plenty of bank fishing. We've even got some phenomenal hiking trails. Bird watching. It really all depends on the person that you are. Like I said, me, if I was going to spend an hour, it would be fishing.
CO: Okay. And if you could spend just one night at Chinook Bend Resort and Marina, which specific campsite would you stay at and why?
Shawn:
I would stay on the river. You can back your RV straight up to the river. These fifth wheels have huge panoramic windows in the back and you can – I mean you've got a full view of the river and your RV is right there. Another situation where you can go right out your front door and you can cast your line in and fish and catch salmon.
CO: Sounds absolutely perfect. Well, Shawn, thank you so much for giving us a couple tips there on the campsites and giving us a nice overview of Chinook Bend Resort and Marina in Oregon.
Shawn: You're welcome.