Camping in Western Pennsylvania: Meadville KOA
Camp Pennsylvania: I'm talking with Robin today. She is one of the Owners at Meadville KOA in Pennsylvania. Robin, why don't you get us started by giving us a little bit of history about the Meadville KOA there?
Robin: Well, the Meadville KOA started out many years ago as a farm, and it was owned by a local family on what was known as (Unclear 00:24.4) and Flats. It later was sold to another gentleman named (Unclear 00:29.8), who turned it into a auction barn and fish hatchery. And then, Mr. (Unclear 00:37.8) had operated it as a fish hatchery and auction barn for many years, until it became a campground. He actually had people who started camping here, and then he eventually went and got a license and officially made it a campground in 1978. But we've been serving camping families in Northwestern Pennsylvania for over 35 years.
Camp Pennsylvania: That's a pretty unique history. Now, are the fish hatcheries still active? Can you fish there?
Robin: Well, we have fishing ponds there that are stocked. It's not a hatchery per se. We've used it to grow fish in one of the smaller ponds, and then transferred them to our bigger two-acre lake, but we don't do that on a regular basis.
Camp Pennsylvania: Oh, okay. A pretty unique history there though. I like that. Now, what types of camping do you offer there?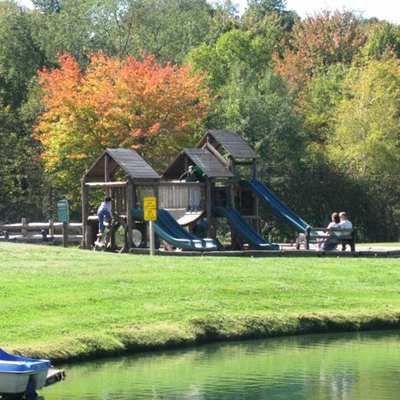 Robin:
We have camping of all kinds. We have RV camps for fifth-wheel and travel trailer RV. We have big rig sites with 50amp for motorhomes or big fifth wheels. We have electric and water sites for pop-ups or tent campers, whatever you want to call them. And then we have tenting sites with both electric and water, and primitive tenting sites with no hook-ups.
Camp Pennsylvania: Okay. And what are the most popular activities for guests there?
Robin: Oh, jeez. Well, we have a full range of award-winning recreation. We're very highly rated recreationally, like with Wood Alls, we're a five-W Park. But we have recreation, like basketball, the fishing of course, swimming pool, volleyball, hiking trail, a creek to play in, playgrounds, horseshoes, volleyball, just to name a handful of things. We also have rental amenities that people can rent. We use a band program, so one price; they get unlimited paddleboats, peddle carts, and mini golf. And then, on weekends, we also run a Jumping Pillow with that same band program, so they get the Jumping Pillow as well.
Camp Pennsylvania: Nice.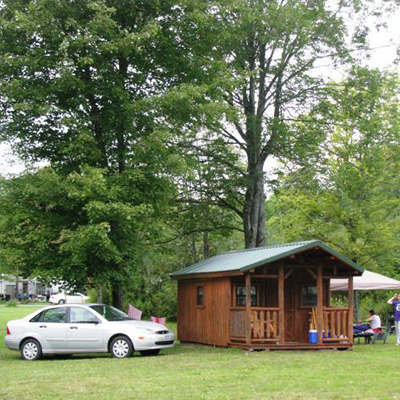 Robin:
In addition to that, we have themed event weekends with planned activities. And we run a full range of event weekends that range from Mother's Day dinners to Halloween weekends, death by chocolate weekend, wet and wacky weekend, and the corn roast. We do all kinds of activities that are themed throughout the year. We do the themed weekends with planned activities.
Camp Pennsylvania: Sure. I like that you use the bands for the activities. That probably creates a little bit less hassle for you as owners too to manage all the activities.
Robin: What it really does is it allows parents to get the bands for the kids. If the kids are teenagers, if they're over 13, if they're 13 or older, they can come down, sign out the peddle carts, bike around the Park all they want for a half-hour, bring the cart back, sign it back in, get mini golf clubs. It keeps those teens busy all day long.
Camp Pennsylvania: Very cool.
Robin: They can do that stuff all day long. The younger kids do require adult supervision of course, but you know, most families are going to do that stuff with their kids.
Camp Pennsylvania: Sure. So there's a lot going on. Now, let's say I wanted to adventure outside of the campground. What are some of your favorite attractions around that area?
Robin: Well, we have lots of things to do, and of course we are located in the heart of the Great Lakes area of Northwestern Pennsylvania, so we're only about an hour south of Lake Erie and the most visited State Park in the State of Pennsylvania, which is Presque Isle State Park. So, we're kind of unique. We're landlocked in that we're in Northwest Pennsylvania, but we actually have beaches. The Great Lakes. So, a lot of campers go up and at least visit Presque Isle. Swim in the lake. Watch a beautiful sunset. There are sunset tours you can take. There's the Tomlage Environmental Center. There's Lake Pymatuning. Spillway, where there's so many fish, the ducks walk on the fish's backs.
We're not far from Rails to Trails. We're not far from the Drake Well, where the discovery of oil was first made in the United States of America. That's been featured on the History Channel. And there are several local wineries. There's just a lot to do here, both historically and great activities, fun activities for campers alike. We're not far from the Erie Wildlife Refuge. There's a lot of geocaching in our area. There's great fishing with Woodcock Lake, (Unclear 5:49.5), Lake Erie of course, and you know, there's just a ton of things to do. And then of course there are local fairs and festivals. We have Crawford County is home to the largest agricultural fair in Pennsylvania, the Crawford County Fair. We're home to the first and classic hot air balloon event. So, there's just lots to do. There's lot of fairs, activities, and local things to see and do.
Camp Pennsylvania: Fun. It sounds like a wonderful place. Just two more questions for you, Robin. If you were going to spend just one hour at the Meadville KOA, how would you spend your time there?
Robin: One hour. If I were going to spend one hour, my favorite thing to do when I'm camping is sit by a campfire and just relax. And so, that's like one of my favorite evening activities; is to sit around a campfire with friends, visit, you know, roast a hotdog, have a s'more, and just sit and visit by a campfire. It's one of my favorite things to do, so that's what I would do.
Camp Pennsylvania: Awesome. And if you were going to spend just one night at the Meadville KOA, which specific site would you stay at and why?
Robin: Ooh, that's a tougher question. Well, hmm. Wow. We have lots of great campsites, and we have some that are for everyone. We have one campsite that's up in tall pine trees. It's a front campsite. It's site number 30, and I have lots of folks who love that site because it sits in those big, tall pine trees, and it gives you the feel of camping, big woods camping. You know what I mean?
Camp Pennsylvania: Yeah. Yeah. Fantastic.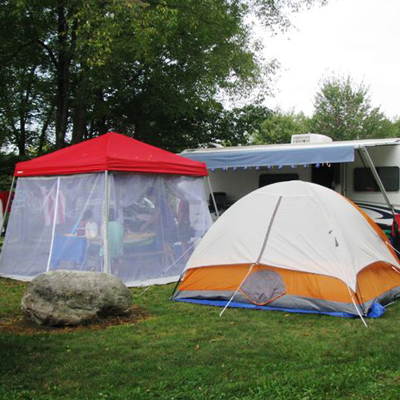 Robin:
For people who like, we have more open sites like site number one, which is 50amp pull-through. So, we get lots of big rigs on it, and it's more open. It has no trees around it, and people in those big motorhomes like it because it's more open.
Camp Pennsylvania: Okay.
Robin: So, I guess, if I were going to camp on one of them, I would probably pick the one in the big pines too. I like those campsites because they give you that feel of being in the big woods.
Camp Pennsylvania: Sure.
Robin: I think that would be my choice.
Camp Pennsylvania: Okay, sounds gorgeous. Well, Robin, thank you so much for taking some time out of your morning to chat with us and give us a little bit more information about the area and to tell us more about the Meadville KOA in Pennsylvania.
Robin: Okay, thank you. Have a great day.