Camping Thomas Mitchell Park in Iowa
Listen to our full interview with Charlie Finch from Thomas Mitchell Park here:
Thomas Mitchell Park Camping
Camp Iowa: We're talking with Charlie Finch today. He's going to tell us about Thomas Mitchell Park down in Iowa. How's it going today, Charlie?
Charlie: Oh, I'm doing good. Yourself?
Camp Iowa: Doing really good. Thomas Mitchell Park has kind of an interesting history. Tell us a little bit about that.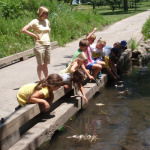 Charlie: Thomas Mitchell Park is named after a gentleman actually named Thomas Mitchell. He was a native of New Hampshire and he actually built a log cabin right along Camp Creek, which goes through the park, in 1844. The cabin's not there anymore, but that was one of the first English-speaking natives to the area, and the park was named after him. And actually, Mitchellville the town was named after him also.
Camp Iowa: Okay, so some rich history there. That's pretty cool. What are the most popular activities in that park?
Charlie:Well, the park has a lot of amenities. It has shelters, playgrounds, electric and tech campsites. One of the most popular ones we have is the youth group camping area for Cub Scouts and Boy Scouts and Girl Scouts, which is in a large tree oak area where they can camp and have their camping outings at.
The new attraction – well, it's the newly refurbished attraction – is that we just redid that six-acre pond at Thomas Mitchell Park. We have totally drained it, dredged it, and put in thousands of dollars of fish habitat structure, aeration system, and we have totally stocked that with fish. So it's a totally renovated pond project, and we also had a big emphasis on water quality. That is going to be one of the best attractions we have there now, is this brand new renovated pond that we put in.
Camp Iowa: That sounds like a fun. So the kids can head over there with their fishing pole and they're probably going to have a great chance of catching something.
Charlie: Oh yeah. And there's going to be a trail that goes – currently we're working on a project to put a trail around it with some fishing jetties also. So it's going to be a great attraction at the park.
Camp Iowa: What are some other attractions in the area worth checking out?
Charlie: One of the other great attractions that the park has is the campgrounds. The campgrounds are secluded down in the bottom of the valley, right next to Camp Creek. The creek runs right through the campsites. There's 25 electric sites down there and ample tent sites also available. As we are speaking right now, we're going through the master plan project to actually adding more electric sites down there and adding tent sites to a different location. So there's going to be a lot of renovations going on in the park. But the campsites and the camping down next to Camp Creek is a great aspect of the park.
Camp Iowa: If you could spend just one hour in Thomas Mitchell Park, how would you spend your time?
Charlie: As I was saying before, I'm an outdoorsman and I enjoy the outdoors. Now that we have put this new pond in here, the fishing is going to be excellent in that pond. So I'd probably spend my time probably taking my son down to that pond with a bobber and just sitting and catching bluegill or crappie.
Camp Iowa: Fun. And if you could spend just one night in Thomas Mitchell Park, which specific campsite would you choose and why?
Charlie:If I could choose one night, I guess I'd have to go back to if I was a Boy Scout or a Cub Scout, because I'd want to be in the scouting site, because it's the large growth oaks around there, and it's a canopy over there. It's just a great spot for all the youth groups and kids to camp as a whole. So I'd like to enjoy something like that.
Camp Iowa: That sounds great. Thanks for taking some time out of your day to chat with us, Charlie. Much appreciated.
Charlie: Yes, no problem. Anytime.