Wild duck is rich in flavor and can have a juicy mouthfeel. Like many other wild game meats, duck meat will also help you boost your protein intake. Both healthy and absolutely delicious, this is one recipe you can't pass up.
The CanCooker and CanCooker Jr. are quick and simple to use and any heat source available will work. Layer your favorite vegetables on the bottom and meats on top. Add 12 ounces of any liquid—water, soft drinks, beer, juice or marinades—and your choice of seasonings before locking down the lid. Then just place the CanCooker over any heat source that will boil water. Within 15 minutes, you'll see steam, and about 45 minutes later, your complete mouth-watering meal for your entire group will be ready to serve.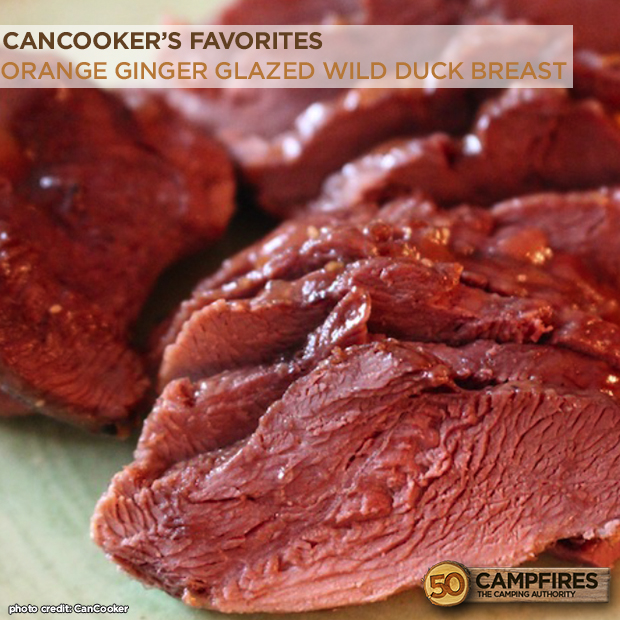 Orange Ginger Glazed Wild Duck Breast
Recipe type:
Lunch/Dinner
Ingredients
8 boneless skinless wild duck breast
1 cup Iron Chef Orange Ginger Glaze Sauce
6 oz of chicken stock
6 oz of water
Instructions
Preparation
Tablespoon of Kosher salt mixed in a bowl of water deep enough to cover all duck breast.
Refrigerate for 2 hours.
Dry the breast and use fresh coffee grinds to dry rub on each breast.
Refrigerate for 2 hours.
Take out and rinse off coffee grinds, dry with some paper towel and brush the Orange Glaze Sauce on each breast.
Cooking
Spray Pam in cooker and on racks, pour in the 6 oz of chicken stock and 6 oz of water.
Put the glazed duck breasts on racks.
Put the CanCooker lid on and latch.
Use a medium low heat for cooking and once it starts steaming, cook for 5 to 6 minutes depending on preferred rareness.
Take cooker off heat source and let sit for a couple minutes.
Remove duck breast, put on a platter and brush on more of the Orange Ginger Glaze and serve with wild rice and vegetables.
In response to customer demand, CanCooker™ has announced the availability of its inaugural cookbook, Everyone Can Cook with a CanCooker™. This new spiral-bound cookbook is a compilation of more than 100 pages of mouth-watering, crowd-pleasing, kitchen-tested recipes, each one created specifically for the CanCooker and CanCooker, Jr.