The Divide Music Festival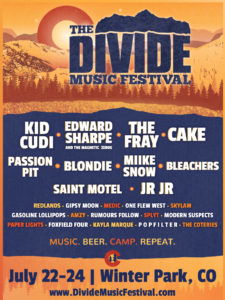 Experience the Divide Music Festival just steps away from your campsite? Let's go! But be warned, The Divide Musical Festival features "real no-frills Colorado camping" at its finest. If you're looking for something more glamping related you should possibly consider other accommodations while visiting. You can expect to see the stars in a whole new light while at this fun filled festival, and likely get a little dirtier at the campsite than you usually would. In case we haven't mentioned it yet, the slogan on their poster is amazing. It reads: MUSIC. BEER. CAMP. REPEAT.
Colorado's Divide Music Festival is July 22-24 in Winter Park, Colorado. This three day festival will be the party of the summer with Colorado's best and brightest beers, local food artisans, and some very talented crafters. It's the absolute perfect summer getaway for you and a group of friends or family who enjoy spending time outdoors.
While all of the entertainment and activities may seem like they could do you in for a pretty overwhelming weekend, you'll have plenty of time to relax while camping out under the stars with the Rocky Mountains and the Continental Divide as the backdrop.
You'd be crazy not to explore the area while you're there. Trust us, the only downfall about this festival is that you will never want to leave when it's over, and I mean is that really even a downfall?
Here's a breakdown of what you can expect at the Divide Music Festival:
THE MUSIC:
This festival features amazing A-list national acts mixed with the best of Colorado's local music scene as well. View the entire lineup HERE.
CAMP AGAINST AN UNFORGETTABLE BACKDROP:
Just one more thing we love about this festival, you'll have the option to car camp or RV camp depending on your personal preference.
Camping amenities include: drinking water stations, porta potties, trash and recycling receptacles, and access to showers (fee per shower). Now remember, we said this is no-frills Colorado camping, hence no electricity will be provided for you.
No electricity, limited cell service, tons of people, all in the middle of a field. Yes, you read that right. The festival takes place in a very large field…AWESOME.
FEED YOUR ADVENTUROUS SIDE:
Just a short drive from Denver, the Divide Music Festival revives the rich history of music in the Rockies and is every music lovers and outdoor enthusiasts' dream.
Winter Park is generally best known for its skiing, but it's also a summer playground for outdoor enthusiasts who love hiking, biking, horseback riding, rafting, fishing, golfing, zip lining, hot air balloon rides, and even more. To learn about other summertime favorites in Colorado's favorite playground, view activity maps, check summer itineraries, and load your summer packing list, click here.
We can't forget to mention you'll get to eat and drink local culinary favorites. Click here to get a preview of restaurants in the Winter Park area, and check out just a few summertime favorite activities for those who visit Winter Park below.
Photos courtesy of Winter Park and Fraser Chamber.