32 Spectacular Leaf Locales Just Around the Corner
Fall is one of our favorite times to get out hiking and see the changes that happen within nature. While it's easy to take this beautiful change of scenery for granted, we've compiled a list of 32 locations across the country that we think will help remind you just how special this time of year is. Not only is fall a beautiful time to get out and take in all the colors, but it's also a great time of year to be on the lookout for animals. So pack up the family, grab your camera and get out there. The leaves will only stay on the trees for so long you know.
Alaska: Denali National Park
Alaska is one of the top places to immerse yourself in the great outdoors! Denali, in particular, offers beauty beyond your imagination. This bucket list destination includes the tundra's endless green carpet, which transforms into vibrant pinks, reds, yellows,
and oranges at the base of the mountain. The striking contrast between the colorful ground cover against the snow-capped mountains and crisp blue sky is one you will never need a filter for. You can't forget to check out the colors in the sky as well and soak in the cosmic color of the aurora borealis or "the northern lights".
With the summer tourist traffic dwindling down the wildlife begin to appear all over the park. In the early mornings you can see everything from bears, moose, and caribou to dall sheep and marmots. With plenty of activities for all ages, Denali is a trip you will be telling your friends about for years to come!
Arizona: Coconino National Forest
Coconino National Forest is one of the most diverse of its kind in the nation. The Sedona red rocks, Ponderosa pine forests, canyons and mountains offer plenty for you to explore. The Lockett Meadow Campground is within Coconino for those of you looking for a true real mountain camping experience with jaw dropping views.
Countless aspen trees surround the campground and its many lakes and rivers, perfect for fishing. Within Coconino you can find aspen, maple, oak, cottonwood, elm, willow, poison ivy, and sumacs. Just remember the higher the elevation, the quicker the leaves will turn colors.
Arkansas: Petit Jean State Park
The Arkansas Ozarks are of course a grand sight and even more spectacular in the fall. However if you are looking for a beautiful sight, thick with history and an adventure, then look no further. Named after a French girl who disguised herself as a boy so she could secretly accompany her sweetheart to the New World, and to this Arkansas landmark, Petit Jean ("Little John") State Park is the place to go!
Offering breathtaking views 1,120 feet above the Arkansas River Valley, Ada Valley, and the Lock and Dam as well as plenty of hiking trails. There are also boat rentals, picnic areas, playgrounds, and a classic southern style restaurant for all to enjoy! The hike to Blue Hole and Cedar Falls, which is home to a 95-ft waterfall, is a must as long as you don't find the poison ivy off the trails.
California: June Lake Loop
If you don't believe California has seasons, then you probably haven't explored enough. Sure, you'll be overrun by Mediterranean plants towards the coast, but if you travel around the state enough you'll be engrossed in California's beautiful but often unspoken fall beauty.
California's wide range of elevation provides three long autumn months filled with fall colors. We recommend visiting June Lake Loop in particular. You can spend time driving and hiking on the family-friendly Gull Lake Trail all while taking in the fall colors. Make sure to listen for "quaking" as you're hiking around the aspen trees. They're known for their leaves having flattened petioles that quiver in the breeze, creating a pleasant rustling sound.
Colorado: Rocky Mountains
 Colorado is filled with beautiful fall colors. The Aspen trees that fill the areas surrounding the Rocky Mountains turn a bright golden yellow in the fall. You'll see the contrast between clear blue sky and white-peaked mountains. Colorado is a great place to really get back in sync with nature and get away from the hustle and bustle involved in city life.
We recommend that you visit the Rocky Mountain National Park to explore more than 300 miles of hiking paths. Make it a priority to drive the Peak-to-Peak Scenic and Historic Byway that will take you from Black Hawk to Estes Park. You won't regret it.
Georgia: Amicalola Falls State Park
If you are looking for an all-inclusive experience, beyond looking at beautiful fall color, Amicalola Falls State Park is a one-stop shop. With over 12 miles of hiking trails winding through some of the most beautiful scenery northern Georgia has to offer, you won't be sitting at camp wishing you had something to do.
The park also features Amicalola Falls; the tallest cascading waterfalls in the Southeast. The falls are lined with hardwoods making for one of the best spots in Georgia to take in the fall colors. Stand at the base of the falls, look up over 700 feet to rushing water dancing off the rocks, and take in the view.
Idaho: Salmon-Challis National Forest
 Drought and fires have taken their toll on fall color viewing opportunities throughout the Pacific Northwest. Washington and Oregon have been especially hard hit, but Idaho's Salmon River country fared much better this summer. The Salmon-Challis National Forest in east-central Idaho offers 4.3 million acres, boasting incredible leaf color well into October.
Forest visitors can select from 87 campgrounds with a multitude of views and activities nearby. There are also dispersed camping opportunities for a family to get away on its own while enjoying the autumn splendor. If your family's interests include fishing, be sure to bring along the gear for an October visit. Fall in this region offers many underrated opportunities for wetting a line under a canopy of color. Three important websites to check out for fall color viewing in the Northwest are:
Illinois: Route 66 Scenic Byway
Take a trip down the Illinois section of the "Mother Road" and get a dose of Americana along with the scenery. The route itself features a high density of kitschy and interesting stops along the way. Start your journey in Chicago, and head West – you might not want to stop when you get to the border – St. Louis is just around the bend.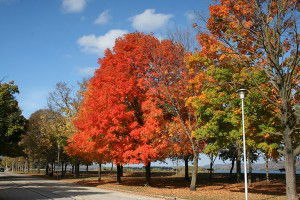 Iowa: Great River Road
If you're looking for a fall adventure that stretches the entire state, why not jump onto the Great River Road that follows Iowa's eastern border. This North-South stretch travels through some of the prettiest hillsides and valleys while traversing the Mississippi River. Small towns await, providing a break from nature's fireworks show in the canopy.
Louisiana: Ouachita River
The Ouachita River in Louisiana is not only home to great bass fishing, but sets the scene for a top fall leaf destination. The name Ouachita translates into "The River of Sparkling Silver Water," and has been the home to many Native American tribes through the years. Filled with a rich history, and great year-round scenery, this river is a favorite to all who visit. Louisiana fall colors surround you in the landscapes.
From the ginko, sweet gum, and maple trees to the wide variety of hollies covered in colorful berries. Another bonus is that holly berries are a great wildlife food. Along with beautiful autumn leaves you could also spot various fish, waterfowl, rabbits, coyotes, and perhaps even a black bear! We would highly recommend adding the Ouachita River to your list of travel destinations.
Maine: Acadia National Park Loop Main
For a beautiful 27 miles of breathtaking scenery visit Acadia National Park in Maine. The Loop Road offers a huge variety of vistas from mountains to forests and even the Atlantic Ocean. Start your journey at Hulls Cove Visitor Center and make your way to the Sand Beach. From there drive to Thunder Hole and Otter Cliffs for some nature that will give you an awe inspiring slap in the face. Central to the park lies the Sieur de Monts Spring, which is home to the Wild Gardens of Arcadia and the Abbe Museum for those interested. All things considered, you just can't go wrong with this park.
Michigan: Detroit Road Trip
There's probably no better place to kick off a road trip, than in the Motor City itself. Kick off a 195-mile fall color tour that'll take you on the skirts of 3 separate waterways, arriving in Port Huron. From there, follow the route through Southeastern Michigan through quaint towns – and be sure to stop off at the cider mills along the way for a mid-trip treat!
Minnesota: The North Shore
Lake Superior is one of the largest (and deepest) freshwater lakes in the world, making it sometimes feel like you're staring out onto the ocean.
Where the water meets the shore maple, aspen and birch spring from the earth – and put on a fabulous show from September through late October. If you've got the time, make sure you head all the way north to the Canadian border to get the full picture.
Missouri: Branson, MO 
Watching the colors change with the Ozarks as the backdrop is definitely an alright place to be. Peak color is usually in late October and into early November, as the mountainsides drift their way from vibrant greens to bright reds and oranges. If you're looking for a great route, be sure to head towards Table Rock Lake and Kimberling City for a grand tour that includes crossing two historic truss bridges.
Montana: Rocky Mountains
 Let's face it. Northwestern Montana is a long drive from anywhere, but for spectacular Rocky Mountain fall foliage viewing, the reward is worth the effort! This far north in Glacier National Park, nestled against the Canadian border, you might expect color would peak earlier in the season, but the variety of elevation in the region spreads out the fall color season from mid-September to mid-October.
For great views of the park and the Flathead Valley and Lake, try the summit of Big Mountain at Whitefish Mountain Resort. The summit trail is at 7,000 feet elevation and runs for eight miles. Opportunities for camping abound – both car and RV camping as well as backcountry camping. Hiking from easy to double diamond, guided tours and ranger-led activities are all available in the park. That's good, because when you come all this way, you're going to want to stay awhile.
Nebraska: Indian Cave State Park 
"Nebraska" and "fall leaf viewing" are words seldom used on the same page, much less in the same sentence. Spectacular fall foliage is a well-kept secret in the cornhusker state, but those in the know will be treated to especially beautiful displays this year because of ample summer rains and mild early fall temperatures. One great place to check out the splendor of pawpaw trees and mixed hardwoods is southeastern Nebraska where the rolling Missouri River meets the Ozarks. Center of the bullseye is Indian Cave State Park.
It offers more than 3,000 acres bordering the mighty Missouri and facilities for camping of all types, picnicking, nature appreciation, and wilderness activities. There are more than 22 miles of trails within the park. Indian Cave State Park is about 95 miles south of Omaha and about 135 miles northwest of Kansas City.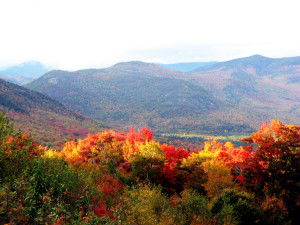 New Hampshire: Dartmouth Lake Sunapee
Bordering Vermont is the beautiful state of New Hampshire where everyone will tell you they, in fact, have the best fall colors of any state. And if you follow Route 12A along the Connecticut River, they might be right. You'll find the Cornish-Windsor covered bridge with the iconic sign that says, "Walk your horses or pay a two dollar fine." When you come to Route 11 turn east to Sunapee Lake for some gorgeous scenery. Another great option is to ride to the top of Mount Kersarge in Rollins State Park in Warner. See the Green Mountains, the city of Boston and the ocean from the summit.
New Mexico: Enchanted Circle Scenic Byway
This 83-mile loop is truly breathtaking! Starting and ending in Taos, the scenic byway has become one of the top fall foliage destinations in the United States. Circled around Wheeler Peak, New Mexico's highest point, the views are entirely unique to New Mexico and will not disappoint. Filled with aspens turning yellow and dark orange, purple cinquefoil, and fiery red to bright yellow cottonwoods; this landscape lives up to its name, enchanting.
Late September to Early October is the best time to go, which is conveniently the same time the infamous mountain zip-lines are still open! Imagine flying through the trees, surrounded by their beautiful, burning fall colors. If you're looking for a quieter adventure the mountain is filled with great hiking and horseback riding trails too!
North Carolina: Blue Ridge Parkway
 Combining hiking, camping, and scenic overlooks over the Blue Ridge Mountains, traveling the Blue Ridge Parkway is certainly one of the best ways to see the fall colors in North Carolina; maybe even the country. The Blue Ridge Mountains are absolutely beautiful this time of year and with a variety of options and locations along the parkway to stop and check out the scenery, you are able to combine all those experiences in a single trip.
We suggest packing your tent and spending the night soaking in that clean mountain air. The parkway has way too much to see and do in a single day. Plan a weekend trip in late October when the leaves are at peak color.
Ohio: Logan and Hocking Hills
Southeastern Ohio is home to fall color destinations that might rival the best of the New England foliage destinations. It's easy to get yourself lost on Ohio's "Windy 9," a backcountry route that provides views of the changing color in all its glory. To top off the trip, book yourself a ride on the volunteer operated Hocking Valley Scenic Railway before it closes down in November.
Oklahoma: Talimena Scenic Drive
 If you're looking to be surrounded by captivating fall colors and find opportunities to visit several historic sites and vistas, you need to take a drive along the Talimena Scenic Drive. Visit the exhibits and learn all about the prehistoric Caddoan people that were early settlers of the Rich Mountain.
Surround yourself with the natural beauty of shortleaf pine and hardwood forests. Talimena Scenic Drive is a National Scenic Byway in southeastern Oklahoma and extreme western Arkansas spanning a glorious 54-mile stretch.
Pennsylvania: Pine Creek Gorge
Pine Creek Gorge is also referred to as the Grand Canyon of Pennsylvania. This area of the country offers some spectacular fall displays of deep reds, purples and yellows as well as offering tons of wildlife and beautiful views. The gorge is over 1,000 feet deep and almost 50 miles long. While you're there, check out the town of Wellsboro where you'll take a step back in time to gas-lit streets, Victorian mansions and buildings from the early 1800s. From the scenery to the rustic town to the huge amount of wildlife, this is an amazing spot to really get away from a hectic city life.
Rhode Island: Blackstone River Valley
The Glocester Loop through the Blackstone River Valley takes you to picture perfect apple orchards and old mills that take you back to a simpler time. This route features dozens of historic homes and mills that formed the birthplace of the Industrial Revolution in America. And when you see Lincoln, RI make sure you follow the Great Road Historic District. You'll feel like you're back in the early 1800s. The Glocster Loop begins and ends on I-295. Take Route44 West, turn south on 94 where it will stop at Route 14. Take a left and follow Route 14 to 116 where you'll go north. At Route 44 you'll turn right and that will take you back to I-295.
South Dakota: Black Hills
The Black Hills earn their name because of the dense stands of Ponderosa Pines and other evergreen trees, which viewed from a distance appear black on the horizon. It's the translation of the Lakota name "Pahá Sápa" for "Black Hills." While pines don't deliver changing fall colors, stands of aspen, oak and other hardwoods intermixed with the evergreens deliver autumn artistry worth checking out. In the Black Hills, check out Spearfish Canyon and the George S. Mickelson Trail as well as thousands of miles of U.S. Forest Service roads through the backcountry.
The Black Hills are actually mountains with Deadwood situated at "a mile high" just like Denver. Custer State Park, southwest of Rapid City, offers every kind of camping and lodging option you can imagine as well as great foliage and wildlife viewing of its own. Additionally, the area is served by hundreds of private camping facilities. Mount Rushmore National Memorial is an inspiring sight in any season, but especially when framed by changing leaves.
Tennessee: Great Smoky Mountains
The Great Smoky Mountains need little introduction in terms of epic views and rugged country. As you probably have guessed, this area is one of the best in the country for fall colors.
With a diverse landscape and drastic elevation changes, this is one of the few places in the country that you can experience fall colors from mid September to late October. You can literally plan a trip based on the color leaves you want to see. Want to see a sea of golden yellow? Travel to high elevations in early September. If orange and red leaves are more your speed, mid-to-late October is peak time at lower elevations.
Texas: Lost Maples State Natural Area
 Texas may not be first on your list when you think of luscious fall colored trees…but think again. Lost Maples is one of the top spots for fall foliage views in the Lone Star State. Located only about 45 minutes from San Antonio, Lost Maples has scenery entirely on it's own. Take the time to experience the autumn views while hiking, camping, bird watching, or enjoying a picnic.
The lush scenery is home to a wide variety of deciduous trees whose colors vary in range and intensity. The maples, elms in various yellows, cottonwoods, and oaks provide brilliant color. Leaves turn in the middle of November giving you plenty of time to plan your trip!
Utah: Ogden Valley
 Ogden Valley is certainly one of the most magical autumn destinations you could end up at. There's something very special about driving through the mountains and seeing this valley's vibrant colors. The willows on the Valley floor will be the first to change to brilliant shades of yellow. On the slopes you will see groves of aspen, maple and oak trees light up surrounding the valley. Around mid-October shades of orange will prevail when the oaks and maples change.
Ogden Valley has been rated as one of the ten best scenic drives in America. Immerse yourself in translucent yellow, blazing orange, and vibrant red shades as they contrast against a bright blue sky, gray cliffs, and chilly waters flowing within the Ogden River.
Vermont: Route 100
While any Vermonter will tell you they have the best fall colors in the country. Route 100 makes a fantastic trip for capturing the beauty of fall in the North East. Begin your drive at Stamford, VT and head north. In addition to amazing foliage, you'll pass historic buildings, general stores and sugar houses. Wilmington makes a nice stop for a walk down Main Street. Continue north and pass a few ski slopes, the city of Grainsville and pull off at Moss Glen Falls in the Green Mountain National Forest. Grab your camera and head down the boardwalk for some breathtaking views. You could stop here or continue almost all the way north to Canada. Route 100 is one of the best roads to view the fall colors.
Virginia: Shenandoah National Park 
There was a time when jumping in the car and going on a road trip was enjoyable. Some people say the road trip lifestyle is dead. We couldn't disagree more. Getting out of the city, away from traffic lights and road construction sounds like the perfect afternoon trip. Pair that with cresting the Blue Ridge Mountains to a horizon full of fall color, it's more than a road trip.
The Skyline Drive runs over 100 miles along the Blue Ridge Mountains in Shenandoah National Park. With 75 overlooks where you can pull off and take in the fall color, you'll be spending as much time out of the car as in it. If you are looking for more than just leaf viewing, there is a good chance to encounter everything from black bear to deer on your drive through the park.
West Virginia: Highland Scenic Highway
Traveling the Highland Scenic Highway through the heart of the Monongahela National Forest is not only a perfect way to take in the fall colors, but remember what it is like to slow down and enjoy life.
Four overlooks offer amazing views of the Allegheny Highlands. Dense hardwood forests provide the ultimate canvas to fall leaf viewing. Whether you are traveling in a camper, a car, or a motorcycle, the bird's eye view is something you won't soon forget.
Wisconsin: Marinette County
Head out on a 125-mile loop tour around Marinette County to catch the Autumn Waterfall Tour. Each of the 14 falls and cataracts provide a setting that's nearly picture-perfect. While you're at it, be sure to pack yourself a picnic lunch – as half of the falls are located in county parks that feature fantastic picnic areas!
Wyoming: Grand Teton National Park
 If you haven't seen the Teton Mountains at least once in your lifetime, you aren't really living. This national park is a beautiful location to visit any time of year, but it's especially radiant during the fall for a bunch of reasons. Smaller crowds, majestic fall colors, abundant wildlife, and magical scenic views all tie together to make this a perfect fall destination for you and your family.
The Teton Range is home to large stands of deciduous trees that boast beautiful yellow, orange, and occasionally red shades of leaves. On top of the many fall colors, you'll be listening to the real boys of fall as they bugle through the wilderness. Fall is the perfect time to watch and listen for elk as the bulls are actively bugling to signal their dominance and attract cows.